Global Shipping

Quality Assured

Pay Securely
Jet Black Overdyed Jeans - 12oz Ring Denim
$69
Cross Hatch is the latest trendy denim , it has weave structures coming from the weft and warp, it is also a lighter denim mainly from 12 oz.
12 Oz Denim, 100% Cotton and extra soft feel.
Each piece is individually cut from rolls of denim fabric and stitched accordingly.
Overdyed in Black color
Leather labels.
5 Pocket style.
Metal Buttons and Rivets Reinforced.
Made to your measurements
Cross Hatch also represents the new age lighter denims, cool and comfortable, incase we have new lighter denims in plain or cross hatch we will use that fabric.


As these Jeans will be overdyed in Black color, it may loose color for first few washes, please wash separately first few times.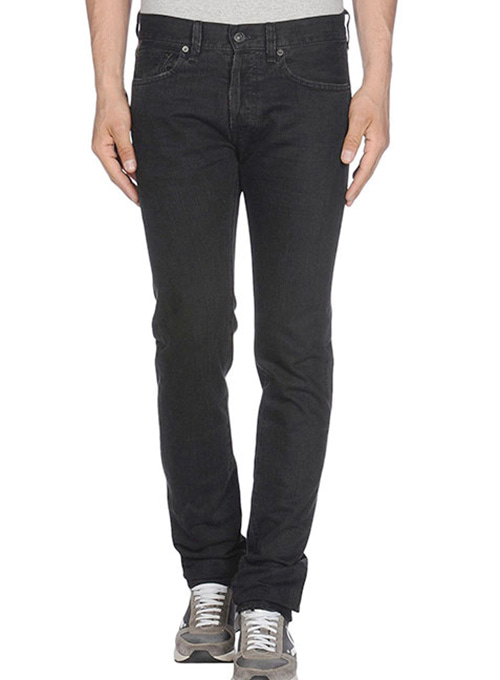 ---
Date Added:
08/14/2022
by
Shawn
- Bhutan
Excellent fit and material. Very comfortable and durable.
---
Date Added:
04/12/2022
by
D GOOD
- New York
Excellent matrial, excellent tailoring (as usual for MYOJ)
---
Date Added:
03/07/2022
by
Charles Schink
- United States
I keep ordering these because of the quality. They are very high quality, ship very quickly and are worth every penny.
---
Date Added:
12/11/2020
by
Lisa Marie Daniel
- Derwood
I love these jeans. They are comfy because they were made to fit and I like the heavier denim for winter.
---
Date Added:
10/20/2020
by
Robby
- Nashville
Have ordered about ten of these over the years. Always quality material and workmanship. As well as a perfect fit. Gotta love these guys.
---
Date Added:
03/27/2020
by
Miranda
- MI, USA
This was part of a custom order - the customized Add-on I requested was done perfectly and looks beautiful. As usual, the jeans fit perfectly and are very well-made. I recommend MYOJ to everyone I know.
---
Date Added:
05/13/2019
by
Becca
- Richland, WA, United States
Fits well after a wash. Great quality. Will wear this a lot. Thanks!
---
Date Added:
04/20/2018
by
joseph chiappetta
-
Well made jeans. Measurements exactly as listed. Will buy again
---
Date Added:
05/12/2017
by
Lisa
-
Most jeans are tight in the bottom and loose in the waist. Finally a pair of jeans that fit me! Good quality!
---
Date Added:
03/27/2017
by
Jack
- Usa
This is my 4th pair of jeans and they are great. Will be ordering more. Thank you.
---