Global Shipping

Quality Assured

Pay Securely
3% Stretch Custom Jeans With Fit Guarantee
$99
Stop wearing jeans that don't fit and get custom-made, pre-washed jeans made exclusively for you.
100% Fit Guarantee - If you're not satisfied with the fit, simply let us know and we'll give you a free remake.
Jeans made of premium stretch fabric.

12 Oz Dark Blue Denim, 97% Cotton 3% Lycra, full stretch fabric.
Each piece is individually cut from rolls of denim fabric and stitched accordingly.
Hard Washed at high temperatures to give complete shrinkage.
Leather labels.
5 Pocket style.
Metal Buttons and Rivets Reinforced.
Made to your measurements
Our jeans are hand-made by experienced tailors, based on the measurements you provide.
Follow our measurement instructions carefully and the garments should fit - good.
However, sometimes items may need to be adjusted and so MakeYourOwnJeans offers a good fit guarantee:

We call this Good Fit because hand made products cannot be a "Perfect" product, especially jeans, Jeans making is a very complex process which involves commercial washing of each and every jeans after making them with Enzymes in High Temperature Drums for hours, this process gives the Jeans the finish a Jeans should have and you can imagine the fabric goes through a lot during this stage.

Our Good Fit Guarantee gives you a chance to remake your 2nd jeans for Free (Within 15 days of your order being marked as "Shipped"), Yes it's on us, we only ask you to use this "Remake Feature" responsibly as a lot of labor is involved in making the garments.

We will only provide you a free "Remake" once, Please note that as the Jeans are hand made and due to the Washing Process involved there may me some difference in the measurements each time you order your jeans.

After we mark your order as shipped you will get an email alert for the same.

Once your order is shipped a "Remake" button is activated on the "Order History" panel for 15 days of your order being marked as "Shipped"
You should update your "Measurement Profile" and select the same for your "Remake" on the "Order History" page

This Remake button is de-activated after 15 days of your order being marked as shipped and will not be activated again.
We only provide Re-Makes for your first order and on a single measurement profile using the same fabric.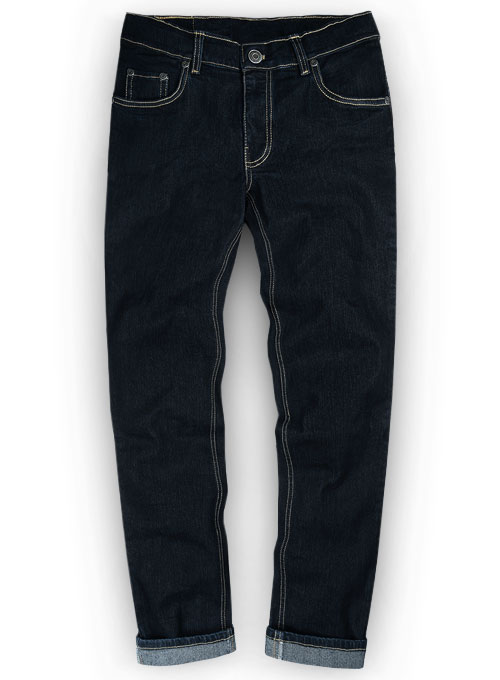 ---
Date Added:
01/30/2023
by
Xena
- port angeles, wa, usa
Ordered them so they would be ultra low-rise, excellent jeans, fit exactly how i wanted them to.
---
Date Added:
12/21/2022
by
Val Potter
- Brockham, Betchworth UK
I am absolutely delighted with the jeans which are of excellent quality. They fit the unique shape of my son in law perfectly! Well done.
---
Date Added:
12/01/2022
by
Victor Sotny
- Allen, TX, United States
Great, solid stretch denim. Made exactly to the measurements I gave them. Excellent production time and very fast shipment. I've bought many pairs of jeans for several years from them.
---
Date Added:
11/09/2022
by
Timothy Henderson
- South Charleston
These are nice and very well made. My wife LOVES them.
---
Date Added:
11/02/2022
by
Jeff
- Palm Springs, CA USA
This was my 6th or 7th pair of jeans. I love them fit amazing!!!
---
Date Added:
04/29/2022
by
Richard
- Kent, UK
Tried a "trial pair of jeans" - good fit but a little short - my error in measuring. On the basis of my satisfaction I have ordered three more pairs which I am currently waiting for delivery with amended measurements. Let's hope all is well and I will then be a regular customer.
---
Date Added:
02/11/2022
by
R Sap
- NJ
I have such trouble with jeans fitting me and these jeans fit, feel and look great. thank you
---
Date Added:
11/23/2021
by
DmT
- Binghamton by usa
The jeans fit very good there was only one measurement of the back rise that was off by an inch and a half I have them altered here which was an easy fix. But I was very satisfied other than them
---
Date Added:
11/18/2021
by
Teresa
- New York, NY
Love the pants? love the fit? I had many doubters who thought they would not be good! They are eating their words!! I just ordered two more pairs. It is so nice to have pants that truly fit! Highly recommended!
---
Date Added:
10/28/2021
by
trudy icenogle
- Zionsville in usa
Thanks for redoing them. They are comfortable and I will be a return customer.
---
Date Added:
09/27/2021
by
Kris
- California
I got these with the Brazilian as on. These have become my new favorites. I promptly ordered 3 more pairs in different styles.
---
Date Added:
08/04/2021
by
George Novitsky
- THE VILLAGES
The fit was great, the material exactly as I expected, I am very happy
---
Date Added:
08/02/2021
by
Mary Kay McKim
- Enumclaw
These jeans are of very good quality. That being said, it can be a bit frustrating if you don't know what you are asking for. So be sure and understand the measurements and follow carefully. I am looking forward to ordering another pair!
---
Date Added:
07/09/2021
by
Gail
- Escalon, Ca USA
Absolutely the best!! I have never been able to find jeans to fit my son?s large, muscular thighs and hips. These are AWESOME!!! Highly recommend!!
---
Date Added:
07/04/2021
by
Jack
- New Zealand
I have a lot of difficulty getting jeans that fit as an overweight five foot nothing trans masculine person, so when these arrived and fit perfectly I couldn't believe it. Thanks so much!
---
Date Added:
06/04/2021
by
Hugh Hamilton
- New Zealand
These are the third pair of jeans that I have ordered through MMOJ and they are the best yet in terms of fit to size. The second pair was not so good. The first pair are 4 years old and nearly worn out. Also, this order arrived much quicker than I expected. Very happy
---
Date Added:
06/03/2021
by
David Gilbertson
- Sydney, Australia
I'm super pleased with my jeans. This was my first pair and I thought maybe the fit wouldn't be quite right and I might need to try a few times to get them perfect, but they were perfect first go. Didn't shrink at all after washing.
---
Date Added:
06/03/2021
by
Nick
- Brisbane, Australia
My favorite jeans now! Workmanship exceeds expectations and the material is high quality. Fit is perfect. I'll be back.
---
Date Added:
04/30/2021
by
Doug dix
- Hiawatha Iowa usa
Good jeans!!! Look good!!! Fit good!!! Well made!!! Comforatable!!!
---
Date Added:
04/29/2021
by
Laurent Beauregard
- Beaverton, OR, USA
The product is high quality, well made, and fits just right
---
Date Added:
04/17/2021
by
Joseph C.
- Topsham, Maine, United States
Good fit, little to much stretch, will go with no stretch on next pair.
---
Date Added:
04/11/2021
by
Natasha Yarbrough
- United States
I ordered these jeans for my son. He's very thin and tall and likes to wear skinny jeans so we have struggled for years to find jeans that are not high waters on him. I ordered the fit guarantee and the first time I took his body measurements and sent them in and he didn't like the fit. So I took new measurements off of jeans that he liked the fit but were too short, then I added a few inches on the length and sent those measurements in. The second pair of jeans came back perfectly. He loves the way they fit. I'm very happy with makeyourownjeans.com, it's a great service for a great price.
---
Date Added:
04/06/2021
by
Brenna M
- Palm Desert, CA 92260
I'm quite happy with my new pair of jeans and will definitely be ordering more. Although I followed the measuring directions meticulously I feel that the are a little bit roomier than I thought they'd be. I will adjust some on my next order. Nonetheless, they make more a great pair of casual jeans and the softness and quality are outstanding.
---
Date Added:
04/01/2021
by
Andrew DeMarco
- Pittsburgh
Okay. This was my first order. I tried to order through a competitor and the competitor was exceedingly unreliable. So I switched to make your own jeans. I have found them to be responsive. Truthfully, this was a remake. Since it was my first shot, I was able to take the first pair, tweak it and get exactly what I wanted. This pair fits like a glove. Unfortunately, I'm not the easiest individual to fit. That's why this service is a godsend! I have already recommended this to several friends. I will use it again for other things than jeans. Exceedingly happy with the result!
---
Date Added:
03/16/2021
by
Terence Moore
- Sheffield
The product was well made, lovely and soft everything I asked for was there , a great fit, I will definitely be ordering more products from make your own Jean's.
---
Date Added:
02/19/2021
by
THOMAS MCCLOSKEY
- PUNTA GORDA
Great fit. Easy to order. I washed them in cold water and line dried them . Came out in perfect. Very satisfied.
---
Date Added:
02/14/2021
by
Dan Roberts
- Milford, Delaware. USA
Outstanding quality, excellent fit and good price for custom built jeans.
---
Date Added:
02/14/2021
by
Jonathan Schochor
- Lutherville,Maryland USA
I ordered my first pair recently. The quality of the garment is obvious. The customization was perfect- exactly what I ordered. Then the real test! I tried them on. Great fear. BUT? THEY FIT PERFECTLY! you people know what you are doing. As a litigator I wear custom suits, but they always need some tweaking. These jeans need no alteration. Perfect on your first try. I enthusiastically recommend these jeans to anyone who wants a fantastic pair of jeans at a very reasonable price. Try them!
---
Date Added:
12/28/2020
by
HARLAN S KAHN
- Bayside
very hard to communicate with the MAKE YOUR OWN JEANS. once you have measurements each pair of jeans comes out fine. trying to ask for different colors and such is very burdensome. the jeans take a long time to make and ship and arrive. so far so good. each time i order i wonder if they got the info right
---
Date Added:
12/28/2020
by
Suzanne
- Los Angeles, CA,USA
The jeans are perfect and so comfortable. They're soft and easy to relax in!
---