Boot-cut jeans originated in the 1800s when the sailors found it easy to accommodate their boots in this kind of style. This design has got the pants fitted from the thigh to knee and has slight flare from knee till the hem, providing enough space for boots. Usually the difference in circumference between the knee and hemline is just 1 or 2 inches. However, it can be customized if the pants are tailored. Make Your Own Jeans provides customizing options and manufactures denims as per the measurements provided by the wearers.
Ladies who are top-heavy and bottom-heavy can opt for this style as it balances out their physique. The flare balances the heaviness at top and also reduces the difference between the hips and narrow ankles. Women who are bottom heavy can go with deep colors as they help by providing a slimming effect.
Boot-cut jeans look best when worn with platform heels or wedges. As their name suggests, they are just the perfect bottom-wear when you're wearing boots.
A survey was carried out in 2011 that said boot-cut jeans were the most-sold denim pants and was sold almost three times more than the next most-sold style.
Celebs like Eva Longoria and Penelope Cruz are the best examples of ladies who look fab in boot-cut jeans. Boot-cut jeans flatter long legs of leggy lass Eva Longoria and balances out the appearance of top-heavy Penelope Cruz.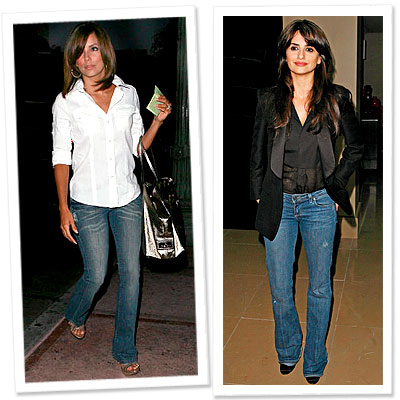 Make Your Own Jeans provides tailored jeans pants customized as per the choice of the customers. Boot cut jeans can be customized too and can be worn high waist or low waist. One can even get embroideries or patch work done adding more style to the jeans.