Boyfriend jeans is a denim bottom-wear that's inspired by the clothes worn by men. This trend began when women started wearing the clothes of their boyfriends like slouchy pants and over-sized shirts. Now this has become a mainstream fashion-statement as celebrities have started sporting this look at various outings and events. Boyfriend jeans are loosely fitted and are usually over-sized. Make Your Own Jeans provides custom fit jeans of all styles as demanded by the customers. The team of tailors at Make Your Own Jeans are experienced and work on every detail of clothing with extensive care.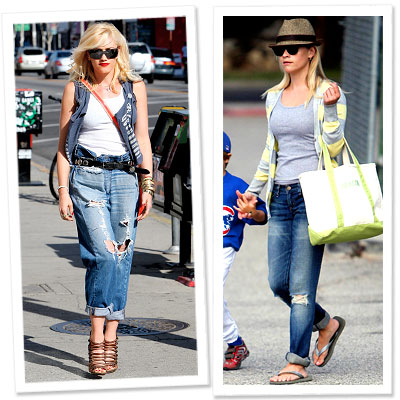 Boyfriend jeans are usually worn in a folded fashion, mainly because they are over-sized. They may come in various styles like ripped,cropped or embroidered. Boyfriend jeans are loose and hence more comfortable than the regular denims worn by women. Cropped boyfriend jeans are usually custom-made as per the height of the wearer so that there is no necessity of folding. Boyfriend jeans have been sported by many celebrities. Katie Holmes started this trend and then celebrities like Eva Mendes and Gwen Stefani have followed.
Boyfriend Jeans can be worn with a loose fitted boyfriend-shirt. It gives you ultra-comfort due to the loose fit. If you want to determine the looseness of the garments, you should opt for custom jeans. One can also wear boyfriend jeans with a crop top. People who are slender in appearance should opt for this look as it accentuates their slim waist. One should never wear a flowing tunic with boyfriend jeans. It looks unflattering on any body type. One can accessorize with funky jewelry.
Make Your Own Jeans provides tailor-made custom jeans and leather clothing. With a team of experts, Make Your Own Jeans caters to the requirement of fashionistas world wide!