Leather dresses are a global trend as celebs world-wide can be spotted in them at various events. One can look like a diva in a leather dress or like a rockstar in the same. Leather dresses come in wide range of colors, cuts and designs just like any other dress. Leather dresses come in variation in leather texture also which often defines the price tag of the dress. Women love wearing leather not just for the sake of fashion but also the soft feeling it provides along with some warmth.  Make Your Own Jeans helps you in getting the desired kind of leather dress as per your size, color and design requirement.
Leather can be combined with other fabric and can be used to create awesome designs too. Leather dresses look stylish because of the hard work behind creating them. Tailors need to use special kind of tough needles for sewing leathers together for creating dresses. Regular needles leave permanent holes in leather which affects the appearance of leather. Leather can be sewn with the help of machine too. Lot of care needs to be taken while making leather dress as a slight mistake can affect the appearance of the entire cloth.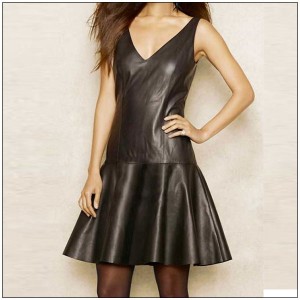 Leather dresses can be worn alone or can be teamed with jackets and shrugs to tone down the look. A denim jacket with leather dress will provide you with a unique chic appearance. Wear contrasting colored accessories to add drama to your look. Make Your Own Jeans has a team of expert tailors who ensure you get the finest clothing out of any fabric be it  cotton or leather. Their experience makes your shopping experience with us a pleasant one as you end up being  satisfied with the products purchased.