Press / Media
Makeyourownjeans.com in People Magazine, StyleWatch Section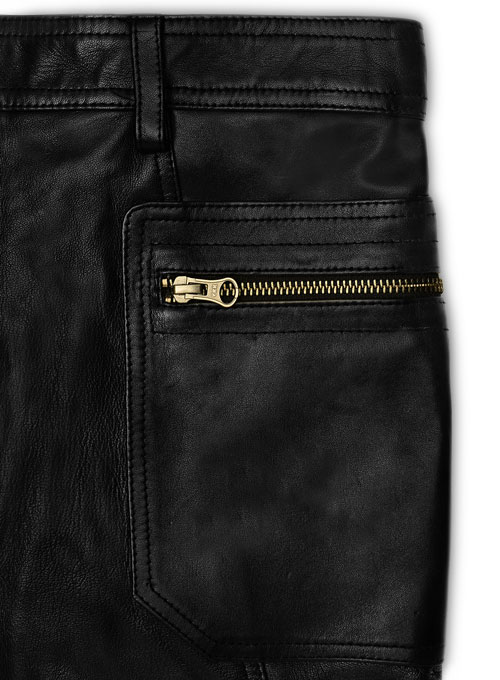 ---
Makeyourownjeans.com on TV show "Living in Style", USA"
---
Makeyourownjeans.com in "Oprah's "O" Magazine, April 2008, USA"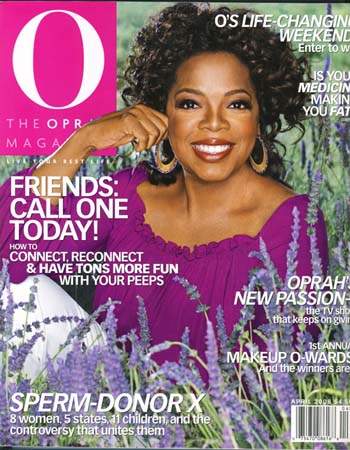 Page 44
---
Makeyourownjeans.com in "Instyle" Magazine, Jan 2009, USA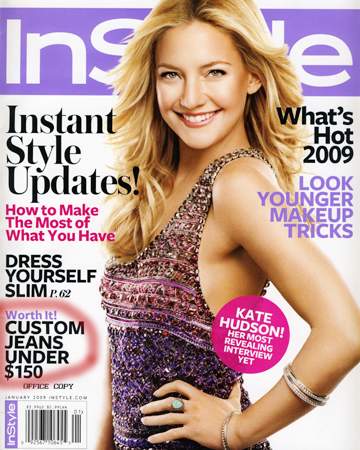 Page 90
---




(NOVEMBER 11, 2010)-Reporter ALINA DIZIK ordered a test jeans from us without informing that she is a reporter of "The Wall Street Journal"

Product Ordered: Classic 12oz Scrape Wash Denim Jeans - Stretch (Picture on left - Model of WSJ)

Review:
Makeyourownjeans.com, run by Mumbai, India-based HarryFashion, allows shoppers to choose from more than 200 types of denims but we found it difficult to discern the quality from the pictures and descriptions. We chose a classic fabric with a bit of stretch for a pair of skinny jeans. Entering our measurements was simple and measuring tips were helpful. At $65, the jeans were the most affordable and arrived three weeks after we placed the order. The fit was precise but too much stretch in the fabric(due to 3% stretch ordered) made the jeans fit more like leggings. We would have wanted a fabric swatch before committing to the particular denim. Dealing with customer service for an unexpected address change was simple.
---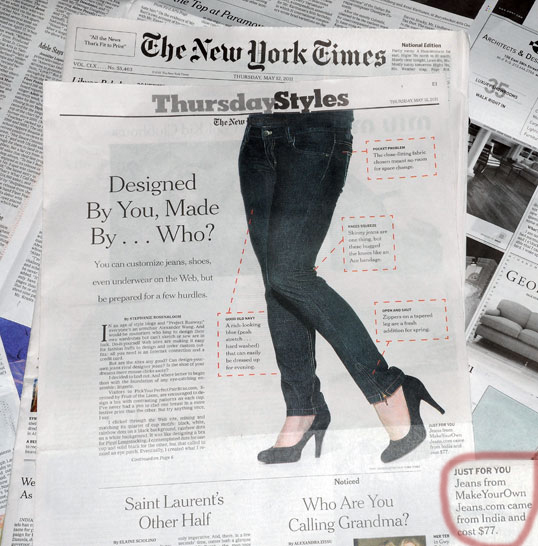 The New York Times, Thursday Style Edition
---
Makeyourownjeans.com in "The New York Times", USA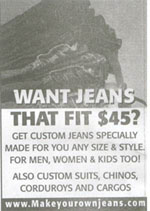 Main Edition, Page A22
---
Makeyourownjeans.com in "American Way, Aug 1 2007, USA"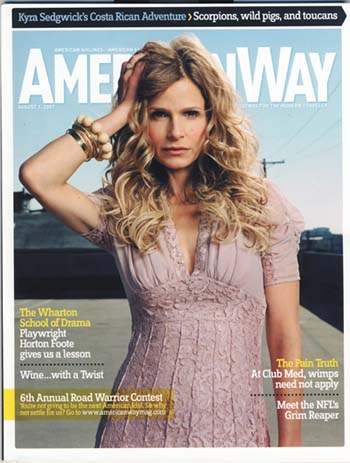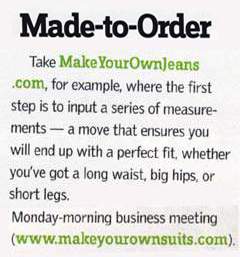 Page 20
---
Makeyourownjeans.com in "Craft Magazine 05 Edition, USA"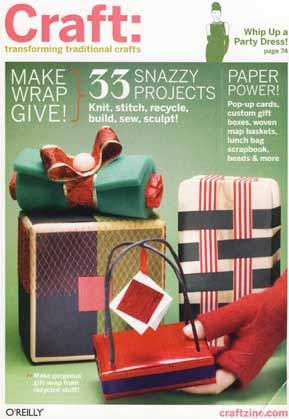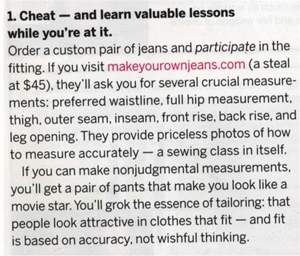 Page 8
---
Makeyourownjeans.com in "Sunday Telegraph's Magazine, Oct 2006, Australia"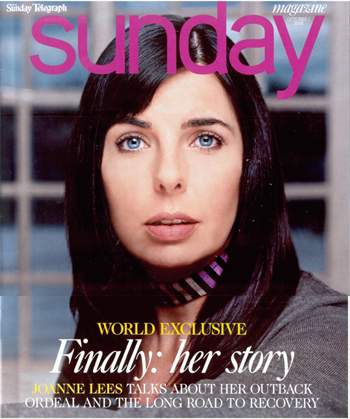 ---
Makeyourownjeans.com in "The Kansas City Star, USA"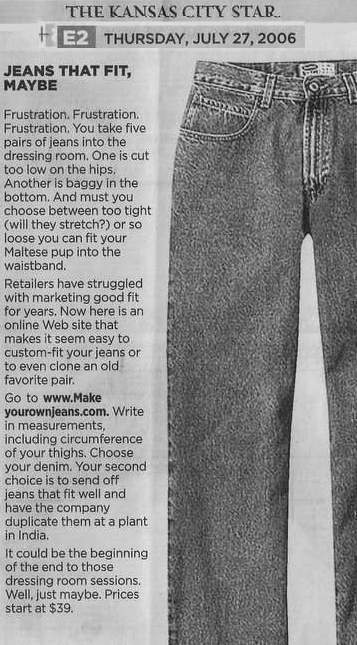 ---
Makeyourownjeans.com in "Woman's World, September 2006, USA"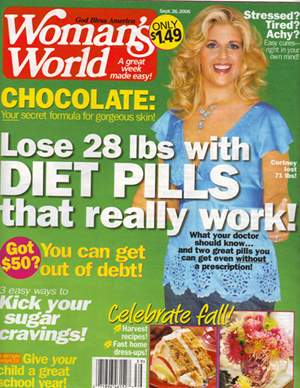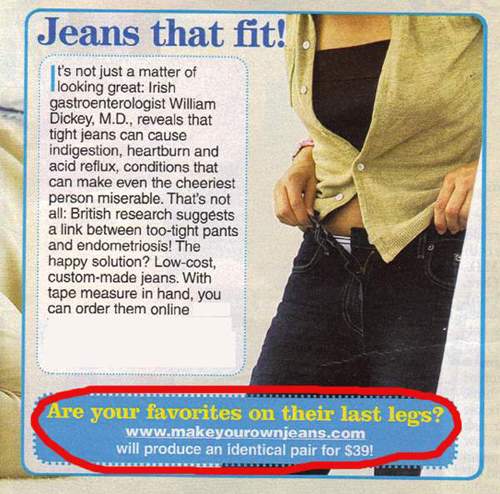 ---
Makeyourownjeans.com in "The Tampa Tribune" , April 2007, Florida, USA

Click on the above image to open article in pdf format.
---
Harryfashion our parent company's POWERSELLER certificate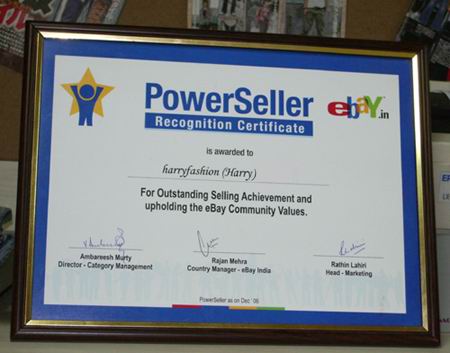 ---
Press Release for Media
August 23, 2010
MakeYourOwnJeans.Com Introduces New Affordable Custom-Made Leather Jeans and Jackets.
Custom Jeans retailer launches LeatherCult, specializing in custom leather styles at affordable prices.............
more
---
September 9, 2009
An Affordable and Customized Answer for Hard to Find Sizes
When you're the UK's tallest man and the boy destined to be one of the tallest men in the world, picking up a new pair of pants isn't as easy as running down to WalMart and grabbing a pair off the shelf. Both Neil and Brenden found the answer to their clothing challenge with Make Your Own Jeans.............
more
---
10 Mar 2009
Custom Jeans for Brenden Adams by Make Your Own Jeans
Any parent will tell you that finding jeans to fit a growing teenage boy is all but impossible, but for the parents of twelve year old Brenden Adams that challenge has assumed a new level of difficulty - Brenden is 7 feet tall and still growing! They finally found the answer in Make Your Own Jeans' custom jean designs.............
more
---
October 7, 2008
Ultimate Personalization: My Own Custom Jeans
What if the next time you went shopping for jeans you could specify every possible detail you wanted: the fabric, the style, the cut, the thread color, trims, belt loops, pockets, rips, patches, even the the embroidered designs on the back pockets? It's no longer a dream. A big change has come to the universe of fashion: consumers today are able to custom design their own jeans down to the last detail of finishing, and for a reasonable price.......
more
---
July 14, 2008
Jeans That Heal: Custom Jeans Company Makes Ayurvedic Organic Clothing That Possess Medicinal Benefits
Makeyourownjeans.com have recently created a new fashion product using techniques that go back over 5,000 years, can heal the body and help loose weight too. They call it "Ayurvedic Organic Jeans", they give an overall sense of well being............
more
---
October 2, 2007
Custom Jeans Company Expands Product Line, Caters to All Shapes, Sizes and Physical Disabilities
In a world filled with people of all shapes, sizes and varying physical needs, the fashion industry has to recognize that not everyone is a perfect size. Make Your Own Jeans is a fashion-savvy company that recognizes the importance of non-conforming, eye-catching styles. It must be extremely satisfying to know that you cater to a group of customers who can't seem to fit in anywhere else............
more
---
July 5, 2006
Make Your Own Jeans - Custom Made and Now Cloned
Custom clothing company lets people order jeans as per their measurements and styles, A Fit For Every Need. Now they will even duplicate a favorite pair of jeans............
more(.pdf format)