Custom Jeans made from stretch denim
The waist/seat and other areas of Stretch jeans may measure less than you order, they will stretch to much more than the measurements given as stretch jeans do get looser after wear.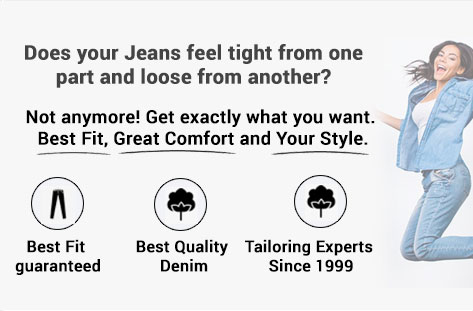 Custom-made Stretch Jeans for Women
No lady will ever say no to another pair of stretch jeans for women in her wardrobe. Not only are they a must have, but here you get to design your ideal model in just a few simple steps.
These models are conforming and flexible, and ensure a great freedom of movement without feeling too tight or uncomfortable. Fabric used to make our women's stretch jeans is pre-washed and is full- or semi-stretch denim type. The combination of cotton ( 97% or more) and lycra guarantee the extra soft feel of our ladies' stretch jeans against your skin.
Our stretchy jeans come in a variety of styles to suit all types of build, height and weight. High-quality fabric makes them enduring and long-lasting - a piece of clothes you can count on for many years.