Summer is the perfect time of year to include string denim shorts in your outfits. As the weather begins to warm, you may want to transition from full-length pants and trousers to shorts. String denim shorts fall under the latter category. While available in different lengths, they are all shorter than full-length pants and trousers. You can update your summer wardrobe with the perfect pair of string denim shorts by following the tips listed below.
What Are String Denim Shorts?
String denim shorts are exactly what they sound like: denim shorts with a drawstring in the waistband. They are made of the same material as most jeans. Both jeans and denim shorts are made of denim. Raw cotton is spun with the weft thread passing under two or more warp threads. The end result is a durable warp-faced textile known as denim. Denim is used to make everything from jeans and jackets to denim shorts, skirts and more.
Common features of string denim shorts include the following:
Drawstring in the waistband
Two or more pockets
Made of denim
Zipper or buttons for the fly
String Denim Shorts vs Traditional 'Jean Shorts'
You might be wondering how string denim shorts differ from traditional "jean shorts." Based on their appearance, they look almost identical. String denim shorts and traditional jean shorts are available in similar types of denim and styles. The difference lies in their waistband.
Only string denim shorts have a drawstring in the waistband. You can pull the drawstring to achieve a tighter fit. Alternatively, you can loosen it to achieve a looser and more relaxed fit Traditional jean shorts have a rigid waistband without a drawstring. Therefore, they don't offer the same level of versatility as their drawstring counterparts.
The Benefits of a Drawstring Waistband
There are several benefits associated with drawstring waistbands. For starters, a drawstring waistband is comfortable. You don't have to worry about it digging into your waist or otherwise causing discomfort. As long as you choose a pair of high-quality string denim shorts, such as those sold here at MakeYourOwnJeans, you can rest assured knowing that it will be comfortable. You can wear the string denim shorts all day long while maintaining a comfortable fit.
A drawstring waistband also eliminates the need for a belt. Belts are typically used to keep oversized shorts and pants from falling down. If your pants or shorts are too big, you can secure them to your waist using a belt. But string denim shorts don't require a belt. Rather than wearing a belt, you can tighten the drawstring in the waistband.
Thanks to their drawstring waistband, you probably won't outgrow string denim shorts; you can simply loosen the drawstring so that the denim shorts become bigger. Other shorts with a rigid waistband are more restrictive. You may be able to wear them for a year or two, after which you may outgrow them.
Most drawstring waistbands feature an elastic strip. In other words, the drawstring is used in conjunction with a piece of elastic material. This allows the waistband to stretch. When you tighten the drawstring, the elastic waistband will contract. When you loosen the drawstring, on the other hand, the elastic waistband will return to its original shape.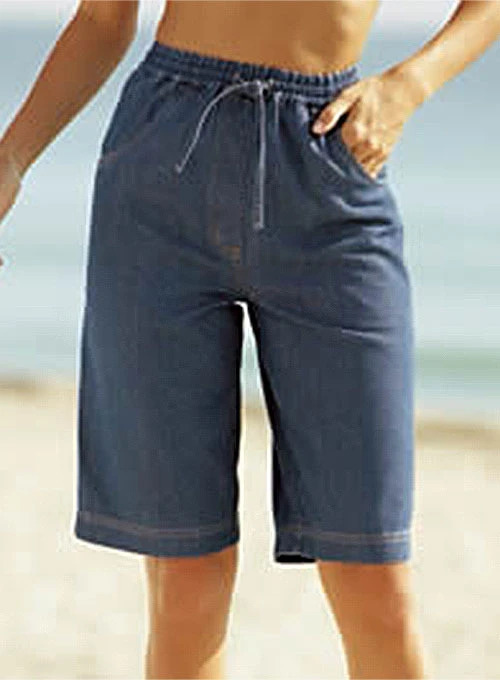 The Versatility of String Denim Shorts
String denim shorts are highly versatile. You can wear them in most if not all of your summer outfits. They are soft, comfortable and easy to match. Maybe you want to wear a t-shirt, or perhaps you want to wear a button-up shirt or even a polo shirt. Regardless, you can pair these tops with string denim shorts to achieve an attractive summer outfit.
You can even wear string denim shorts to the beach. Millions of people take beach vacations during the summer. When headed to the beach, you may want to pack a pair of string denim shorts. They will help you create a comfortable and cool outfit that's perfect for the beach.
Choose Lightweight String Denim Shorts for the Summer
If you're planning to wear them during the summer — or during other warm months of the year — you should choose lightweight string denim shorts. Lightweight denim shorts are characterized by their use of thin, lightweight denim. All string denim shorts are made of denim. Some of them, however, are made with of thinner and lighter denim than others.
String denim shorts made of thin and lightweight denim are typically more comfortable to wear during the summer than their heavier counterparts. When ordering string denim shorts here at MakeYourOwnJeans, you can choose from over a dozen different types of denim. There's 7-ounce denim, which is exceptionally lightweight, making it ideal for the summer season.
Consider the Length
You should consider the length when choosing string denim shorts. All string denim shorts, of course, are shorter than full-length pants and trousers. Nonetheless, you can still find them in different lengths.
What's the best length for string denim shorts exactly? Some people prefer above-the-knee shorts, whereas others prefer longer shorts that extend slightly past the knees. Keep in mind that longer shorts will cover more of your legs, meaning they'll feel warmer. For the summer season, you may want to choose string denim shorts in a shorter length, such as Bermuda.
Don't Overlook the Color
Some people assume that all string denim shorts are blue. After all, blue is synonymous with denim. Most jeans, as well as other denim garments, feature a blue color. But that doesn't mean you are limited to choosing blue string denim shorts. You can find them in many other colors.
String denim shorts are available in other colors like gray, brown, khaki, beige and green. What color should you choose exactly? Think about when and how you intend to wear the string denim shorts. During the summer, you may want to opt for a light color. Light colors, such as beige, are cooler than dark colors.