Global Shipping

Quality Assured

Pay Securely
Cotton Classic Chinos
$58
Discover the richness of cotton with our premium quality trousers.
Cotton chinos made from Premium 100% Cotton Fabric.
Made as per your measurements.
Pre-washed, Pre-shrunk.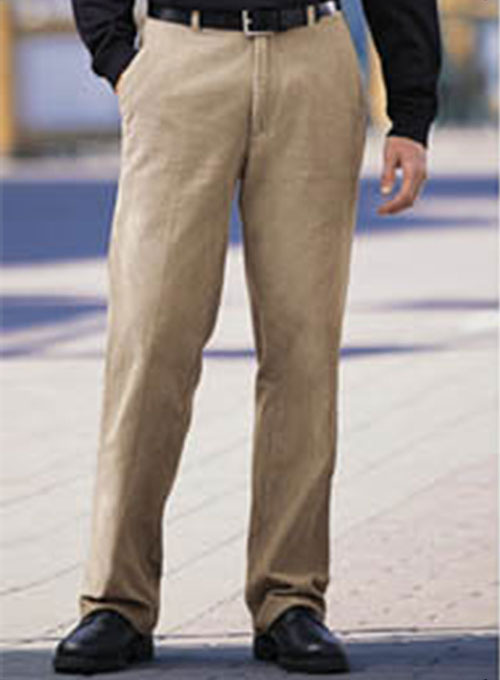 ---
Date Added:
11/02/2021
by
Herb Bleich
- New York, NY, USA
I purchased the heavy chinos in black. The fit is perfect, workmanship excellent, and material heavy (as I desired). I also appreciate that there's no vertical crease, since the pants are intended for informal use. The one drawback is that the material has a slight shiny quality, which isn't consistent with informal wear, at least here in New York. If the material had a soft mat quality I would definitely order additional pairs.
---
Date Added:
08/25/2021
by
Mike
- Wrexham, Wales
Excellent service, clothes made to measure accurately and reasonable prices.
---
Date Added:
05/02/2021
by
Spencer Dean
- Canada
Exactly as expected. I wish there was an option to specify selective double stitching.
---
Date Added:
02/19/2021
by
Jason Lowder
- Coffs Harbour, Australia
Very good service and attention to specifications, thankyou.
---
Date Added:
09/28/2018
by
Cynthia Pape
- United States
Great quality and fit. I have ordered at least a half dozens pairs of pants from MYOJ and will continue to do so.
---
Date Added:
05/01/2018
by
Christopher Turner
- United States
I spent 25 years in the men's clothing industry, 15 of those years in custom tailoring. The quality of these trousers are of the highest quality. When I requested an adjustment to the double play model, they were extremely accommodating. The trousers fit and look beautiful.
---
Date Added:
11/02/2017
by
Jeff
- Sacramento, CA US
Fit really well and price is right. Once we got the sizing the way it should be I'm really happy with the pants. It's worth taking the time to get it right.
---
Date Added:
09/28/2017
by
WILLIAM M CHACE
- Palo Alto, CA USA
Excellent and swift service. Perfect fit. Will order again.
---
Date Added:
11/19/2016
by
Lola
- Phoenix, AZ
Absolutely wonderful service! High quality, perfect fit, and great customer service. I cannot overstate how glad I am to have finally found pants that fit. Thank you MYOJ!
---
Date Added:
08/16/2016
by
Andrew Norman
- United Kingdom
Excellent product, I hope to order again. So good to be able to get the fit I want. Re. styling, one improvement would be if there was the option to have buttons on the rear pockets. One very pleased customer.
---