Global Shipping

Quality Assured

Pay Securely
Summer Weight Chino Pants
$58
Chinos are an essential wardrobe staple.

Discover the richness of cotton with our premium quality cotton pants.

Made from Light Weight Cotton Fabric, Wear our Summer Weight collection during the summer months to add sharp style to your ensembles

Made using premium Giza cotton, Peach Finished for ultimate comfort.

100% Cotton Fabric,premium quality.

Made as per your measurements.

Pre-washed, Pre-shrunk.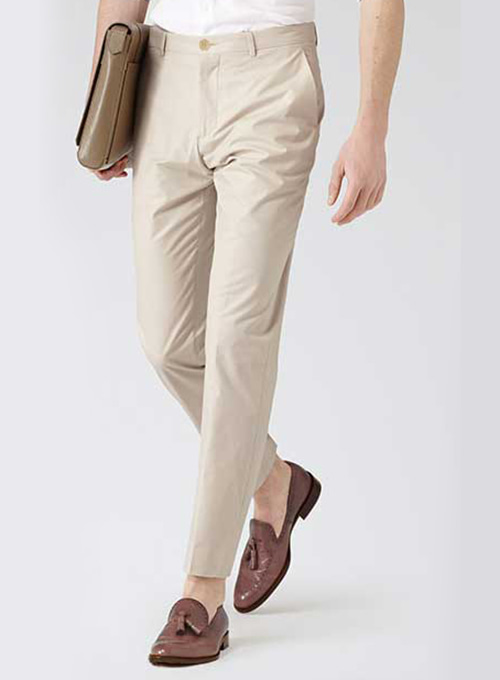 ---
Date Added:
05/24/2023
by
Ed lehmann
- Waterford va usa
Being 6?y? and thin I've always struggled finding cloths that fit. Make your own jeans solved my problem. Their pants fit great and wear well. The only down side is that the front button becomes loose over time. I've replaced them with easy to attach metal buttons.
---
Date Added:
07/10/2021
by
Andy O'Connor
- Camberley
Lovely lightweight trousers, fit perfectly as always
---
Date Added:
04/07/2020
by
Stuart Schultz
- Portland OR. US
Fit nearly perfectly. Will refine a bit on next order. Pretty much as expected. Excellent value as I need not spend money to alter which I usually do.
---
Date Added:
06/23/2019
by
Konstantin Kucheryavyy
- Japan
The fit is perfect. Thank you very much! Also, I really appreciate your great customer support. I didn't quite like the fabric, though. It would be so great if you could introduce some high quality fabrics for chino pants. Or, maybe, you have something and I missed it?
---
Date Added:
07/01/2018
by
Charles
- Oregon, USA
Nice to have the perfect fit in a lightweight, warm weather pair of pants.
---
Date Added:
02/20/2018
by -
We were very happy with the product! It was all how we ordered and came in a nice amount of time. Would recommend MakeYourOwnJeans.
---
Date Added:
10/13/2017
by
Ralph
- Chula Vista Ca usa
Excellent material,craftsmanship and customer service!
---