Global Shipping

Quality Assured

Pay Securely
Tweed Jacket
$150
1 Button, 2 Button, 3 Button , Double Breasted and more, you can select any style from the product page, you can even select a waist coat to make your suit a 3 piece.

Made from Pure 100% Premium Tweed Wool, one of the finest fabric available, colors to choose from, Jacket is fully lined.

An all time classic garment that would be a great addition to any man's wardrobe and would look good for years to come.

When it comes to stylish, sophisticated clothing, our jackets are all you want.

This listing is for 1 Jacket.

Lining: 100% Viscose; Dry Clean.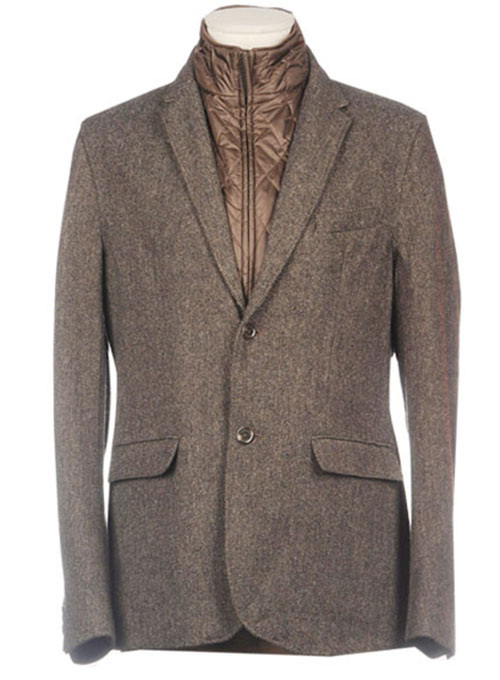 ---
Date Added:
12/14/2021
by
Matthew Marcella
- Cherry Hill, NJ, USA
I was very pleased with the jacket. I honestly didn't know what to expect with ordering a custom-fitted jacket online, but it fits perfectly. I was very happy with the results and will absolutely be placing future orders.
---
Date Added:
01/03/2019
by
DGood
- NYC, NY, USA
I ordered the "black flecks Donegal tweed" sports jacket, per my custom measurements (I have ordered several times from MakeYourOwnJeans). The material in this jacket is a very good quality, "light-weight" (not too heavy or stiff) wool tweed that goes perfectly with casual or dress trousers. I began ordering from this company a few years ago, and it took a couple of tries to get my measurements right -- but now I can simply re-order and the result is always excellent quality. Thank you, MYOJ.
---
Date Added:
11/26/2017
by
Steven Cook
- Berkshire
I am absolutely delighted with my grey Herringbone tweed jacket(you need to make accurate measurements as the garments are always made exactly to them). It was 50% cheaper than one I bought on the high street and fits better. It is my "go to" jacket now and will be ordering another one just as soon as I can decide on a colour and pattern.
---
Date Added:
04/18/2017
by
Ron
- canada
The quality of the workmanship is excellent and the material excellent. Shipping was timely and as expected . My measurements we followed however the shoulders are a bit tight when you cross your arms. Not sure what you do . will purchase again.
---
Date Added:
01/19/2017
by
Joan Finer
-
I ordered a tweed jacket from MYOJ for my husband. His measurements are extremely non-standard. There is nothing that I can buy for him over the counter. When I sent his measurements to MYOJ, they questioned them, no doubt thinking that I had made a mistake. I hadn\'t and they made the jacket the way I asked for it. It fits him perfectly. We are both very happy with the fit, the material and the service. This is not my first order from this company and I\'ll be ordering again soom--either jeans for myself or another jacket for my husband.
---
Date Added:
09/27/2016
by
Richard Gifford
- Philadelphi, PA
quality and look were great, sizing was a little smaller then true, but I will just order up next time, overall very satisfied.
---
Date Added:
03/29/2016
by
JAA
- Glendale, NY, USA
I really love this jacket. It fits perfectly and I am very pleased with it.
---
Date Added:
02/25/2016
by
Taras T.
- Grand Junction, Iowa, United States
A Grade jacket, excellent fit, great value.......will order again !!
---