Global Shipping

Quality Assured

Pay Securely
Black 14.5oz Heavy Denim Jeans
$69
Heaviest Denim in it's category, Classic Jeans are made of 14.5 oz denim, comfortable, strong and sturdy, these jeans are made to last.
14.5 Oz Denim, 100% Cotton and extra soft feel.
Each piece is individually cut from rolls of denim fabric and stitched accordingly.
Enzyme Washed at high temperatures to give complete shrinkage.
Leather labels.
5 Pocket style.
Metal Buttons and Rivets Reinforced.
Made to your measurements
This is a evergreen denim fabric jeans.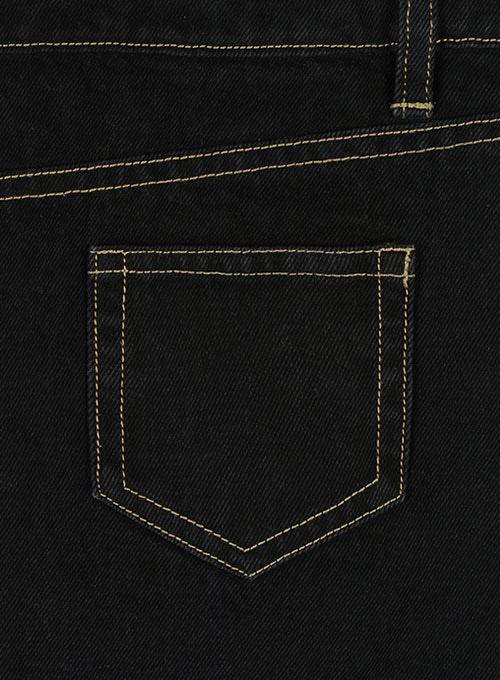 ---
Date Added:
11/09/2022
by
Jon
- UK
Great quality and fit. I am delighted with these jeans. Thicker material for the cooler weather. I remain a happy customer!
---
Date Added:
11/06/2022
by
Sylvia Pesek
- Haynesville, LA USA
My new black jeans are PERFECT! I've been a client of Make Your Own Jeans for many years, and still have the first ones I ordered, though some of them now are quite decorated with embroidery and patches! This new pair had all the changes I requested, and I just wish MYOJ had RED denim ... I'd certainly order a pair! There are a lot of companies that offer customized services, and MYOJ is one of the VERY BEST! Thank you for providing products that are well-made at a reasonable price. I'll be a client for as long as I wear jeans, which will hopefully be for many years to come!
---
Date Added:
09/16/2021
by
Susanna Love
- Brighton
Very well made jeans, arrived in good time. The size and fit are spot on. I hope to get another pair soon. Thank you
---
Date Added:
05/21/2021
by
JAMES JOHNSON
- CHICAGO
Very good! Fit perfectly.you guys need add more color for jeans, green, gray tan,and brown.
---
Date Added:
12/18/2020
by
Fred
- Cranston, RI, USA
This is my fourth pair of jeans from this company, and the second pair identical to this one. I am impressed with their quality and care; previously I purchased jeans from one of their competitors and I'm happy I changed. As I expected, they vary a bit in size -- but probably less than I do over the same period. One of the things that made me switch was the availability of particularly good fabrics, which has been rewarded in the way that they wear. My only departure from their standard jeans is to request 7 belt looks; I don't know if this is necessary, but it was with the other company. I'm set for a while as long as I stay away from spraying bleach, which was my reason for this order -- that is, I didn't and the black magic marker didn't do a good enough job.
---
Date Added:
12/15/2020
by
Heiner
- near Bonn, Germany
A regular customer for more than 10 years, I bought jeans for my son and myself in the past few months. And again, they strengthened - if at all possible after 10 years of best experience - my confidence in the expertise of the MYOJ people - the fits are exactly as expected. My best wishes for a successful 2021 to all working for MYOJ.
---
Date Added:
12/17/2019
by
Wayne EDWARDS
- United States
best pair of black jeans i have ever owned best fitting like the thickness material
---
Date Added:
04/02/2019
by
heiner
- near Bonn, Germany
This was a pair of jeans for our son, and - as always - he is very satisfied. So it has not come as a surprise at all that, just a few hours ago, our daughter has a new pair of jeans ordered, too.
---
Date Added:
12/10/2018
by
James
- Ferndale,Michigan USA
This is the second pair of these jeans I?ve purchased. The first pair were a perfect fit, held their color and haven?t shown the wear my Levi?s always did. This pair will be just as fantastic.
---
Date Added:
08/23/2018
by
james johnson
- chicago
This is not the order for me, but the jeans fit perfectly.can't wait to order some more.
---
Date Added:
08/19/2018
by
James
- Ferndale,Mi USA
In 70 years, these are the first jeans that actually fit. These jeans were chosen because of the heavyweight denim so they would wear well. What a surprise that after 3 weeks, they feel like they have been worn for years!
---
Date Added:
11/28/2016
by
Daniel McCoy
- United States
Really thick material ... just what I wanted for winter
---
Date Added:
06/06/2016
by
FMS
- Philadelphia, PA USA
The jeans fit PERFECTLY after my second attempt. Now I can re-order in all different colors. The quality is top notch with any jeans I\'ve purchased in a retail store. I\'ve washed and dried them and no shrinkage at all. Just remember that your first-time free alteration is only with the low end denim and NOT with the heavy duty denim as I found out the hard way. The jeans take a while to arrive... about 2 months. Jeans are shipped in nice packaging which gives that luxurious feel of something special. I highly recommend!!!
---
Date Added:
05/17/2016
by
Gret
-
Great fit, great workmanship. Only way we can get pants that fit our tall, skinny child. Great deal.
---