Global Shipping

Quality Assured

Pay Securely
Custom Jeans - FIX Measurements
$59
Give the Finished Thighs, Knees and Leg Bottom measurements to get Jeans the way you want it.

Dark Blue Jeans made from premium 10 oz Denim.
Whether it's your first custom jeans or you want to buy more of this great jeans, we are offering it to you at a very special price.

Made using the same process we use for all our jeans.

This is a must have 10oz Premium Category Soft Denim Jean.
Deep Dyed Denim HARD washed, 100% Cotton and extra soft feel. This denim is topped with Indigo Based Deep Dark Color to give it a very rich dark and deep look
Each piece is individually cut from rolls of denim fabric and stitched accordingly.
Hard Washed at high temperatures to give complete shrinkage.
Leather labels.
5 Pocket style.
Metal Buttons and Rivets Reinforced.
Made to your measurements

For this product we only accept FIX i.e Finished measurements for the Thighs and Knees, By giving FIX measurements you control the actual fit by giving the respective Thighs, Knee and Leg bottom measurements.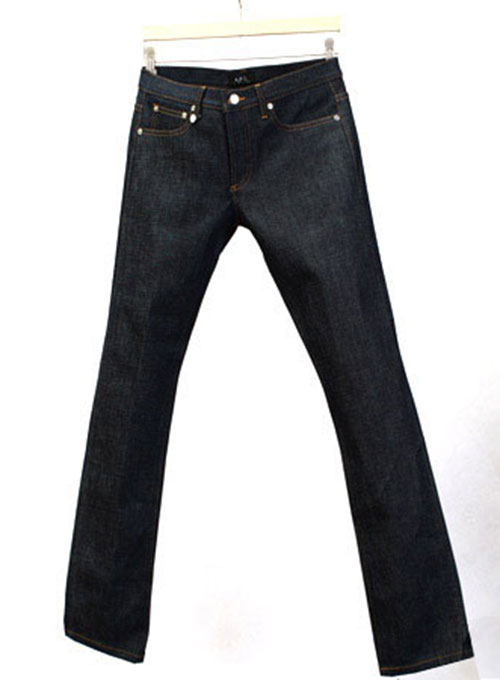 ---
Date Added:
05/11/2023
by
Rick
- Ontario Canada
I'm very pleased with the fit and slubby blue appearance. This won't be my last pair
---
Date Added:
01/05/2022
by
mike paigo
- unionville ct
was very impressed that something so complicated (to me lol) as taking measurements and ordering online was so simple. I gor exactly what I ordered within a few weeks. I would like you to offer a lighter (Japanese) selvedge type material that expensive jeans are made of, that I could buy.I have already recommended your company to others.
---
Date Added:
09/15/2020
by
Renee
- Manitoba, Canada
The jeans fit perfectly! They are now my favorite pair. The quality is very good. Thank you!
---
Date Added:
11/25/2019
by
Stanley D Robbins
- Canada
They arrived sooner than expected. Fit perfect but shrank after being washed.I reset my measurements for my next order.
---
Date Added:
01/06/2017
by
rita johnston
- mount airy nc
I love my jeans I always get many compliments on how they look on me I would really like to get a fabric sample before I order to see if it is the color I really want I have bought at least 20 pair of jeans from you but I would really like to see the color in person first
---
Date Added:
10/23/2016
by
Rachel
- Detroit, Michigan
If you want a custom fit, this company is precise and professional. They have no issues editing or modifying your order. This is money well spent if you are looking for clothing that actually fits! I was very satisfied with my order, have recommended this website to coworkers and plan on purchasing again. The quality of denim is amazing. Its nothing that you would ever get at a department store. What I really like is they adjust your measurements to make sure it is best suited for you. I am not a seamstress and its comforting that someone has these skills. I tried them on immediately when it was shipped and wore them out that evening at dinner. They held up wonderfully and I was shocked at the quality of work. Don\'t be hesitant to measure yourself and buy a pair. Understand that high quality denim needs to be broken into like a high quality pair of leather loafers. Remember that if you do modify your order or measurements, to do so immediately within the first week or so its shipped to you. I didn\'t need to make adjustments, it fit perfectly! I have actually worked on some department store jeans with my mother, resizing them and tapering the ankles but it was a relief to get this in the mail.
---
Date Added:
10/22/2016
by
Sean Morgan
- Nobelsville, IN, USA
The overall quality of the jeans was good and the denim is a decent medium weight. I ordered these as fixed measurements, the size is exactly as I ordered and they fit very nicely.
---
Date Added:
05/06/2016
by
Angela
- Red Deer, AB Canada
They are very well made and great denim for the price.
---
Date Added:
04/06/2016
by
Jacek
- Sarasota, FL. USA
I would rate this product (and Company) even higher, since GOOD is not good enough! As being a very short Man (5'02"only)I have always had a big trouble to find pants or jeans that fits Me right. And one Day Friend of mine said: You should try MakeYourOwnJeans.com. And I did and I'm very, very happy now! They did a marvelous job. Finally I don't look like a Clown. I have ordered 5 pairs of pants and jeans since January and there will be more.
---
Date Added:
03/20/2016
by
Joseph Zingaro
- Dover, DE USA
The jeans are the best fitting I have ever purchased. Period. Well worth more than the price I paid.
---