Global Shipping

Quality Assured

Pay Securely
Custom Jeans With Fit Guarantee
$99
Stop wearing jeans that don't fit and get custom-made, pre-washed jeans made exclusively for you.
Each custom jeans is specially and individually made for you from scratch using your measurements and inputs.
100% Fit Guarantee - If you're not satisfied with the fit, simply let us know and we'll give you a free remake.
This is a must have 10oz Premium Category Soft Denim Jeans.
Dark Blue Denim hard washed, 100% Cotton.
Each piece is individually cut from rolls of denim fabric and stitched accordingly.
5 Pocket style, Leather labels
Metal Buttons and Rivets Reinforced.
Made to your measurements
Our jeans are hand-made by experienced tailors, based on the measurements you provide.
Follow our measurement instructions carefully and the garments should fit - good.
However, sometimes items may need to be adjusted and so MakeYourOwnJeans offers a good fit guarantee:

We call this Good Fit because hand made products cannot be a "Perfect" product, especially jeans, Jeans making is a very complex process which involves commercial washing of each and every jeans after making them with Enzymes in High Temperature Drums for hours, this process gives the Jeans the finish a Jeans should have and you can imagine the fabric goes through a lot during this stage.

Our Good Fit Guarantee gives you a chance to remake your 2nd jeans for Free (Within 15 days of your order being marked as "Shipped"), Yes it's on us, we only ask you to use this "Remake Feature" responsibly as a lot of labor is involved in making the garments.

We will only provide you a free "Remake" once, Please note that as the Jeans are hand made and due to the Washing Process involved there may me some difference in the measurements each time you order your jeans.

Once you get your measurements right you can keep re-ordering custom jeans choosing from the largest denim varieties ever using the same measurement profile or editing it according to your needs.

After we mark your order as shipped you will get an email alert for the same.

Once your order is shipped a "Remake" button is activated on the "Order History" panel for 15 days of your order being marked as "Shipped"
You should update your "Measurement Profile" and select the same for your "Remake" on the "Order History" page

This Remake button is de-activated after 15 days of your order being marked as shipped and will not be activated again.
We only provide Re-Makes for your first order and on a single measurement profile using the same fabric.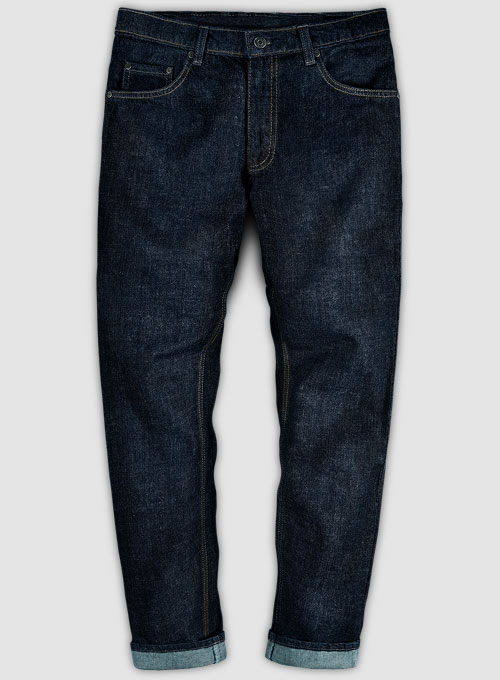 ---
Date Added:
08/30/2022
by
Joanne Sephton
- Guelph, Ontario Canada
Fit is perfect, my order arrived quickly. I will be pacing another order when winter weight fabrics are available.
---
Date Added:
08/19/2022
by
Arthur S Lubin
- Phoenix
Fit perfectly I have never been able to buy a pair of jeans that didn't to be altered
---
Date Added:
06/26/2022
by
Robert Strzelczyk
- Sedgeberrow UK
Perfect fit. Highly recommend. Will be making another purchase soon.
---
Date Added:
05/19/2022
by
Rod Meyers
- Philadelphia, PA, USA
The self measurement instructions were excellent. My jeans are truly of the highest quality denim, so much so that I get compliments on how good the material looks. After wearing for about 2 weeks, I have placed two more orders, one for dress slacks and one for summer weight jeans.
---
Date Added:
05/18/2022
by
Ryan
- Northborough, MA, USA
This was my first experience ordering custom-fit jeans online, which is why I opted for the Fit Guarantee. When I received my jeans I noticed the quality was quite good. What you would expect to find right off the shelf from a quality retailer. Unfortunately once I tried them on I realized I needed the waist taken in another inch since I had them cut to sit higher on my hips than regular mid-rise. The Fit Guarantee process was very easy. I updated my measurements and placed a second order. I received an email confirmation email that my replacement order had been accepted, which arrived in a few weeks time. I'm happy to report that they fit great! I will be ordering several more pants (both jeans, and some of the khaki pants) and am considering some shirts as well. I would highly recommend you give these a go to see how much more comfortable custom-fit jeans can be.
---
Date Added:
04/18/2022
by
ged
- England
this is my second pair of jeans from this company and i have to say they haven?t disappointed. the fit is perfect as ordered and the jeans are superb. why would i pay for ill fitting jeans when i can get them made to fit for the same price or even cheaper. definitely my go to place for jeans and i think i will try some shirts next and a leather jacket.
---
Date Added:
04/15/2022
by
Rod Meyers
- Philadelphia, PA, USA
Great fit, except the waist one inch too large; my fault. Per fit guarantee, I am getting a remake free. So happy that I've already ordered a pair of dress slacks, too.
---
Date Added:
02/25/2022
by
Alex
- Saint Augustine, Florida, United States
I had never ordered any custom clothing online. And even-tough the instructions on how to take the measurements were clear on the website, I wasn't sure exactly what measurements I really needed/wanted, since I did not have a good pair of jeans I could compare it to. So I chose to place an order for a pair of jeans with fit guarantee. Once I tried on the initial pair that was produced for me, I realized that some of the measurements were off by an inch or two. However, the process to re-order the jeans with the correct measurements was very easy, and as promised by the 'Fit Guarantee', there was no extra cost at all. Definitely worth the extra bit of money with my initial order, since otherwise I would have ended up with a pair of jeans that didn't fit. Overall, I am very satisfied and will definitely order more jeans. Oh, and the shipping is really fast as well. Once the order shipped from India, it was delivered to my house in 3 days.
---
Date Added:
11/09/2021
by
Emily Foster
- Western Australia
The jeans fit amazing, theyre mad exceptionally well. There are no loose threads, no bad stitching, no problems. They're perfect! Thanks MYOJ!
---
Date Added:
10/26/2021
by
Tim Donnelly
- Springfield Ky usa
Just what I ordered. I'm going to make a few adjustments for next order. But I will be ordering again. Everyone was so helpful with my first order. Thanks Tim
---
Date Added:
10/05/2021
by
PIA GULLIFER
- United States
IT WAS PERFECT!! THE FIT WAS PERFECT LENGTH ETC IT WAS PERFECT!! THE FIT WAS PERFECT LENGTH ETCIT WAS PERFECT!! THE FIT WAS PERFECT LENGTH ETC
---
Date Added:
07/20/2021
by
Brian Goodrow
- Canada
I would like to thank you and your team for the great work they did in preparing my jeans to my exact requirements. I am very satisfied with the jeans and no alterations are required. They fit and weare like an old pair of comfortable jeans. Excellent work
---
Date Added:
07/12/2021
by
Todd S.
- Knoxville, Tennessee, United States
Had these made in a early 70s bell bottom cut. Came out perfect. The fit is better than the 50 year old vintage variety. Can not tell this pair is not vintage. Perfect pair of jeans. Denim is good quality, should last for years with little signs of wear.
---
Date Added:
05/30/2021
by
Mark
- Lawrenceville, nj. Usa
The jeans fit perfectly. It was worth spending the extra money.
---
Date Added:
05/27/2021
by
Richard
- Chapel Hill, NC, USA
The pants fit and the workmanship was very good. My only complaint is that the quality of the fabric is sub-standard. This is true of both jeans and cords. I would gladly pay $5 more per item for a normal quality material.
---
Date Added:
04/23/2021
by
IAN ROY
- PORTLAND, OREGON. U.S.A.
THIS IS MY SECOND PAIR OF JEANS I HAVE ORDERED AND THEY FIT LIKE A GLOVE ABSOLUTELY PERFECT. I WILL NEVER PURCHASE A PAIR OF JEANS FROM ANY OTHER COMPANY. IN ADDITION TO THAT YOUR SERVICE IS INCREDIBLE, I RECEIVED MY ORDER IN TWELVE DAYS. KEEP UP THE GREAT WORK.
---
Date Added:
12/23/2020
by
Daniel W Harrison
- Woodstock
Fantastic.. Great job. I love these jeans. They were fast in production, timely in delivery and exactly as i ordered.
---
Date Added:
12/14/2020
by
David Ward
- United Kingdom
The jeansarrived in good time fit pretty good the thighs are a little tight and the front and rear riser could be a little longer as I have what is known as skiers physique large muscly thighs and rear end with a smaller waist than would be expected, I think I measured wrong., Having said that they fit much better than anything I found off the shelf. I would have liked to see the rear pockets with orange stitching across the top. I will be reordering with a few adjustments.
---
Date Added:
12/01/2020
by
Chris Bellinger
- Stafford Heights
I had a misunderstanding in the measurements required - be careful, the leg measurement is the total outside length of the jeans, from the top of the waistband to the bottom of the leg hem - not a normal inseam measurement that I took for granted. The MYOJ fit guarantee allowed for me to alter my measurements and get the jeans remade for free. The MYOJ team were also understanding that I was on holidays when the jeans were delivered so even though I was unable to trigger the re-make within the standard time frame, they reactivated the option in the online form and I progressed without issues. I am very happy with the final result and will definitely buy more in future.
---
Date Added:
07/20/2020
by
Colin Officer
- Western Australia
My jeans fitted perfectly and the material is very comfortable.
---
Date Added:
07/14/2020
by
Kenneth Graham
- So. Padre Island, TX
I like not having to go to a store and keep trying on pants until I find the ones that fit me.
---
Date Added:
04/05/2020
by
Mark Myers
- United States
Perfect. I'll order more when I'm allowed to leave the house to pick up packages.
---
Date Added:
03/31/2020
by
terence ennis
- rockville centre, ny usa
AWESOME, was a pleasure working with your co. and the jeans were really nice,
---
Date Added:
03/05/2020
by
Susanna Love
- UK
Very good service, jeans arrived within 3 weeks. Slightly bigger than I had thought, but ok, would happily order again and would recommend to friends and family. Brilliant service and lovely jeans
---
Date Added:
02/03/2020
by
Thomas Little
- Billings, Mt USA
The size and fit were just what I ordered Very happy with the pants
---
Date Added:
01/17/2020
by
Bob leary
- Grass valley
Attention paul:ok all bs aside here is another review for you since ime such a reasonable guy try not to lose it because I am done. review:received Jean's promptly, pretty fast actually. You can tell they are better made than store bought Jean's just looking at them, and they do fit as ordered so measure carefully, these guys are dead on accurate. they look great and I will probably order more. I would reccomend them., like to see how they wear first.okpaul? Goodbye and best of luck in all future endeavors bob.
---
Date Added:
01/13/2020
by
Meredith Sunshine
- United States
These were great. They are soft and fit perfect! Worth every penny. Thank you!!
---
Date Added:
01/12/2020
by
Audrey
- Scottsdale, AZ
I ordered custom made jeans for my father. He is rather an odd fit and we never seem to find anything that fits him. He tells me he is very pleased with his new jeans.
---
Date Added:
01/10/2020
by
Charles Harris
- Stuarts Draft, VA. 24477?
Jeans fit wonderfully...not real pleased with the denim material used. Do you have any different weights of denim?
---
Date Added:
12/11/2019
by
Paul Huebner
- De Pere
They are nice but dony fix as good as I'd like. More than likely because of my measurements
---