Global Shipping

Quality Assured

Pay Securely
Dark Blue 14.5oz Heavy Denim Jeans - Hard Wash
$69
Heaviest Denim in it's category, Classic Jeans are made of 14.5 oz denim, comfortable, strong and sturdy, these jeans are made to last.
14.5 Oz Denim, 100% Cotton and extra soft feel.
Each piece is individually cut from rolls of denim fabric and stitched accordingly.
Hard Washed at high temperatures to give complete shrinkage.
Leather labels.
5 Pocket style.
Metal Buttons and Rivets Reinforced.
Made to your measurements
This is a evergreen denim fabric jeans.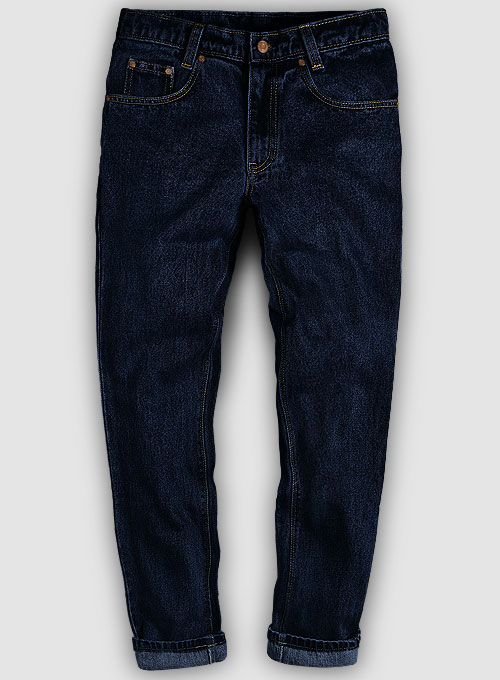 ---
Date Added:
09/22/2022
by
Jesse Smith
- Bristol ct. 06010
This company is wonderful.. everything 100% satisfying..100% quality 100% customer service.. it is wonderful doing business here. I recommend them to everyone especially the most exacting customers.. yup .. very VERY pleased ...and that's not easy because I am a tough customer.
---
Date Added:
09/05/2022
by
Tina Lugo
- Providence,RI, USA
The denim is good quality. It's thick and heavy and will definitely wear well. The construction was perfect. This is my second pair from MYOJ and so far everything has been top notch. A great Fall/ Winter jean.
---
Date Added:
04/24/2022
by
Ruben Gonzalez
- BAKERSFIELD, Ca.
Good Job they got it right to acceptable measurements. The work is solid even better then what the store sells you. But don't expect an exact copy unless you're a professional taking pant measurements. So I think the best thing to do is send them a pair of what you want and I'm sure you'll get an exact copy that that also feel the same when your wearing them. Over all I highly recommend them
---
Date Added:
03/29/2021
by
David Furley
- Balmain NSW AUSTRALIA
The jeans are just what I wanted. Great fabric, well-made & perfect fit. Impossible to find such a suitable product either in the shops or elsewhere on line. Very quick delivery. Excellent service in every way. Thanks very much!
---
Date Added:
03/17/2021
by
Timothy B Pepper
- Nashville, TN, USA
I ordered these after growing tired of the increasingly elastic jeans I can buy locally. I wanted to try a pair of non-stretch jeans that are made to last. The construction on these is awesome!. They fit perfectly. My only word of caution would be to make sure you measure yourself correctly. The first pair I ordered, I made the mistake of using the waist size of my regular jeans as my measurement and the jeans didn't fit. They are beautifully made exactly to the measurements I ordered. I corrected the measurement and ordered a second pair which are perfect! I would buy them again.
---
Date Added:
10/06/2020
by
George
- State College, PA USA
I just can't buy jeans that fit off the shelf: low-rise, etc. Having zeroed in on the size, I like the convenience of being able to re-order in various fabrics. I really like the heavy denim, and could go even a little heavier if it were available. And since winter is approaching, I would love to have fleece- or flannel-lined fabric. My pockets were the first thing to wear out in the most recent pair, maybe not everyone carries a cell phone? But I'll keep buying jeans from MYOJ.
---
Date Added:
12/08/2019
by
Dan
- Australia
Sizes of the finished garment are exact to your measurements. Quality of the Jean material is as good as it gets. Tailoring is high quality, and the best thing, they fit perfectly.
---
Date Added:
07/30/2019
by
Jimmy
- UK.
Usual excellent quality and cut. Fair price. Prompt delivery. What more can anyone ask for?
---
Date Added:
02/20/2019
by
Jimmy S.
- UK.
Excellent jeans. Heavy denim, beautifully sewn and a very good fit. The kind of jeans young Merchant Seamen used to buy in Chandlery Stores all the way from Portland Me. down to Corpus Christi in the 1960s and 70s but which disappeared when jeans became a fashion item. Thank You for bringing back real jeans. I intend coming back for more very soon. J.
---
Date Added:
12/18/2017
by
John
- Portland, Oregon, USA
I used my measurements for dress slacks, and the fit is perfect. My wife says they look very good, The fabric is a little lighter than that for my usual Levi 501's, but much less stiff. The real feedback is that I promptly ordered a second pair, and this is where I plan to get my jeans from now on.
---
Date Added:
06/04/2017
by
Dianne
- Vacaville, CA, USA
This is my 3rd time ordering jeans for my son who is 6'4" with a 40" inseam! I don't know what he would wear if it weren't for Make Your Own Jeans. We're lifetime customers :o)
---
Date Added:
10/04/2016
by
Christine
- Kentucky, usa
My favorite pair of jeans! The last pair I ordered are a close second, though I had to adjust my measurements. Now that I have them right I am ordering more. Love these jeans! Thanks to all of your attention and care in making these.
---
Date Added:
09/05/2016
by
Christine
- Vine Grove, KY, USA
My favorite pair of jeans! I\'m ordering another pair today. This is now the only place I get jeans.
---
Date Added:
04/04/2016
by
Christine
- KY, USA
Love them! This was my first order. I need to adjust one measurement slightly, but they fit really well. These are my favorite jeans already and I will be ordering another pair soon.
---