Global Shipping

Quality Assured

Pay Securely
Hard Wash 7oz Light Weight Jeans
$69
Summer Special

Jeans made from 7oz premium Ring denim, if you want a light weight jeans you wont get it anywhere but here, even shirts are made using this denim and now for the first time we are offering jeans made from this denim, look no further even the biggest companies like Lee, Levis dont make jeans from this fabric, very soft and comfortable denim, try something no one will have.
7oz Ring Denim, 100% Cotton and extra soft feel.
Each piece is individually cut from rolls of denim fabric and stitched accordingly.
Enzyme Washed at high temperatures to give complete shrinkage.
Leather labels.
5 Pocket style.
Metal Buttons and Rivets Reinforced.
Made to your measurements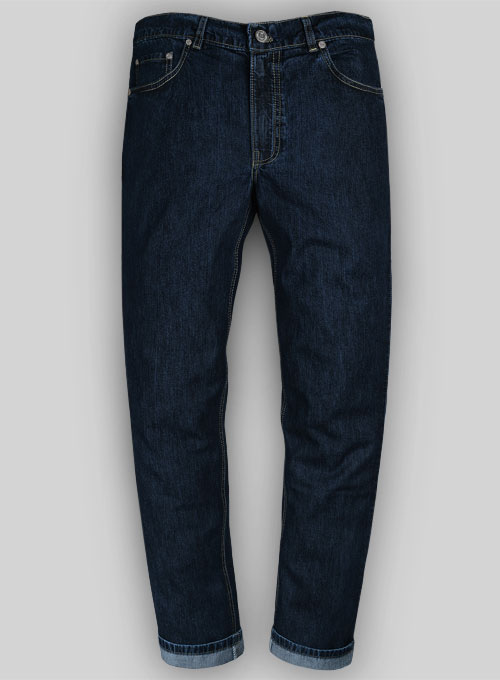 ---
Date Added:
06/22/2023
by
Dan
- Birmingham, AL, USA
Perfectly made and very comfortable. I went with 7oz jeans for the lightweight feel and breathability, and I was not disappointed with the quality of the work or the speed and shipping. The lightweight fabric does wrinkle easily (almost like linen) in the wash, so they require ironing, but that's no big deal--just a heads up to the next buyer!
---
Date Added:
11/11/2020
by
Rodger Warren
- Berwick,Victoria,Australia
The Jeans I ordered arrived as I specified. I get all my Jeans from this company. My only disappointment is the time taken to receive my order. Which was more than 4 weeks. However this may be due to the Covid-19 Virus. I will be using "Make Your Own Jeans" again.
---
Date Added:
02/12/2019
by
Rodger Warren
- Berwick,Victoria,Australia
It is impossible for me to get Light Weight Jeans that fit except from "Make Your Own Jeans" The Jeans arrived on my doorstep in good time and were exactly as I ordered.
---
Date Added:
01/28/2019
by
Karen W.
- Spencer, Massachusetts, United States
Love this light weight denim, I wear it year round. Color is deep and uniform. Good for work.
---
Date Added:
08/19/2018
by
Arron Evans
- W14 8JA
Super easy to design your own jeans and arrived very quickly. Jeans perfectly fitted. Only negative - way too much packaging! Totally not ecological!
---
Date Added:
08/12/2018
by
Roy
- Beaufort NC U S A
I?ve been wearing your pants exclusively for years. Fabrics are great and fit is just what I ordered. Thanks everyone for what you do. I?ve never been disappointed at all over the years Roy
---
Date Added:
02/19/2018
by
Glenn Lee
- United Kingdom
Very good product. Was surprised at how well they were made. Ideal summer weight jeans. Another thing I liked immensely was the choice of zip or button fly - often lighter weight five pocket trousers have a zip and I prefer a button fly. Because of the give in this weight material I would recommend a tight measure.
---
Date Added:
08/31/2017
by
Avner Sheer
- Israel
Jeans are well made and good fit. Added an inch in the butt for following order, will then decide on measurements for next order. Very pleased with this order of lightweight jeans, perfect for our hot summer. Highly recommend.
---