Global Shipping

Quality Assured

Pay Securely
Selvedge Denim Jeans - Raw Unwashed
$75
Exclusive, For the first time ever, Selvedge Denim Jeans - Custom made
Jeans made as per your measurements from Japanese Selvedge Denim.
Also known as Selvage / Salvage Denim, it all means the same thing.
Our selvedge denim has a Red/White thread running vertically down the cloth on the edges, the weight is approximately 11oz to 12oz.
A great offer for pure denim lovers and collectors.

About Selvedge Denim:
Selvedge denim is made on old style shuttle looms rather than modern projectile looms. In simple terms this means that the cross thread in the weaving process goes back and forth during the weaving process. But modern looms, shoot each cross thread through individually, hence the edge of the cloth is frayed rather than clean. No shuttle looms have be made for over 40 years as they can only make cloth about 30 inches wide whereas projectile looms can make fabric 60 inches or even wider for much less money.Because the fabric made on these looms is so narrow we need approximately 3 yards to make each pair of jeans. To maximize the usage, the traditional method was to have a straight outside seam and cut right up to the selvedge so that when you turn the jean up you see the selvedge edges.

All fits cannot be made from this fabric(due to width of this fabric being only 30 inches), only a straight fit, tapering or a classic comfort fit can be made using this denim

Always order more length for the turn-ups you want, also we will make the length about 1 to 2 inches more than given, mostly these denims are worn unwashed for a long time, they do shrink if washed, the extra length can always be turned-up initially.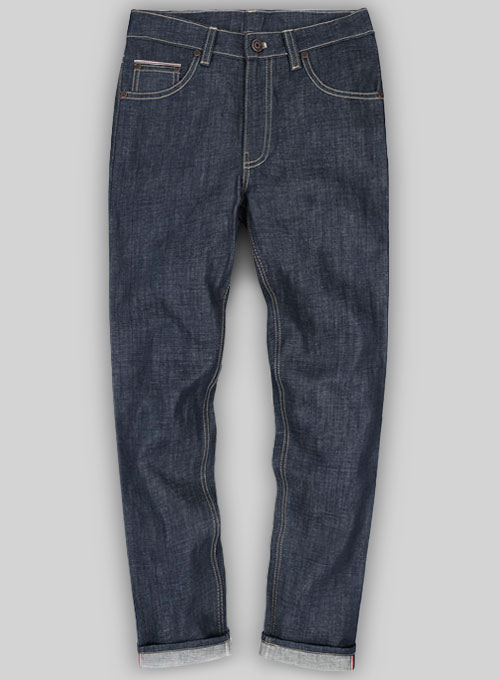 ---
Date Added:
04/04/2023
by
Scott
- Uk
The first pair I ordered were way off but it was a learning curve and MYOJ sorted it and made me another pair at a reduced cost and shipped them very quickly. The quality of the denim and workmanship are very very good and I will order from them again.
---
Date Added:
02/05/2023
by
Jon
- Warren ohio USA
Great material love these jeans could be the best I've ever owned! Thank you.
---
Date Added:
10/12/2022
by
Xiao Jia
- Thun, Bern, Switzerland
This customized pair of jeans is well made, with excellent selvedge denim and design. The size matches my measurement. I will come back for another pair. I highly recommend Make your own jeans.
---
Date Added:
08/19/2022
by
James S.
- STROUDSBURG, Pennsylvania, United States
This was my 1st stab at ordering made-to-measure jeans. The sizing instructions were thorough. . . most importantly "DO NOT USE ANY MEASUREMENT FROM A PAIR OF JEANS PURCHASED AT RETAIL". I was very pleasantly impressed with the results: The weight and feel of the denim is great. The construction appears very robust so far. The fit from day one has been spot-on! I was so pleased with the initial fit that I ordered a second pair using the same measurements, and they're 100% true. Both pair were delivered at 10 business days from date of order. You can call me convinced!!!
---
Date Added:
03/14/2022
by
Craig
- West Virginia, USA
The jeans were cut and sewn as I requested. Just what I ordered. That is all one can ask. My only request is that a heavier weight selvedge denim would be available. The weight is on the light side relative to something like a traditional Levi jean.
---
Date Added:
12/15/2021
by
Scott C.
- Redwood City, California, United States
I've purchased two pairs of these jeans, one pair for me a year ago and another for my girlfriend this year. They fit perfectly and every option is customizable, it's very satisfying to be involved in the design of the garment. Both the materials and workmanship are excellent.
---
Date Added:
08/02/2021
by
Daniel
-
This was my first try using the service and I'm okay with the end result. The bespoke fit is almost there but with the elements of trial and error inherent to sizing and fitting I expected a bit more consideration to customer satisfaction. These jeans are short on me and the denim weight is much lighter than my favorite jeans I'm trying to replace. Ideally, I would have been able to send these back and pay more for the jeans I actually want. Instead I'm about 80% happy with the purchase I have instead of 100% happy with a product I would pay twice as much for.
---
Date Added:
10/15/2020
by
Jeff
- Fairfax
I've spent a lot of time trying to find the perfect pair of jeans. After receiving my order, I am very pleased to say I've found my perfect pair. All I did was measured my body, provided the measurements to makeyourownjeans, and what I received was now my new favorite and now only pair of jeans I need. I definitely recommend this company to anyone who wants the perfect pair of jeans. Getting your exact measurements will be your homework but if you get it right, it will be very well worth it.
---
Date Added:
09/20/2020
by
Cameron
- Portland, OR
The best fitting jeans I've ever owned. The seams are perfect. The stitching is top notch. The fit is perfect. I can't believe I used to pay 3x this much for designer jeans when I can just design my own and they fit perfect. This is the exact Jean I've been trying to buy from designers for years. I'm a customer for life. I'll be buying at least one pair a year for myself, if not more.
---
Date Added:
09/20/2020
by
Alphonso R Dume
- Norristown Pennsylvania USA
I love the jeans. The only thing is the measurement for my hips and crotch area are snug... Lucky for me i wanted to lose weight anyway. Lol.
---
Date Added:
09/16/2020
by
Gary Woodring
- Oregon, USA
I'd wear them to bed if I could. They feel great! I've washed and air dried the jeans twice and they look so good that my wife is asking me to turn around so she can check me out... I opted for colored buttons with the button fly, but the coloring seems to peel off from the center of the button. I also opted for red thread and the additional splash of color is nice. My next pair will have a little less room in the seat and an additional inch in length. Better than my old 501's...
---
Date Added:
07/19/2020
by
Victor bennett
- United kindom
Excellent , fit good , quality good , knocks spots of shop bought jeans at twice the price if not more
---
Date Added:
01/20/2020
by
nic
- UK
Great service. Very fast delivery. The jeans are of a very high quality. Lovely selvedge raw demin to correct sizes. Highly recommended
---
Date Added:
05/17/2019
by
Jason
- Singapore
Very very good quality, no disappointment, most importantly it fits perfectly.
---
Date Added:
04/16/2019
by
Mark
- Uk
No Complains just my measurements could have been better
---
Date Added:
01/16/2019
by
David H. Kaiser
- United States
The jeans are great. The company easy to deal with. The size is a little off, but that's probably my fault.
---
Date Added:
10/16/2018
by
Frank
- UK
They fit me well but get your measurements correct I will see what happens when they end up in wash but I have no complaints. Thanks
---
Date Added:
10/14/2018
by
Demond Murphy
- United States
Great product. Love the fit of the Jean's and the material is excellent.
---
Date Added:
07/24/2018
by
Demond Murphy
- Burbank, CA, USA
The jeans turned out great. My measurement was a little off but that was due to my error. Will definitely order more.
---
Date Added:
11/20/2017
by
Simon Barratt
- United Kingdom
What can I say? I am very particular about my denim and my jeans. I specced these to exactly what I wanted. Japanese Selvedge, raw, red buttons etc etc. Took careful measurements and the jeans are superb. Spot on for cut, fit, finish etc. Truly impressed. Many thanks
---
Date Added:
06/10/2017
by
Jaye
- Royal oak, MI, USA
They are expert pants makers. They will give you exactly what you ask for. I recommended them to my tall friend Jess when she was talking about the difficulty she experiences buying clothes. I would recommend finding someone who knows about measurements of clothes though, the instructions are clear but it would be helpful to have someone with some experience when you are figuring out the measurements of your inseam etc.
---