Global Shipping

Quality Assured

Pay Securely
Tailored Pants
$55
Our tailored trousers offers instant tailored elegance and is ideal for all manner of dress codes and occasions.Add it to your clothing repertoire for the easiest route to fine tailored style.

Choose from Wool, Linen, Terry Rayon, Tweed and Corduroys, we can make this trouser for you using any fabric listed on this product page.

Custom Made to your Style and Size.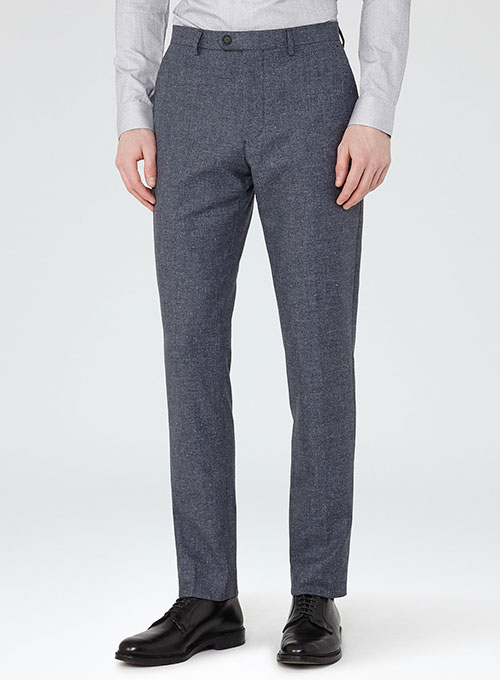 ---
Date Added:
07/27/2021
by
Stewart
- United States
I ordered the pants on a whim to go with a blazer that I ordered at the same time. I had originally planned to go to a local high-fashion men's store instead, but the price intrigued me. I was looking for a lightweight material suitable for the tropics in a particular light tan/khaki/cream color. When the pants arrived (along with the Blazer) they were exactly as I had envisioned. Material was the right weight and color. Pants fit like a glove and passed the wife's test and she is very, very picky, having grown up in the 'rag' business. Plus, any adjustments or alterations that may (weren't) necessary would have been easily accommodated by the extra material available in the seams. In short, these were the pants I wanted and were the pants I received. If there is a bit of criticism I may share, it is the measurement process. First and foremost, you're going to need a tailor's tape and although they are easily acquired, not a lot of people have them. Secondly, if you have a pair of really well-fitting pants, it may be easier to get the measurements off those pants than trying to do actual physical measurements. Frankly, that's what I ended up doing.
---
Date Added:
11/21/2020
by
Keith
- Portland, OR
An excellent made pair of trousers that matched my specifications. The terry rayon has a nice drape to it and remains fairly wrinkle-free throughout the day.
---
Date Added:
11/08/2020
by
KTF
- Portland, OR, US
These pants were made exactly to my specifications and fit wonderfully. Although I think I will get a heavier fabric next time, the terry rayon does have a nice drape and a lighter weight.
---
Date Added:
02/10/2019
by
Philip Martin
- La Conner, Washington, Cascade Republic
My bespoke tweed slacks arrived in time for me to be wearing them now that it's snowing in La Conner. The fit is perfect. The warmth delightful. You have my gratitude respect and affection.
---
Date Added:
12/07/2018
by
WILLIAM ROBBINS
- Orlando
PERFECTLY MADE, GREAT FABRIC. I LOVE BEING ABLE TO DESIGN THEM AND THEY ARE EXACTLY AS I IMAGINED THEM!! JUST FOLLOW THE MEASUREMENT DIRECTIONS!! TOO BAD YOU DON'T MAKE SHIRTS ANYMORE!!!!
---
Date Added:
01/08/2017
by
Anthony
- washington DC
Pants fit perfit fast service and great communication with customer service
---