Global Shipping

Quality Assured

Pay Securely
Classic Cargo Denim Jeans
$75
Classic Denim Cargo Jeans, always in style, now made from your choice of denim, to fit your body.
You can choose more than 50 Denims/Cottons from which your jeans will be custom made.
Each piece is individually cut from rolls of denim fabric and stitched accordingly.
Enzyme Washed at high temperatures to give complete shrinkage and faded look.
Leather labels.
Metal Buttons and Rivets Reinforced.
Made to your measurements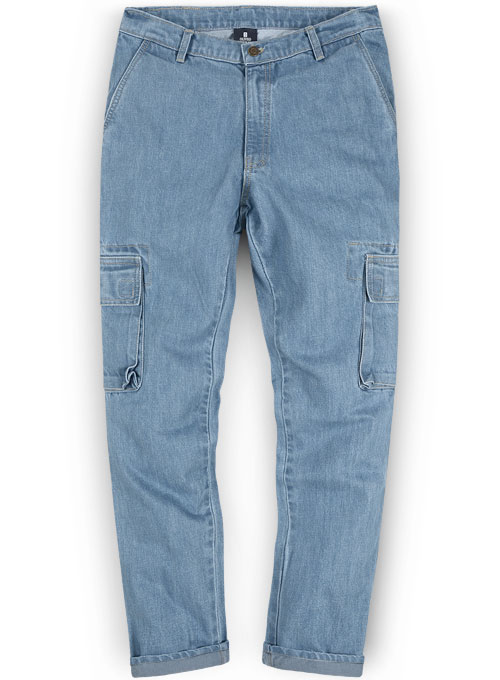 ---
Date Added:
01/02/2023
by
Harold Griffin
- United States
I am elated with my most recent order. Jeans arrived at the estimated time of arrival which makes it easy to plan for the delivery and they are everything I anticipated. Couldn't be happier, thanks.
---
Date Added:
04/03/2022
by
Susan Giffen
- Saskatoon, Saskatchewan, Canada
The jeans are virtually perfect except for the fact that the fly doesn't zip all the way up to the top not sure why. but they're still great cargo
---
Date Added:
10/19/2021
by
Joe Mongiardo
- Wayne, NJ USA
I've probably ordered ten pairs of these pants! Love them!!!
---
Date Added:
06/19/2021
by
Dawn
- Albuquerque, NM, USA
These jeans fit remarkably well. I bought them primarily for the cargo pockets. I have a big cellphone and I specified the pocket size to accommodate my phone. The phone fits nicely in the cargo pocket and is always handy. This makes me a happy hiker!
---
Date Added:
04/08/2021
by
Marcello
- Cinisello Balsamao, Italia
What can I say, I have four pairs of this model, it's just my favourite. Not to talk of the precise measures!
---
Date Added:
08/01/2019
by
Susan Giffen
- Saskatoon, Saskatchewan, Canada
These cargo jeans are perfect! They?re comfortable, rugged, and made to my specifications. I will definitely order more jeans in the future!
---
Date Added:
03/08/2019
by
Peter Heweston
- Australia
Love getting jeans in my size delivered to my door very promptly. Beautifully made too.
---
Date Added:
04/23/2018
by
John C. I. Rocke
- United States
Product is always good/superb. The problem is with the website. It's not easy to order. You select one pair, and you're lost on the website. It does not return to the same page, you have to redo the whole shopping experience. You cannot order multiples, you can only order one pair at a time. It's very disconcerting, and I don't order more items because of a faulty website system of ordering.
---
Date Added:
04/01/2018
by
Michael
- Madison, AL, USA
I've looked for cargo denim jeans for years and no one seems to make them. That's why I decided to order denim cargo pants with Make Your Own Jeans. I absolutely love my cargo jeans - they are perfect. I will more than likely order several more as they fit perfectly. Thanks for what you do...Michael
---
Date Added:
03/05/2018
by
John C. I. Rocke
- United States
Make Your Own Jeans produces the best product on the market. Why? Because it's custom fit, and you are the designer. I receive compliments extraordinaire for the clothing they make. I cannot find certain types of apparel, and therefore, having it custom made is simply outstanding and satisfying. They make quality, tailored, fit-right clothes. I will continue to use their service. I have a few nicks against the ordering system, but that pales by comparison to the excellent product you get. I'm an eager, enthusiastic, energetic supporter of this company, and consider them to be my tailor and seamstress all in one.
---
Date Added:
11/28/2017
by
steve M.
- United States
Looked for a pair of denim cargo pants all over the internet, none really were cargo jeans. I ordered a pair from MYOJ's and they were great and they don't shrink. Took measurements from a good fitting pair of pants, followed their instructions, great results. Delivered to my door in about a month.
---
Date Added:
11/07/2017
by
Bernhard
- Germany
Really like this style.It's more comfortable than normal jeans and much more usable when you have a "big" smartphone like iPhone x - it fits easily in the pockets.
---
Date Added:
07/05/2017
by
Joe barri
- Milton, MA, USA
My favorite all time jeans, measured to fit my legs, in a variety of great fabrics and colors.
---
Date Added:
06/30/2017
by
V
- Yachats, OR. USA
Excellent pair of custom made cargo jeans. Have another pair on order. Very well made and fits perfectly. Will be ordering more in the future!
---
Date Added:
06/19/2017
by
Joseph Barri
- Milton, MA
First time I ever had custom jeans and I love them. The website can be a challenge to work through, but I've figured it out and have become a multiple repeat customer.
---
Date Added:
06/17/2017
by
DS Storm
- Stewartville, Minnesota, USA
Finally, all of my instructions were followed and I received a great pair of jeans. Not only did they fit great, but also look great and I really like wearing them.
---
Date Added:
06/05/2017
by
Wright
- uk
My husband is very tall and orders these jeans as it is difficult to get what you want in the UK . We have ordered them on two occasions now and they arrive in good time they are well made and the choice is good.
---
Date Added:
05/22/2017
by
Brian Wiese
- Sherman, Texas, United States
Excellent fit, perfect weight, I feel great when I wear them and I try to wear them often. None of the other jeans I have in the closet come close. I highly recommend taking the time to have a pair made for yourself and you will never regret it. I cannot find on any rake of any store a pair of jeans as well made and of such premium material as the pair I received from Make your Own Jeans and they fit perfectly.
---
Date Added:
03/12/2017
by
Diane Kornegay
- United States
Very nice cargo jeans, well made and received them in just a few days. Thank you, Diane Kornegay
---
Date Added:
02/21/2017
by
PeterH
- Australia
Love these guys, once they have your measurements it's a single click to buy another pair in a completely different colour and material. I've got 4 pairs now, all great fit and great make, ranging from denim to linen. The big side pockets are good for large phones, wallets etc.
---
Date Added:
09/01/2016
by
Bhupendra Singh
- Meerut, India
Fitting is perfect as per my specifications. I am fully satisfied and wish to purchase more items soon.
---
Date Added:
08/11/2016
by
joe urbauer
- las vegas NV
I am going to order more with a few changes in the measurements. but were getting very close to the perfect pair of jeans. Thank You.
---
Date Added:
06/05/2016
by
Dr. Peter
- Hammondsport, N.Y., USA
Can\'t say enough good things -- fit perfect, quality soft denim; asked @ fit satisfaction before 2nd pair sent out. Plan to order more ...
---
Date Added:
05/31/2016
by
Wright
- uk
Very well made, as asked for, we will use them next time
---
Date Added:
05/25/2016
by
joan finer
- Berea Ohio United States
I\'ve ordered many pairs of jeans from MYOJ over the years. The first pair needed the measurements tweaking a little, but all subsequent pairs have fit just the way I want them. The quality and workmanship are very good and delivery (once they are made) is super fast==from Mumbai to my house in Ohio in just over two days.
---
Date Added:
05/15/2016
by
Wright
- uk
Good service great jeans we were very impressed and will order again
---