Global Shipping

Quality Assured

Pay Securely
Classic Heavy Blue Indigo Wash Whisker Jeans
$79
Heaviest Denim in it's category, Classic Jeans are made of 14.5 oz denim, comfortable, strong and sturdy, these jeans are made to last.
14.5 Oz Denim, 100% Cotton and extra soft feel.
Mild Whiskers, Scrapped.
Each piece is individually cut from rolls of denim fabric and stitched accordingly.
Enzyme Washed at high temperatures to give complete shrinkage and faded look.
Leather labels.
5 Pocket style.
Metal Buttons and Rivets Reinforced.
Made to your measurements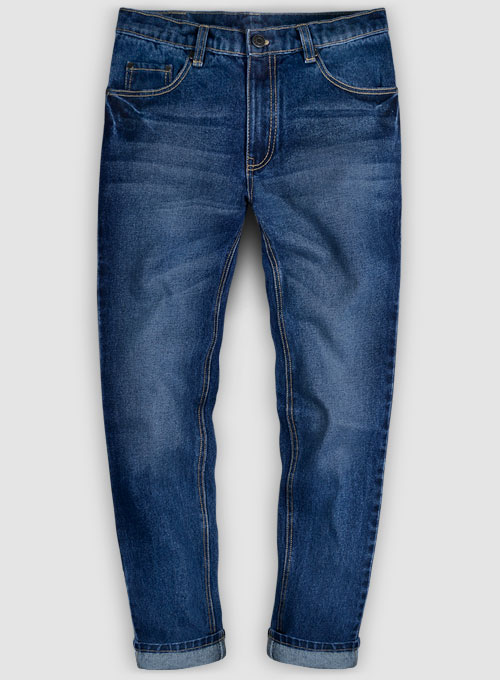 ---
Date Added:
05/23/2023
by
Mark L. Ross
- United States
I am very pleased with both the jeans and my shopping experience. I would recommend this company without hesitation to anyone looking for custom clothing.
---
Date Added:
04/17/2023
by
David Weinert
- United States
Took a few tries but ended up with a great wash and cut. Customer service a little slow to respond sometimes but they stand by their product and do what they say they will.
---
Date Added:
01/29/2017
by
Uwe
- Stuttgart, Germany
Perfect fitting, good looking jeans. I was surprised, because it was the first time that I have bought a persnally tailormade blue jeans. I will come back to this page. For me it would have been easier to handle in centimeter instead of Zoll.
---
Date Added:
12/05/2016
by
Kasie Thompson
- Neosho MO, United States
I bought one pair and loved them! Then proceeded to buy 5 more pair for work! They fit great and are very well made.
---