Global Shipping

Quality Assured

Pay Securely
Classic Heavy Blue Stone Wash Jeans
$69
Heaviest Denim in it's category, Classic Jeans are made of 14.5 oz denim, comfortable, strong and sturdy, these jeans are made to last.
14.5 Oz Denim, 100% Cotton and extra soft feel.
Each piece is individually cut from rolls of denim fabric and stitched accordingly.
Stone X Washed at high temperatures to give complete shrinkage and faded look.
Leather labels.
5 Pocket style.
Metal Buttons and Rivets Reinforced.
Made to your measurements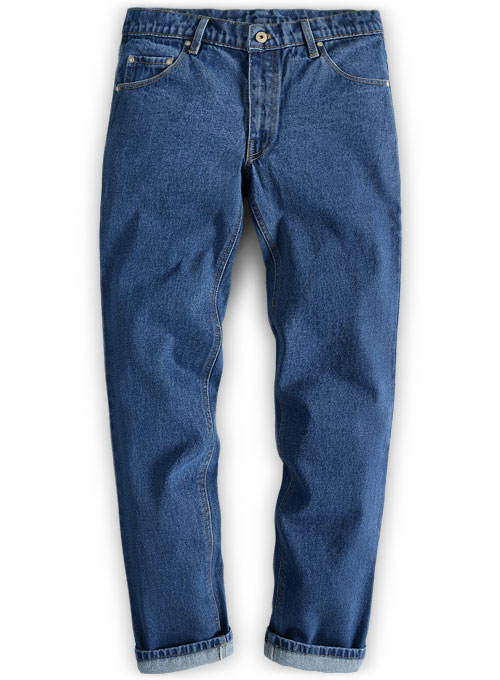 ---
Date Added:
09/12/2023
by
Jeff Koesling
- Maplewood, MN. USA
Ordered these and they fit perfectly!!! Very easy process and wont ever waste my time going to a store and trying 10 pair on to fi d 1 that actually fits right! Great quality and worth the wait it took to get them! Several options to choose from!
---
Date Added:
05/22/2023
by
Elizabeth Chase
- Putney, VT, USA
Really well made pants. Excellent work. Fit just right. Good quality denim. So glad I found this product.
---
Date Added:
01/16/2022
by
Jason W Kuper
- Eastford
The Jeans were made to my exact measurements +/- 1/4 inch. I took actual measurements from a pair of jeans that fit well. The Jeans fit well and are made from denim that is heavier than what seems to be available in dept stores. They have been through the wash a couple of times and are holding up. These were for my wife. She is pleased.
---
Date Added:
01/05/2022
by
John
- Ny USA
I'll never ever buy any other brand jeans again. MYOJ are the best jeans I've ever owned! The seamstresses always follow up with questions and my measurements are always perfect! I rate them a 12/10! I'm a customer for life!
---
Date Added:
12/03/2021
by
Ed Lehmann
- Virginia USA
Great service. I finally can get pants that fit at a reasonable price. The hardest part is fine tuning your measurements.
---
Date Added:
09/26/2021
by
Jason
- Tucson, AZ, USA
Most excellent! This is my first pair, I've been meaning to try out this company/process for years and finally bit the bullet...I will be ordering 3 more pairs soon. They fit like a glove, all of the details I specified are perfect, and the price is around what I'd pay for ill-fitting generic jeans mass-produced in sweatshops owned by globalist billionaires. Thanks for these fantastic pants!
---
Date Added:
07/18/2021
by
Michael
- Rancho Cordova, CA
The first pair fit so well I ordered another. I'm on a weight loss campaign right now and will need to get more soon. I will certainly get my jeans from MYOJ!
---
Date Added:
03/30/2021
by
Mike Russell
- Sacramento CA
Took longer than expected but worth waiting for. The fit is perfect!
---
Date Added:
03/25/2021
by
Donnie Z
- Lewisburg, Pa., USA
I followed the directions for sending in my measurements and my Jean's came out perfect! Exactly what I wanted, custom fit to match a pair of Jean's that are no longer in production in USA. For the price, you cannot beat this company! The tailored fit is perfect. Will buy again and recommend to everyone looking for quality Jean's at a great price.
---
Date Added:
10/25/2019
by
Anne
- Wood Dale, IL USA
The fit was perfect and I really like the heavier weight of the denim. Excellent quality.
---
Date Added:
01/04/2019
by
Rob
- Woodbury NJ USA
The best pair of jeans I've ever had...thank you...they fit perfectly!
---