Global Shipping

Quality Assured

Pay Securely
Dark Blue 14.5oz Heavy Denim Jeans
$69
Heaviest Denim in it's category, Classic Jeans are made of 14.5 oz denim, comfortable, strong and sturdy, these jeans are made to last.
14.5 Oz Denim, 100% Cotton and extra soft feel.
Each piece is individually cut from rolls of denim fabric and stitched accordingly.
Enzyme Washed at high temperatures to give complete shrinkage and faded look.
Leather labels.
5 Pocket style.
Metal Buttons and Rivets Reinforced.
Made to your measurements
This is a evergreen denim fabric jeans.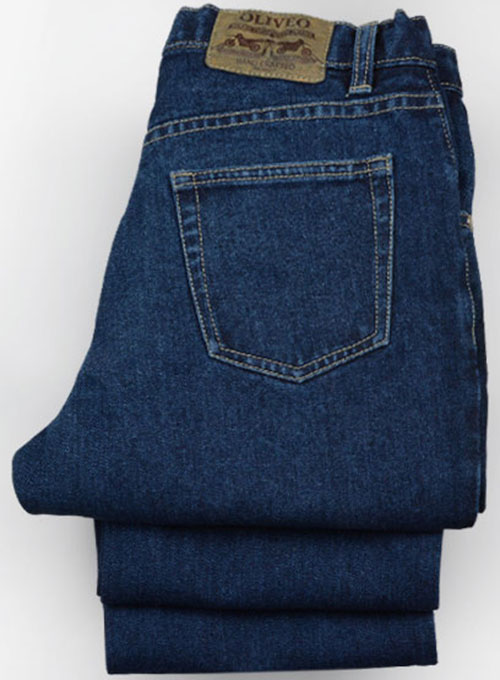 ---
Date Added:
10/20/2022
by
Jeremy Fisher
- United Kingdom
Item arrived sooner than expected, the fit is good, and quality excellent. Would recommend and will be purchasing again.
---
Date Added:
10/14/2022
by
Sylvia Pesek
- Haynesville, Louisiana, USA
I have been a MYOJ client for more years than I can remember, and they always provide just exactly what I want, which is, after all, the whole point of having jeans made to order. The quality of the product is first-rate, and they are always so much better than what I can find in mass manufactured jeans. I am a very, very satisfied customer.
---
Date Added:
07/30/2022
by
IAN ROY
- PORTLAND, OREGON. U.S.A.
This is my fifth pair of jeans from MYOJ, they fit perfectly, the colour is exactly as described on their website, the material is very sturdy and are very well made. I received them one week earlier than expected. Thanks, for a great job.
---
Date Added:
05/26/2022
by
Alice Higbee
- Horse Cave KYUSA
Great fitting jeans. I have ordered twice now and both times extremely happy with my jeans. Thank you MYOJ for great customer service.
---
Date Added:
02/28/2022
by
JOHN S CIESLAK
- Lowville
2nd time we used this service, great fit, great quality, great price, great value!
---
Date Added:
12/31/2021
by
Borys J Melnyk
- United States
love the weight. Love the look. I finally tweaked the fit so that it's perfect. Love the options I picked...they were executed perfectly. Finally, I got the cell phone pocket I asked for at no extra cost. Happy guy!
---
Date Added:
11/09/2021
by
Mary
- Boise, Idaho, USA
Love them--these are the real deal. They are exactly made to the measurements I gave them, arrived faster than I expected, and feel like they'll last forever!
---
Date Added:
06/17/2021
by
Chris Amis
- Cottonwood
Took a while to receive them. Love the color and weight of the denim. But...big gap area in waistband in the middle of my back and the waist is too small. The gap in back makes my shirt stick out! Maybe if I lose a couple pounds I'll be able to wear them and let you know better then. Until I can wear them I won't reorder.
---
Date Added:
06/12/2021
by
Chris Amis
- Cottonwood
Loved the denim weight and no bling on the pockets but the back of the waistband had a huge gap away from my back..hate that. The waist was too small so maybe if I lose a few pounds I'll be able to wear them. Overall quality is good..I just can't wear them right now.
---
Date Added:
04/22/2021
by
Mindy Morales
- San Antonio, Texas
Beautiful construction, excellent fabric, fast service. This is my fourth of fifth pair of MYOJ; it's the only place I buy jeans now. My only tiny complaint is that with this pair, the button hole for the front button is a little too small, making it difficult to button and unbutton. It may loosen up with use, so no big deal. Otherwise, a complete thumbs-up. Thank you for providing this fantastic product.
---
Date Added:
10/16/2020
by
Keith Putt
- Winnipeg Canada
I measured a bunch of jeans that fit and some that didn't, looking for the perfect set of measurements. From what I can tell, MYOJ made my jeans exactly to those measures. Best fit I've had in years. The fabric weight, colour and texture meet my expectations. Only nit is I find the back pockets a bit small - difficult to get my hand into.
---
Date Added:
08/28/2020
by
Linda
- Kenmore, New York. USA
This is a great pair of jeans! The fit is perfect and good quality. Make your own jeans will be my new go to place, already ordered 2 more pair
---
Date Added:
07/10/2020
by
Raymond H Hanson
- United States
For several years (3+), I have appreciated getting MYOJ that fit like only bespoke jeans can. The quality is great and I intend to buy them from MYOJ indefinitely. Sizing was a minor challenge early on as the jeans will gradually shrink as they are washed every week or more as I wear them like a uniform. All of my other jeans have been relegated to work duties. I also have a stretch pair that are wonderful for bending knees without restraint or bagging out afterward. Got to try them because you'll become a convert as am I.
---
Date Added:
12/08/2019
by
Dan
- Australia
Fantastic product. Perfect fit and tailoring to match. Do yourself a favour and give them a try, you will be pleased.
---
Date Added:
11/06/2019
by
Michael
- Grand Prairie
I Love my made to order jeans! The material is nice quality and the size is true to the dimensions I send! The pricing is reasonable for the custom fit and the shipping time is faster is better than expected.
---
Date Added:
09/25/2019
by
Wayne EDWARDS
- United States
great product great fit highly recommended to all of my friends best customized jeans money can buy looking to place orders for other products
---
Date Added:
07/23/2019
by
francois bergeret
- France
J'ai r?cemment achet? ce jean A MES MESURE. C'est agr?able d'enfiler un jean comme un gant et que tout va bien du premier coup. Beau jean sur mesure pour un prix agr?able aussi !
---
Date Added:
06/10/2019
by
Brandon
- Kansas City, KS, USA
This is definitely a heavy denim, but still comfortable to wear. They look great, and seem quite well made. The fit is exactly what I asked for, and the ordering and shipping process couldn't be better.
---
Date Added:
01/11/2019
by
ian storey
- United Kingdom
Really good process throughout, helpful updates, speedy delivery, and great jeans. Forget the high street brands. I'll be buying more of these. Only slight concern, website a little vague on how to get the best waist measurement.
---
Date Added:
09/09/2016
by
C.B.
- USA
This order with Make Your Own Jeans was perfect. I ordered two pair that fit wonderfully.
---