Global Shipping

Quality Assured

Pay Securely
Wallace Blue Jeans - Denim-X Wash
$69
Wallace Blue Denim, this is a must have 12oz Mid weight Denim Jeans.
Denim from our latest range of fabrics.
100% Cotton and extra soft feel.
Each piece is individually cut from rolls of denim fabric and stitched accordingly.
Denim X Washed at high temperatures to give complete shrinkage and faded look.
Leather labels.
5 Pocket style.
Metal Buttons and Rivets Reinforced.
Made to your measurements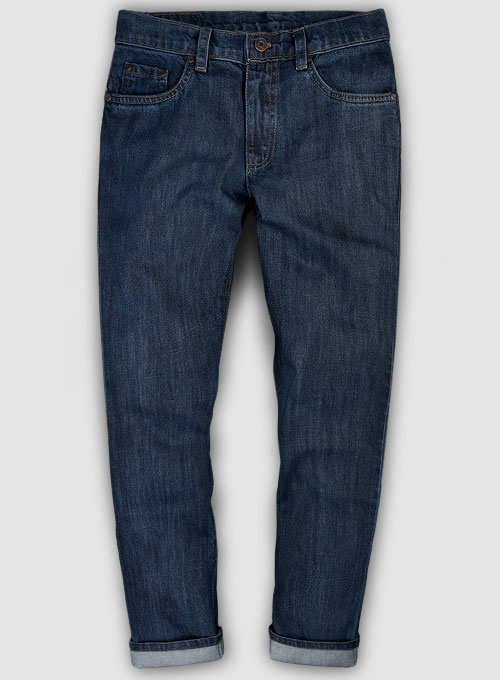 ---
Date Added:
01/24/2022
by
Anne-Marie
-
Excellent fit and communication from seamstress to clarify measurements was greatly appreciated. Will definitely use this company again. PS Love the MYOJ bag.
---
Date Added:
12/23/2020
by
Beryl Kelley
- Port Angeles, WA, USA
Second purchase with MYOJ, very happy with the results. If you are going to get made to measure USE FIX MEASUREMENTS! And really, REALLY think about them before sending them in. The pants are only as good as the measurements you send them. This pair fits perfectly. The first pair I ordered were a bit goofy and I did not use fix measurements, which means they kind of "interperet" your measurements so to speak. I compared different measurements from pants I already had that had different aspects that fit me and adjusted those. Now that I have a feel for my proper measurements, I will probably never buy pants from anyone else ever again. These are perfect. And yes. There are weird scribbles and markings on the inside parts of the pants. Get over it. Your pants were made by an actual human.
---
Date Added:
07/17/2019
by
Alan
- United States
I have been ordering jeans for over 6 years or so and have been very happy with the product and quality.
---
Date Added:
09/11/2018
by
TARA GRIMM
- United States
Thanks so much! The jeans fit and look very nice on my son! I was worried they wouldn't arrive on time for the wedding but that wasn't a issue at all! I would definitely order from them again! :)
---
Date Added:
05/30/2017
by
julian
- England
If you want a perfect pair of jeans that fit. This is the place to go, I am so pleased with my orders, I will not shop anywhere else.
---
Date Added:
11/18/2016
by
Mark
- Arlington, Texas
Thank you for the great and fast service, great product, super customer service.
---
Date Added:
08/19/2016
by
Mark
- Arlington,Texas,US
Good product , fits perfect, make your own jeans is the way to go ,have been shopping for jeans for a long time and nothing seems to fit me the way I wanted till I came across this site and the search is over,will order more in the near future
---