Global Shipping

Quality Assured

Pay Securely
Slate Black Corduroy Blast Wash Stretch Jeans - Look #509
$69
Corduroy Jeans made of Fine Premium Stretch Corduroy Fabric.

In an endlessly versatile shade of slate black, the Corduroy jeans are sure to become a pinnacle of your off-duty wardrobe.

97% Pure Cotton Natural Fabric, 3% Lycra Stretch.
Blast Washed at high temperatures to give complete shrinkage and faded look.
Leather labels.
5 Pocket style.
Metal Buttons and Rivets Reinforced.
Pre-Washed, Pre Shrunk.
Made to your measurements

Look Includes

Buttons: Antique Silver Star (41)
Thread Color: Black
Back Pocket Style 506 Flap


Any add-on if purchased with this jeans will over-ride the above look and will be given preference.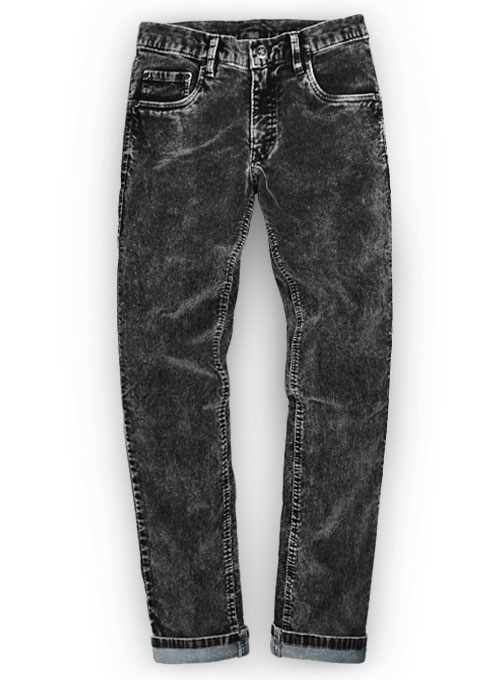 ---
Date Added:
08/03/2022
by
Dave Galloway
- United Kingdom
Great quality. Fits perfect. Service A+. Certainly order again from Make Your Own Jeans.
---
Date Added:
03/11/2019
by
Carlo
- Illinois USA
I like it and looking forward to buy more and other styles 😊
---
Date Added:
11/20/2018
by
Namun Kim
- Lidcombe
It looks more colorful than the picture, and I like the thickness of the texture.
---
Date Added:
03/23/2017
by
stuart andrews
- United States
Excellent materials and construction, obviously sewn by a master.
---
Date Added:
01/30/2017
by
Catherine
- Bellingham, WA USA
I haven\'t worn anything else to work since I got them - incredible! For the first time ever, I have pants that are completely comfortable and look terrific. I have yet to find something in my wardrobe that doesn\'t look good with them!
---
Date Added:
01/05/2017
by
Greg Gorman
- Canada
Love these totally! Such a great customized fit and great color that matches all the grey/white/black shirts/shoes/socks/coats that I have. I will continue to use this site. No longer do I need to buy clothes that doesn\'t fit me to only have to go to a tailor to have it fit after I\'ve washed and dried the items. The items from MYOJ are totally form fitting....just be sure you follow their instructions on how to measure! Two thumbs up and then some!
---
Date Added:
12/20/2016
by
Laura
- Woburn, MA, USA
Great pants! The material is beautiful, they have nice deep pockets, and are really well made. I still need to tweak my measurements just a tad, but these pants are totally wearable. I will definitely buy another pair.
---