Global Shipping

Quality Assured

Pay Securely
1% Stretch Custom Jeans With Fit Guarantee
$99
Stop wearing jeans that don't fit and get custom-made, pre-washed jeans made exclusively for you.
100% Fit Guarantee - If you're not satisfied with the fit, simply let us know and we'll give you a free remake.
Dagger Stretch Jeans, a must have stretch jeans.
You can never have enough jeans in your casual wardrobe.
These versatile jeans will look just as great with a smart sweater as they will with a casual plaid shirt.

12 Oz Denim, 99% Cotton, 1% Lycra, semi stretch extra soft feel.
Each piece is individually cut from rolls of denim fabric and stitched accordingly.
Hard Washed at high temperatures to give complete shrinkage.
Leather labels.
5 Pocket style.
Metal Buttons and Rivets Reinforced.
Made to your measurements
Our jeans are hand-made by experienced tailors, based on the measurements you provide.
Follow our measurement instructions carefully and the garments should fit - good.
However, sometimes items may need to be adjusted and so MakeYourOwnJeans offers a good fit guarantee:

We call this Good Fit because hand made products cannot be a "Perfect" product, especially jeans, Jeans making is a very complex process which involves commercial washing of each and every jeans after making them with Enzymes in High Temperature Drums for hours, this process gives the Jeans the finish a Jeans should have and you can imagine the fabric goes through a lot during this stage.

Our Good Fit Guarantee gives you a chance to remake your 2nd jeans for Free (Within 15 days of your order being marked as "Shipped"), Yes it's on us, we only ask you to use this "Remake Feature" responsibly as a lot of labor is involved in making the garments.

We will only provide you a free "Remake" once, Please note that as the Jeans are hand made and due to the Washing Process involved there may me some difference in the measurements each time you order your jeans.

After we mark your order as shipped you will get an email alert for the same.

Once your order is shipped a "Remake" button is activated on the "Order History" panel for 15 days of your order being marked as "Shipped"
You should update your "Measurement Profile" and select the same for your "Remake" on the "Order History" page

This Remake button is de-activated after 15 days of your order being marked as shipped and will not be activated again.
We only provide Re-Makes for your first order and on a single measurement profile using the same fabric.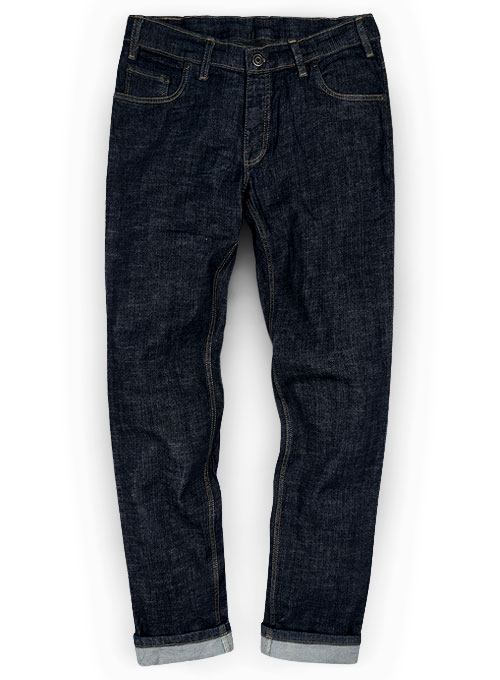 ---
Date Added:
05/17/2023
by
Peter Nielsen
- Danmark
The quality and craftmanship was excellent, measures exactly as specified. Your understanding and perseption of the task demonstrates your long experience in the business. Thanks a lot. Best regards Peter
---
Date Added:
04/17/2023
by
Wendy Jo Hartsock
- United States
They fit like a glove. I have told all my friends about them and how perfectly they fit.
---
Date Added:
02/26/2023
by
Joe
- My Holly Springs, PA, USA
The jeans fit great and are comfortable. Will order more soon.
---
Date Added:
10/10/2022
by
Richard Turyn
- New York City
The jeans fit great & are exactly as advertised. Special requests were performed. I will continue buying from you.
---
Date Added:
06/27/2022
by
Margaret R Poff
- Coon Rapids
Perfect fit every time, I am %100 satisfied with all jeans I have purchased.
---
Date Added:
01/21/2022
by
Sally Schofield
- Chesapeake Beach, Maryland US
We were very pleased with the product. The fit was good and we will most likely reorder, with a few minor adjustments
---
Date Added:
11/17/2021
by
James
- Scotland
Good quality,I received what I ordered and they stayed true to size when washed.I may order again but with some minor measurement changes. I find it's difficult to get the sizes exactly correct without fitting though!
---
Date Added:
11/08/2021
by
ged
- england
good quality jeans and a perfect fit. always struggled to find jeans that fit correct and now I've got my new go to place for my jeans. definitely will be purchasing more pairs
---
Date Added:
04/23/2021
by
John
- Jacksonville, FL, USA
These are the best fitting jeans I've owned since my college years.
---
Date Added:
02/19/2021
by
Deann
- Yakima, WA, USA
FINALLY! Jeans that fit me, don't pinch, and are comfortable. THANK YOU!
---
Date Added:
02/12/2021
by
Kent
- Canada
Came exactly as ordered. Fit perfectly. Easy to measure. Fabric was excellent.
---
Date Added:
02/12/2021
by
Glen W. Sample
- Garden Grove
I love my new jeans! great quality and good looking. Will order again. Glen
---
Date Added:
02/04/2021
by
Eugene P.
- Switzerland
Great jeans, perfect fit and easy to order. I'm really impressed.
---
Date Added:
01/25/2021
by
Margaret A Hobart
- Seattle
Love my new jeans! Love that I can tweak the fit next time. Plan to only buy these in the future.
---
Date Added:
12/08/2020
by
John Clothier
- Joshua Tree, CA, USA
Fit is good. Please make another pair. Same sizing.
---
Date Added:
12/06/2020
by
John Clothier
- Joshua Tree, CA, USA
Good fit! I would like to re-order another pair, same - -John
---
Date Added:
08/10/2020
by
Tom Delavan
- United States
This is a great service. If you are not in a rich you can get jeans that fit exactly as you like them
---
Date Added:
07/14/2020
by
Peggy
- Mi USA
Heaven is jeans that fit well and make you look good. This is my third pair and each have been exactly what I wanted. Makeyourownjeans is the best.
---
Date Added:
03/23/2020
by
Kevin
- Sacramento, CA. USA
I was amazed at the fit and quality of the jeans. I have never been able to find pants that fit proportionally, but these were excellent. I did have to order a re-do because my initial measurements weren?t quite right, but I?m very optimistic that I will be able to fine tune the measurements to get pants that fit well and look good.
---
Date Added:
03/02/2020
by
Jeff
- Madison, WI USA
LOVE my new jeans! As a tall & lean person, I have always struggled to find my size in standard jeans. Make Your Own Jeans made me a pair that fit perfectly! I've been wearing them constantly and immediately ordered 2 more pairs and can't wait for them to arrive!
---
Date Added:
01/24/2020
by
Rabi Aziz
- United States
Great material - workman ship and price. what I like they stand behind there product / Service and they correct any mistake even if its the consumer fault. I do recommend them highly.
---
Date Added:
01/01/2020
by
Charlie Eggert
- The Villages,FL,USA
These jeans are amazing - they just fit so well.
---
Date Added:
12/22/2019
by
Michael collins
- Ogunquit, ME, 03907
As always, good, material, well done and well tailored
---
Date Added:
12/17/2019
by
Christine Clasper
- Roy, Utah
I am very happy I found somewhere to get pants long enough
---
Date Added:
12/12/2019
by
Jessyka
- Somerville
These jeans were the remake from the guarantee fit of my first pair. These jeans are perfect, fit great just the way I like them to. Jessyka
---
Date Added:
12/03/2019
by
Robin
- United States
Amazing quality denim and fit! I thought I could never find a pair of jeans that fit 'my chassis' until now. Can't wait to order different styles. Thank you!
---
Date Added:
11/21/2019
by
Tiffany Hiltbruner
- United States
These are definitely the best jeans I have ever purchased! The size and measurements are perfect. I have a very unique body with very odd measurements and they custom made my jeans amazingly. Thank you for a great fit and the confidence it has brought me. I can't wait to buy more
---
Date Added:
11/11/2019
by
Robin Markowitz
- United States
They are absolutely perfect, now. Best fitting jeans EVER. There was a misunderstanding about the inseam length, though. They gave me a $10 coupon to make up for what I paid for the hem, locally. So, it's all good!
---
Date Added:
10/29/2019
by
Amad
- Canada
I have had problems finding the right size jeans pants all my life but makeyourownjeans just changed the whole game. The size is 100% precise as pee my body and great quality. Amazing job makeyourownjeans. Thumbs up!
---
Date Added:
10/25/2019
by
Mark Sanders-Ferriera
- Cathedral City, CA, USA
It has always been very difficult to find jeans to fit properly. I?m built slight and am low waisted. All commercial cut jeans are all cut to high in the waist for me. Once they settle at my waist, I end up with baggy "butt"! With Make Your Own Jeans I can now have tailored made jeans, low rise, cut correctly in the rear for less than many so called designers jeans!!! Besides the fit, the material is incredibly soft and comfortable. Also, the whole process does not take much more than 12-15 days....from designers to production to shipping! I will never purchase pants or jeans anywhere else!
---