Global Shipping

Quality Assured

Pay Securely
Indigo Blue Jeggings - Light Weight Jeans - Light Blue
$69
Jeggings - The most trendy description for the jeans leggings combo.

Light weight stretch jeans, definitely a must try.
Jeggings are most suited for Skin Tight Fits.


Like it's name this denim does love your body and has a good amount of stretch
6.5 Oz Light-Weight denim, 97% Cotton 3% Lycra, extra soft feel.
Each piece is individually cut from rolls of denim fabric and stitched accordingly.
Enzyme Washed at high temperatures to give complete shrinkage.
Leather labels.
5 Pocket style.
Metal Buttons and Rivets Reinforced.
Made to your measurements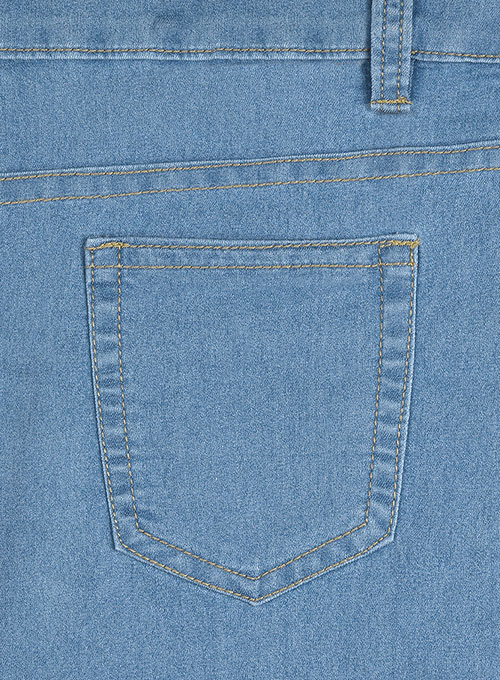 ---
Date Added:
07/08/2021
by
Becky
- Hillsborough, NC, USA
These are beautifully made with a perfect, just for me, fit. I highly recommend these jeans for summer.
---
Date Added:
04/03/2020
by
Ronald Barnes
- Indian River, MI,USA
Perfect. Fit exactly like I was hoping. I've had many complements on them. Wish you had a beige color in this super stretchy material.
---
Date Added:
12/09/2019
by
Mike Ellis
- Lincoln, Ne. USA
These are some great jeans. I don?t know what else I can say. The jeans are exactly what I ordered. They?ve been tailored exactly to my specifications. They fit like a glove and are probably the most comfortable jeans I?ve ever worn. This most recent order only took about 10 days to arrive. That?s pretty good considering they?re made from scratch and are shipped half way around the world. I can?t say enough good things about MYOJ and their products. Customer service has always been polite and patient and I?ve always been completely satisfied with my orders, which I place two or three times per year. I?ve placed around nine or ten (jeans) orders over the years and MYOJ has never let me down.
---
Date Added:
03/21/2018
by
Jun
- seoul. Korea
difference between photo & good. size reference needed. (ex. comparing to levis)
---