Global Shipping

Quality Assured

Pay Securely
Black Leather Jeans
$145
Genuine soft PURE Napa Leather Jeans.
Custom Made as per your style and size.
5 pocket Jeans style, with antique silver (pewter) rivets and metal buttons.
Due to nature of Pure leather material (available in small pieces) there will be 1 joint on the leg which actually increases the beauty of the jeans.

This is an introductory price for our Leather Jeans.

You can get the fit you want by giving the Thigh, Knee and Leg Bottom measurements accordingly. e.g: To attain a Bootcut fit give the leg bottom measurements about 1.5 or more inches than the knees, For a tapering fit the Leg bottom is lesser than the knee, for a baggy fit the Thighs are more etc. This is an introductory price for our Leather Jeans.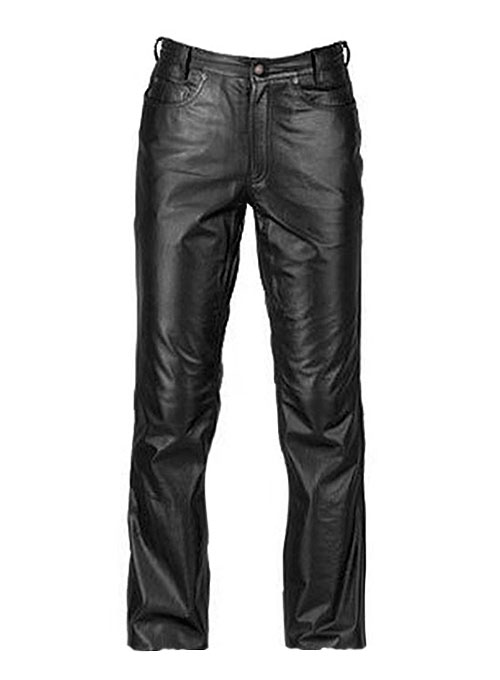 ---
Date Added:
12/05/2021
by
Michael Thompson
- United Kingdom
Very well made but leg length about 2 inces too short Would buy again
---
Date Added:
01/06/2020
by
Chip LeVan
- West Liberty, Ohio, USA
Awesome fit. Great quality. Love them! Received in a timely fashion. Will definitely order more from this site.
---
Date Added:
07/24/2019
by
Tom Grana
- Norge
I'm very very satisfied with the pants I ordered. Being my first ever order of custom for pants, it was very close to a perfect fit. And the overall quality is impressive. Both thumbs up!
---
Date Added:
03/04/2019
by
chester
- new york
This is the second pair that I have ordered, they fit so well it is like they were made for me, oh wait they were made for me. The quality of the leather and tailoring is top notch. My only problem is which one do I wanted to ordered next.
---
Date Added:
06/01/2018
by
Dale A Miller
- Kllamath, Ca., USA
Very cool, only issue is cleaning them but since not wearing them regularly this really is not that important. Very suitable for just about any occasion.
---
Date Added:
09/24/2017
by
Marilyn Hritzuk
- Canada
The leather pants fit excellent very pleased. Prompt service.
---
Date Added:
05/10/2017
by
Ken
- New Bedford.Mass.USA
I love the craftsmanship I love that they know how to follow directions and they communicate very closely to make sure there are no mistakes. If there's a mistake it usually will be on the buyer's end. These are good pros I have ordered three different custom leather jeans and was very happy with all three so far.
---
Date Added:
03/30/2016
by
Michael
- Stockton, CA USA
It was an awesome experience! I was skeptical doing business out of country, but these guys are great! I got an email asking me to re-check my measurements...they said they didn\'t seem right. When I re-checked, sure enough...I had confused some of the measurements. No worries, they made the changes with the new, correct data. The package arrived, and I have never had a better fitting pair of trousers. Not only do I confidently recommend this business to anyone, but I will be buying here again in the future every time I need new pants.
---