Global Shipping

Quality Assured

Pay Securely
Black Stretch Leather Jeans
$209
Genuine soft PURE Napa Leather StretchJeans.
Custom Made as per your style and size.
5 pocket Jeans style, with antique silver (pewter) rivets and metal buttons.
Due to nature of Pure leather material (available in small pieces) there will be 1 joint on the leg which actually increases the beauty of the jeans.

You can get the fit you want by giving the Thigh, Knee and Leg Bottom measurements accordingly. e.g: To attain a Bootcut fit give the leg bottom measurements about 1.5 or more inches than the knees, For a tapering fit the Leg bottom is lesser than the knee, for a baggy fit the Thighs are more etc. This is an introductory price for our Leather Jeans.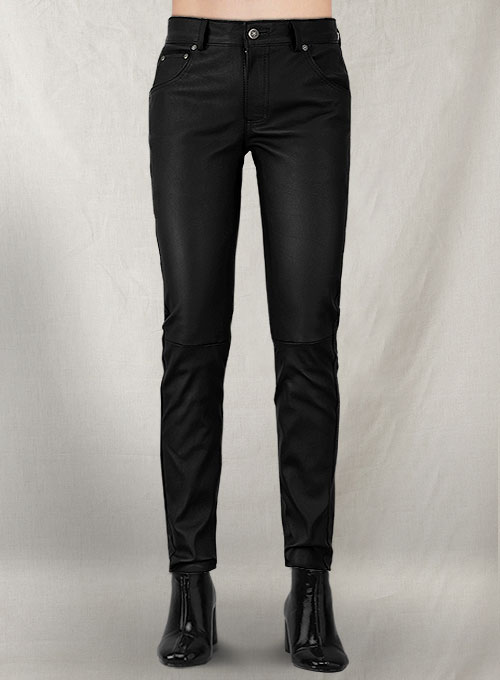 ---
Date Added:
09/09/2022
by
John G Williamson
- St Thomas
These were precisely what I had hoped for. I've placed several orders with Make Your Own Jeans, and the quality is excellent. If you are looking for a specific type of fit, like ultra-lowrise, or bell bottoms, or whatever, it is better to have custom made garments than trying to find the "needle in the haystack" online or in stores; just have them made.
---
Date Added:
11/20/2018
by
Roderick Walshe
- Ireland
Nice and light leather with a good deal of stretch. They are expertly made for a perfect fit.
---
Date Added:
02/14/2018
by
Chris
-
Great pair of pants, never had leather fit so nicely, especially for someone tall as myself.
---
Date Added:
12/04/2017
by
Gerard
- Long Beach, CA USA
Perfect and sexy! PLEASE make more colors!!! Brown would be cool! Also, fit is fantastic! They are so comfortable because of the stretch.
---
Date Added:
10/19/2017
by
Roderick Walshe
- Ireland
The fit is exactly as specified, and the leather has a good amount of stretch, really well made
---
Date Added:
08/17/2017
by
Kelli-Ann Robinson
- Rosedale, SA, Australia
They are perfect! Thank you! Will be buying from you again!
---
Date Added:
02/10/2017
by
Marc
- Germany
This is the hottest leather jeans I have ever owned, wear it all the time. Super processing and fast delivery
---