Global Shipping

Quality Assured

Pay Securely
Leather Pants - Jeans Style
$175
Custom made Leather Pants are one of the most chic, classic and easy wearing pants you will ever find. So if they scared you after watching Ross in FRIENDS, don't worry, ours are nothing like those.

With tailored finish and softness of genuine pure napa leather, our made to measure Leather Pants - Jeans Style are surely going to be your first choice when you want to rock it but with no compromise on comfort.

5 pocket Jeans style, with antique silver (pewter) rivets and metal buttons.

Due to nature of Pure leather material (available in small pieces) there will be 1 joint on the leg which actually increases the beauty of the jeans.

You can get the fit you want by giving the Thigh, Knee and Leg Bottom measurements accordingly.
e.g: To attain a Bootcut fit give the leg bottom measurements about 1.5 or more inches than the knees, For a tapering fit the Leg bottom is lesser than the knee, for a baggy fit the Thighs are more etc.

Custom Made as per your style and size.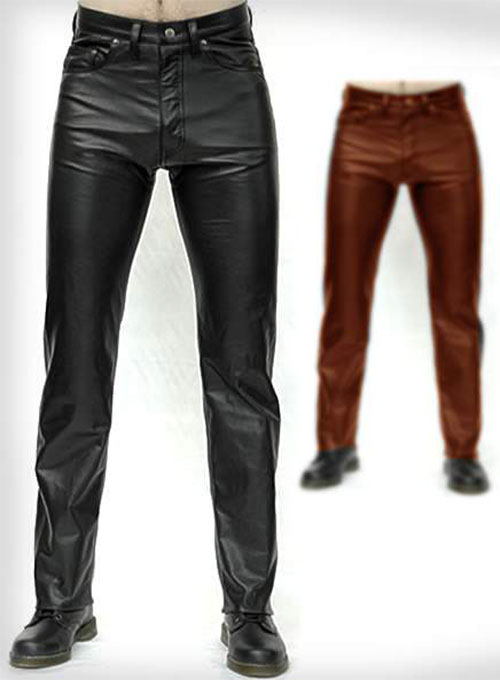 ---
Date Added:
01/11/2023
by
Ian Payne
- Buckinghamshire
This is my 4th pair of leather jeans and these are of the usual very high standard. Vey pleased
---
Date Added:
02/19/2022
by
Angela Starling
- Dalton Ga USA
Product excellent quality leather and materials and precision design quality.
---
Date Added:
07/02/2021
by
Marc
-
Well made to my dimensions and quick shipping . Would order again for sure .
---
Date Added:
02/04/2021
by
Leif Wiberg
- Jonkoping Sweden
I am so grateful for the products from you! If you are careful with the measurements, you get a fantastic fit!
---
Date Added:
12/29/2020
by
Leif Wiberg
- Jonkoping Sweden
I have shopped from you a number of times and I have received proof that you are unique with your fit by my measurements. If you are careful with the measurements, you get a completely unique product from you!
---
Date Added:
07/24/2020
by
Chris
- Australia
Best jeans I have ever worn great quality and comfortable and I am buying more
---
Date Added:
11/04/2019
by
Ralf Leonhardt
- Mauldin
Very high quality leather pants. Very well made and fits to size. Fast delivery and customer communication is excellent. Would purchase again.
---
Date Added:
10/04/2019
by
Raymond J Balsys
- United States
Excellent quality and fit for the price. And very soft leather!
---
Date Added:
09/20/2019
by
Ralf
- Mauldin
Very good quality products, decent delivery time for custom made products. Great customer communication (fast reply and up-to-date status information of current orders). Would recommend and would purchase from this company again.
---
Date Added:
07/28/2019
by
Melanie Pavilach
- Australia
The workmanship is amazing, love the quality and accurate measurements. The postage from U.S.A.to Australia was quicker than within Australia. Keep up the great work. I will be ordering again with this company.
---
Date Added:
06/02/2019
by
Jack McFarland
- Delta, COLORADO
Nice soft leather, fits great, but I could have ordered them a little longer, plan on purchasing again
---
Date Added:
05/26/2019
by
Marc
- Port Alice
Well made item measurements were accurate and color was as promised .
---
Date Added:
01/05/2019
by
Roderick Walshe
- Ireland
Great quality product, very well made. the fit is amazing
---
Date Added:
12/10/2018
by
Jekyll
- Mauldin, SC, US
Very good quality leather pants. Fits well and comfortably. Shipment was reasonable fast considering international shipping. Would buy again.
---
Date Added:
11/14/2018
by
Steve O Scruggs
- Daytona Beach
The quality of the material and the tailoring is first rate. The fit is absolutely perfect. You can tell that the pants were constructed exactly to the measurements provided. Out of the box they slip on like a favorite pair of blue jeans. Well done all the way around.
---
Date Added:
11/12/2018
by -
Great fit. Very pleased with this order. I recommend these pants.
---
Date Added:
05/13/2018
by
ErnieG
- OMAHA,NE,USA
Outstanding quality and workmanship! Perfect fit! I chose the thicker leather with the standard lining. Not the heaviest leather Jean,but for the price theses are by far the best!
---
Date Added:
02/28/2018
by
Richard
- Woodacre,CA,USA
Great quality and fit. Great value. Leather is soft. And pants were well made. Perfect!
---
Date Added:
12/18/2017
by
JOSE MASSAGUE VENDRELL
- Espa?a
Very good pant. I will buy again another pants and some other garment.
---
Date Added:
12/13/2017
by
joseph hikel
- Westbrook Maine, United States
This is my second pair. The first were red, the second purple. I love them! Soft leather, satin lined, perfectly made, super comfortable, and very impressive. They will last for a long time as they are very well made....just don't gain any weight! Absolutely wonderful.
---
Date Added:
07/27/2017
by
Ryan
- Australia
Very nice colour and appearance. Stitching was excellent and the fit was great. Best pants i have ever had.
---
Date Added:
04/28/2017
by
Rod
- Dublin, Ireland
This was the 3rd order I have placed with Make Your Own Jeans and I have been very happy with all of my purchases, the size is exactly correct and the quality of the materials used in the manufacturing process are excellent, overall an excellent product and service, I would highly recommend this service to anyone.
---
Date Added:
12/13/2016
by
dearthur jones
- saint peters mo. usa
I am pleased with the product I like the colors and workmanship
---
Date Added:
09/06/2016
by
Tony
-
These leather jeans were my first order from MYOJ. The quality is absolutely excellent. Were I to order a second pair, I would tweak my measurements. However, the product I received was true to the measurements I gave. I will get much enjoyment from these jeans and recommend them to all.
---
Date Added:
07/08/2016
by
Jean-pierre G.
- Koh Phangan, Suratthani, Thailand
Perfect fit, perfect look, perfect craftsmanship !! I have 3 of them and I am super happy of all !
---