Global Shipping

Quality Assured

Pay Securely
Pure Irish Linen Pants - 6 Colors
$101
One can never go wrong with a good bespoke linen pants, a piece for those who love to keep things simple. Linen pants are a perfect balance of both casual and dressy mixed together.

Linen is a fabric known for being breathable and lightweight, its low thread count makes it adaptable to warm climates. Linen pants are ideal for garden parties or any summer events and perfect for beach weddings.

Made using Pure Linen Fabrics, one of the finest collection available.

Lining: 100% Viscose; Dry Clean.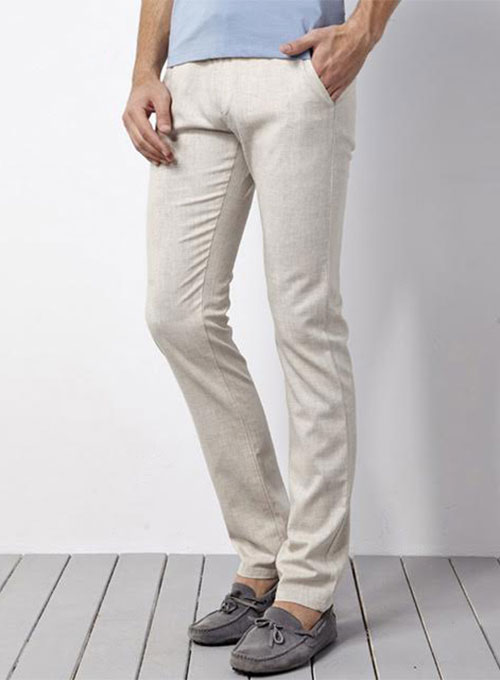 ---
Date Added:
09/18/2020
by
Jorn Haga
- NOrway
Excellent product, super service. Seems very honest.
---
Date Added:
07/22/2020
by
Brian
- California, USA
I got these for hot summer days, and they're awesome. Well-made, cool in the sun, comfortable, and of course they fit perfectly thanks to the custom fit. I really like the fabric. Planning to get more.
---
Date Added:
07/19/2018
by
Michael Stein
- Los Angeles, CA, USA
I love these so much I ordered another pair. The linen is high quality and the fit is perfect.
---
Date Added:
10/24/2017
by
Steve
- Madison, WI USA
These are tricky to get right. Love the material, but expect some shrinkage. Ordered these a second time to get the fit almost where I want it...
---
Date Added:
07/14/2017
by
karin
- Sverige
Great quality on both fabric and the work done according to my wishes - thank you, again!
---
Date Added:
05/31/2017
by
GGP
- Tucson, AZ, USA
I am very pleased with the pants I ordered. The material is very good quality, the workmanship is excellent, and the pants were made to the exact measurements I requested.
---
Date Added:
05/03/2017
by
GGP
- Tucson, AZ 85704
The pants I ordered were made exactly to my specifications. The material and workmanship are of very high quality, and I received my order very quickly (about 2 weeks after I placed my order).
---