Global Shipping

Quality Assured

Pay Securely
Corduroy Dress Pants
$75
Corduroy Trousers , made using Fine Premium Corduroy Fabric.

Corduroy is very comfortable , 100% Pure Cotton Fabric.
Choose from various colors and thickness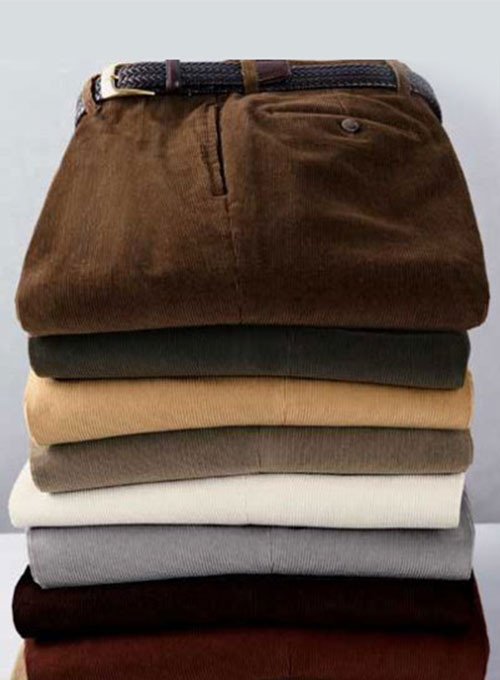 ---
Date Added:
01/10/2022
by
Deborah Sears
- Palisades, NY, United States
I've actually ordered these Corduroy Dress Pants 3 times. The first time, I made a mistake on the length measurement. I fixed that, and the 3 subsequent pairs I ordered are divine. I love them and will surely order more now that I have the measurements right. They are very handsome and well-made pants. Even my dry cleaner commented on the high quality of the fabric and workmanship.
---
Date Added:
04/27/2021
by
Happy Customer
- Parkland County, Canada
Perfect trousers. True to measurements. Look and feel wonderful. Price point is fair from western perspective, a bit high for the east. Do expect some DHL fees (CAD8 customs CAD20 DHL). Will for sure try a custom shirt as well.
---
Date Added:
12/22/2020
by
Keith
- Portland, OR
This corduroy has a great, smaller wale thickness and drapes nicely!
---
Date Added:
11/08/2020
by
Peter Model
- Canada
Well made excellent fit very supportive on line help
---
Date Added:
02/21/2020
by
Paul
- United States
Excellent fit. I wish the quality of the material was a little bit better. the alteration instructions that I gave you were on point. The quality of the work is excellent. Timely arrival of the pants. Additional instructions were done without any difficulty.
---
Date Added:
02/20/2020
by
F. Nelson Howard
- Wilmette, IL
I was impressed with the quality of the material, the tailoring and the look. Corduroy trousers are not a common item in many U.S. stores today.I'm sure I will enjoy wearing them through many of our Midwestern seasons.
---
Date Added:
01/09/2020
by
David A Schwobe
- United States
Perfect fit for a short guy. Quality material as well.
---
Date Added:
12/16/2019
by
Thomas Smith
- Houston, TX, USA
The fit is good but there are several features missing from a pair of trousers that I ordered earlier in the year, e.g., an inside waist button, a metal clasp at the waist and a tongue and button assembly at the waist. Perhaps I overlooked the area to identify these requests in the order form but I thought those items were included automatically.
---
Date Added:
12/11/2019
by
Tim Smith
- Houston TX USA
Very pleased with the fabric, fit, and being able to deliver on a shirt time period. Well done!
---
Date Added:
09/06/2019
by
Peter Rosier
- Australia
These are fine trousers, well-made and fine fitting. Order processed quickly and I was kept informed. Best of all - I pay no more than I would pay for lesser quality trousers here in Australia.
---
Date Added:
05/15/2019
by
Shaun Herndon
- United States
These corduroy trousers are extremely comfortable and looks great ! The material used feel very smooth. I will defitely return to buy more !
---
Date Added:
03/22/2019
by
Jan Vonk
- Canada
Great quality product and measurements were spot on.
---
Date Added:
02/25/2019
by
Robert Hastings
- United States
Very well made. Belt loops are a small detail, but you provide plenty and in the right places.
---
Date Added:
11/14/2018
by
Sandy Beatty
- Minden
Perfect...as always!I have about 15 orders and all have been excellent with perfect fit.
---
Date Added:
08/26/2018
by
Marcel
- Horgen, Schweiz
Sehr guter Stoff sehr angenehm zu tragen ist weich und trotzdem ein robuster Stoff und wie immer sehr gut gearbeitet. Es ist sehr gut und sch?n verarbeitet. Vielen Dank an alle die diese Spitzen Arbeit leisten.
---
Date Added:
07/24/2018
by
Peter
- Australia
The quality of these trousers is execllent. They are fairly priced. The ease or ordering and the certainty of delivery is very good. MYOJ keep you up to date on how the process is going. Little wonder this I the fifth or sixth order I have placed with MYOJ
---
Date Added:
06/10/2018
by
Robert Poon
- Toronto, ON Canada
This corduroy pants arrived in less than ten days, so, considering the distance, this is good timing. I had ordered a similar pair about four years ago, found those a bit too baggy. This pair is perfect, every measurement exactly as ordered. The fit is much better with the adjustments I made to the ones in my saved profile. As long as the instructions for measuring are followed exactly as given, then the customizing of ones order should be almost perfect. The only deterrent for me ordering is the cost for shipping and handling by the courier service.
---
Date Added:
03/22/2018
by
Frances Yorksie
- Pointe Claire Quebec
Good quality, nice fitting. Best I could find anywhere.
---
Date Added:
02/08/2018
by
Frances yorksie
- Pointe Claire quebec canada7
Very satisfied with the product. The material was of good quality. I was impressed with the workmanship.
---
Date Added:
01/22/2018
by
Peter Model
- Toronto Ontario Canada
Excellent fit well tailored Am thoroughly enjoying eating them and already ordered another pant for summer
---
Date Added:
01/04/2018
by
George Chenarides
- United States
I ordered these two times. I now know to check on what the material is before I place another order. My first order for these corduroy slacks was for my traditional size, 35 inch waist and 30 inch length. When I received them and tried them on they were perfect! Then they were washed😢 Waist shrunk 1inch and length shrunk 2 inches! I loved them so much, I ordered another pair with 36 inch waist and 32 inch length. After they came I had them washed and they shrink to my now perfect fit! Love this company and will continue to use and recommend them.
---
Date Added:
12/24/2017
by
suzanne bacik
- croswell
I love my jeans. if it wasn't for you, I wouldn't be able to walk in public looking decent. the fit is perfect, love the cloth.. its superb.. the stitching is so professional. I never take for granted that I have a great seamstress in India that makes my jeans to my body. it isn't easy to find, but your co.. I never have had a bad experience. thank you so much
---
Date Added:
06/26/2017
by
Ian Bolas
- Perth Western Australia
My order was delivered promptly and the trousers are well made and an excellent fit.
---
Date Added:
03/16/2017
by
Dennis E Sweet
- United States
These guys really know what they are doing. Considering what quality, and service you get; very good price.
---
Date Added:
02/01/2017
by
Horton
- Worthington, Ohio, USA
Beat my expectations by a mile. Came within a week of my order too!!!!
---
Date Added:
01/25/2017
by
George
- Corona, CA, USA
Was very, very, pleased that they came in needing no changes except my waist measurement. They made the pants to what I asked for but for some reason they were a little tight. I changed that measurement to account for the needed change in future orders. Already have had several nice comments about how well they fit. Will be using again in the future and I have already recommended them to friends. Price for CUSTOM made slacks is outstanding!
---
Date Added:
01/09/2017
by
Danny G Mitchell
- United States
Well made. Material was top quality. Workmanship was excellent. Would recommend this company to anyone who wants quality customized clothing.
---
Date Added:
09/25/2016
by
Donna Tartell
- San Antonio, Texas, USA
I love my corduroy trousers. The fit me perfectly, but I needed them to be a little longer. So the next pair I ordered I increased the length by half an inch. They were worth every penny.
---