Global Shipping

Quality Assured

Pay Securely
Stretch Chino Pants
$58
Crafted from a cotton-rich stretch blend for unrivalled comfort, the Stretch Chino pants are a wardrobe staple with versatile appeal and is sure to have a place in your clothing repertoire for years to come.


98% Cotton , 2% Lycra
Made to your measurements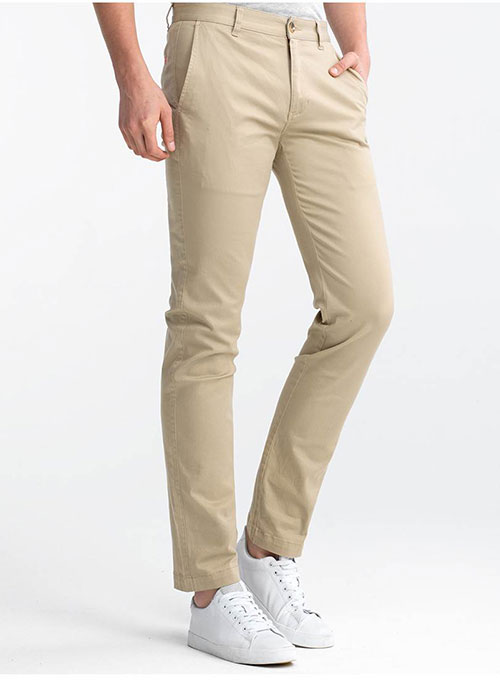 ---
Date Added:
04/13/2021
by
Anne
- Macungie, PA, US
As always, a perfect fit! My special request to make the pockets no longer than the bottom of the zipper was fulfilled with no problem! I don't order often; I don't have to, the jeans and pants are that good - but when I do, MYOJ is my go-to shop!
---
Date Added:
12/04/2020
by
Michael C.
- Ogunquit, Maine, United States
consistently great product always satisfied have used them for over 4 years
---
Date Added:
08/03/2020
by
Thomas
- Switzerland
I'm really happy with the pants. I can recommand the products for every one who cannot use regular sized pants from H&M or so. Cheers, Thomas
---
Date Added:
07/31/2019
by
Andrew Beare
- Australia
I will never buy off-the-rack pants again: having perfect-fit custom-made chinos just makes my day every day I put them on. Brilliant service, fantastic product - I will be MakeYourOwnJeans customer for life!
---
Date Added:
06/14/2018
by
Luke
- Australia
Fantastic pants, very high quality material and construction. Really happy with these and will be ordering more in the future.
---
Date Added:
03/21/2017
by
Tina
- United States
I ordered these navy blue pants for my daughter's school uniform. My only complaint is that they are blue black, not navy blue.
---
Date Added:
12/28/2016
by
Tom
- Walnut Creek, CA USA
Love these pants. Super comfortable. Very happy with the purchase!
---
Date Added:
03/22/2016
by
Tom Young
- Concord, CA, USA
I can\'t say enough good things about MakeYourOwnJeans! The pants I ordered fit me perfectly. It has been virtually impossible for me to find a comfortable pair of pants, without having them custom-made. This product fixes this problem in an affordable way. I will be a customer for a long time!
---