Global Shipping

Quality Assured

Pay Securely
My First Custom Jeans - Dark Blue - 10 oz Denim
$69
Dark Blue Jeans made from premium 10 oz Denim.
Whether it's your first custom jeans or you want to buy more of this great jeans, we are offering it to you at a very special price.

Made using the same process we use for all our jeans.

This is a must have 10oz Premium Category Soft Denim Jean.
Deep Dyed Denim HARD washed, 100% Cotton and extra soft feel. This denim is topped with Indigo Based Deep Dark Color to give it a very rich dark and deep look
Each piece is individually cut from rolls of denim fabric and stitched accordingly.
Hard Washed at high temperatures to give complete shrinkage and faded look.
Leather labels.
5 Pocket style.
Metal Buttons and Rivets Reinforced.
Made to your measurements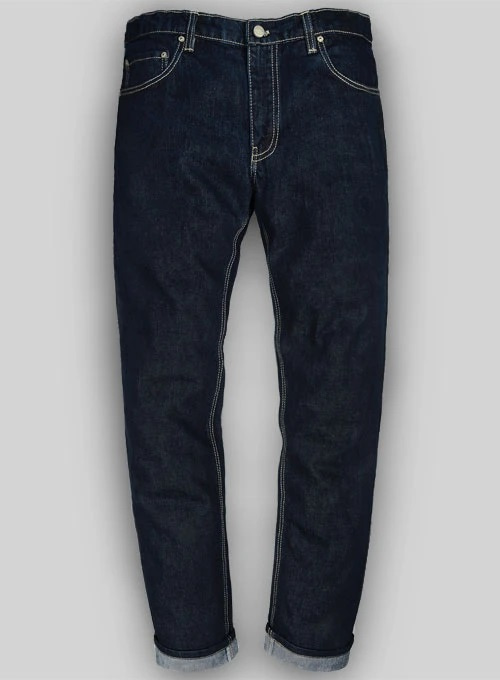 ---
Date Added:
01/04/2023
by
mspace
- NY, US
Excellent quality AND excellent customer service. Very responsive and patient with all questions. Nice fitting 100% cotton jeans are hard to find for women, especially with full pockets. These non-stretch jeans fit so well (slim tapered cut), that I better not gain any weight. 😉 (But if I do, I'll remeasure and re-order! They are that worth the effort.)
---
Date Added:
08/07/2020
by
Symbliene E Griffin
- Jacksonville
My reward, when I got to (and stabilized at) a size I like, was going to be a pair of custom-made jeans. Well, I ordered them last month, and they arrived yesterday. When I took them out of the package, my stomach clenched. If we were in a store, I'd have known they wouldn't fit. But I took a deep breath and pulled them on. These were non-stretch jeans. I'd ordered their cheapest pair, which happens to be that really deep indigo -- darker than I usually buy, but still one I'll wear. So, I stepped in, pulled them up, and... it was bliss. The fit was amazing. They cupped and held my body exactly the way jeans are supposed to, the way my occasional old favorite pair did, a million years ago. Waist fit is perfect. Hip fit is perfect. Length is just what I asked for: A bit "high", because I like to go barefoot or nearly so, and this is Florida... you don't want your jeans getting wet. And the pockets..... I can stick my entire cell phone in my front pocket. Vertically or horizontally. No corners sticking out, and not noticable as you look at me. (For contrast, I was wearing a pair last week -- Gloria Vanderbilts -- and I couldn't stick my FINGERS all the way into the front pockets.) I love these so much, I'm already fantasizing about another pair. I deliberately ordered these a little short, to wear with sandals (flip-flops). I'd like to also get a pair that's a bit longer, to wear with shoes, and in a lighter shade of denim. (I like options.) And I'd adjust the back-rise measurement a tad. (You really can't take that one by yourself, and I had a child, not a seamstress, helping me.) Here's the exciting bit: My business suit(s) no longer fit, and are both wool... which is a bit much for Florida. I could really use a linen suit. Their cotton/linen suits (bespoke) start at $190. Men's Warehouse off-the-rack starts at $114 (for rayon/polyester). I'd never buy a men's suit off-the-rack. (For starters, it wouldn't fit!) And I'll admit, traditionally I prefer skirt-suits.... because it's so hard to get women's pants to fit well. But with things made to my measure (and I'm sitting here wearing proof that they do it well!), I could have a business suit with all the pockets that come in a men's suit, but fits like it was made for me (cuz it was!). My Gloria Vanderbilts typically run between $10 (on sale) and $20. My customs, after shipping, came to $61. I had control of everything, from the thread color to the size of the opening at the ankle. And the fit.... nothing beats a pair of good-fitting jeans, and no jeans have ever fit this perfectly. As someone who's ALWAYS had trouble getting pants that fit properly (that pesky waist-to-hip ratio), I feel like I'm in heaven. I'll definitely be ordering from them again in the future. (Though for the suit, I'll have to wait until COVID-danger is open, and have someone who sews help with the measurements.) Make Your Own Jeans https://www.makeyourownjeans.com/ The joys of pants that fit!!!
---
Date Added:
03/25/2020
by
Kenneth Graham
- Souht Padre Island, TX USA
I think their Great they fit me better then store bought. I would recommend them to everyone.
---
Date Added:
08/03/2018
by
Margaret Floeter
- United States
Wow, I really love the jeans I got from Make Your Own Jeans. I've lost a lot of weight...252 lbs...and as a result, I have a lot of excess skin on my legs and around my abdomen, making it very difficult to find jeans that fit. Most of the time, I have to buy them to fit my legs and then take the waist up six inches, but NOT with these jeans! They fit perfectly and look great! I've received lots of compliments on them and will definitely be getting more!
---
Date Added:
05/18/2018
by
Bob
- San Luis Obispo, CA, USA
The jeans look and feel great. It met all of my expectations. I immediately ordered a couple more.
---
Date Added:
03/29/2017
by
David
- UK
I've had about 6 or 7 pairs of jeans from here in the last 10 yrs. Been tweaking my measurements all the time as age dictates. Apart from one pr. which didn't suit, (probably my mistake), I've been very pleased. The 10 ounce denim is ideal for our climate - not too heavy in summer like off the shelf jeans.Very pleased!
---
Date Added:
05/12/2016
by - Airzona, USA
Great jean for the price, and great fit. I have always had difficulty finding jeans that fit so it is a great pleasure to put this product on with a perfect fit right out of the box.
---
Date Added:
04/29/2016
by
Steven
- Dallas, Texas, USA
Absolutely love these jeans. They fit great and are extremely comfortable.
---