Global Shipping

Quality Assured

Pay Securely
Body Sucker Stretch Jeans - Denim X
$69
Dark Blue Stretch Jeans made from premium 10 oz Denim.
One of our most stretchiest denim fabric, fits like second skin.
This is a must have 10oz Premium Category Soft Denim Jean.
10 Oz Denim, 97% Cotton 3% Lycra, extra soft feel.
Each piece is individually cut from rolls of denim fabric and stitched accordingly.
Enzyme Washed at high temperatures to give complete shrinkage and faded look.
Leather labels.
5 Pocket style.
Metal Buttons and Rivets Reinforced.
Made to your measurements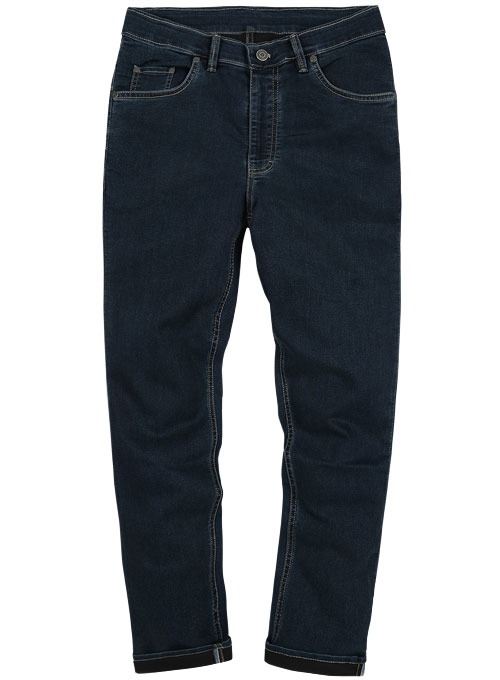 ---
Date Added:
08/28/2022
by
Steven Shwartz
- Woodbridge, CT, US
Love the quality and fit.
---
Date Added:
05/07/2022
by
Kim
- BIllings MT USA
I love these jeans! Perfect fit, quality fabric and excellent stitching. I recommend your service to others
---
Date Added:
01/20/2022
by
Babu Sen
- BROOKWATER
Very nice fit - impressive great work. I am planning on ordering more jeans.
---
Date Added:
04/03/2021
by
Alfred C Young
- Rochester
The dimensions I specified were pretty much spot on. This particular fabric is very stretchy, even compared to other colors in the Body Sucker line. If you're looking for a very tight fit, this particular item in the Body Sucker line is probably your best bet. It would be hard and you'd need to be very lucky to buy jeans off the rack that potentially fit like these. I'm quite satisfied with this product.
---
Date Added:
02/04/2021
by
Darren
- Australia
Really good jeans. They're more what I imagine leggings would feel like but they look like jeans. Super comfy and very stretchy material. Great for an athletic build with lots of stretch and look dressy enough but also super comfortable. Really happy with the look and feel. Yes I'd recommend this product.
---