Global Shipping

Quality Assured

Pay Securely
Body Sucker Stretch Jeans - Light Blue
$69
Light Blue Stretch Jeans made from premium 10 oz Denim.
One of our most stretchiest denim fabric, fits like second skin.
This is a must have 10oz Premium Category Soft Denim Jean.
10 Oz Denim, 97% Cotton 3% Lycra, extra soft feel.
Each piece is individually cut from rolls of denim fabric and stitched accordingly.
Enzyme Washed at high temperatures to give complete shrinkage and faded look.
Leather labels.
5 Pocket style.
Metal Buttons and Rivets Reinforced.
Made to your measurements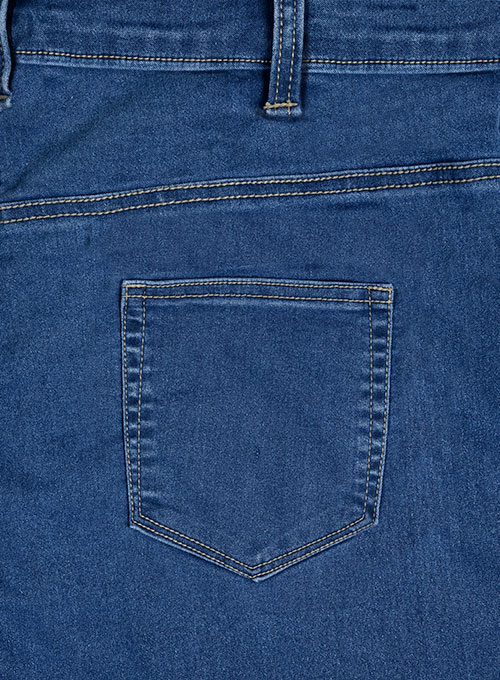 ---
Date Added:
08/25/2023
by
Lynn Bailey
- United States
This is the first time that I had jeans made that are perfect. The fabric is light and comfortable. I'm planning on ordering another pair in a different color.
---
Date Added:
03/15/2023
by
NLong
- Georgia, USA
This is the fifth pair of jeans I have ordered. I love them.
---
Date Added:
06/26/2022
by
Richard Meier
- Wichita,KS USA
Fits great, good quality material. Will buy again.
---
Date Added:
06/13/2022
by
Harold Lepp
- Doncaster East,Victoria,Australia
My jeans arrived promptly and in good condition. The sizes I submitted were accurately applied. The fabric is excellent and the fit is just right. I am very happy with my purchase and recommend MakeYourOwnJeans for anyone who finds well fitting jeans hard to buy.
---
Date Added:
05/15/2022
by
Leslie Schwartz
- Lauderdale by the Sea, FL, United States
This is the 10th pair of jeans I have purchased through MakeYourOwnJeans.com. The consistency of quality and measurements makes this an easy decision.
---
Date Added:
04/05/2022
by
Brian Becker
- Wilmington, DE USA
I am very happy with these jeans. They were made precisely to the measurements I provided. The photo of the denim accurately shows the color. When ordering, please be aware that these are more like leggings than jeans - that are that stretchy!
---
Date Added:
08/12/2021
by
Leslie Schwartz
- Lauderdale by the Sea, FL, United States
This is a high quality product. Very comfortable and the fit is perfect. I washed them twice so far and no bleeding or shrinkage and they still look great. I will order another pair in a week or so.
---
Date Added:
12/13/2020
by
Alan Stamwitz
- HOQUIAM
Product is well made and hugs the body just as said. Very comfortable to wear. The fit is perfect.
---
Date Added:
07/18/2019
by
Andre Bernier
- Cleveland, OH, USA
After years of making size and material adjustments, I have found this pair of jeans to be my favorite. The 3% stretch is as advertised and the material extraordinarily soft. My custom styling made these skinny jeans, and the compliments I have received wearing my new favorite jeans has been voluminous and complimentary. Now that I have the perfect size and material, I'll order a few more as back ups!
---