Global Shipping

Quality Assured

Pay Securely
Skinny Jeans - Stretch Denim
$69
Skinny Stretch Jeans

Get Skinny Jeans Custom made according to your style and size.

We can make them as skinny as you can wear them.

Stretch Denims are the best fabric suited for Skinny Jeans as it hugs the body and gives the desired effect which also makes you look Slimmer.

Skinny jeans have Stomach Flattening, Thigh Slimming and Buttock Shaping features due to the stretch contents of the fabric.

Customize these jeans the way you want it, wear the lowest rise jeans possible or the highest you can wear by entering the desired Front Rise and Back Rise measurements, make it look like your very own Drainpipes, Stovepipes, Cigarette pants, Pencil pants, Skinny Bootcut, Skinny Flares or Skinnies by giving the right knee and leg bottom measurements.

Want some extreme tapering jeans, no problem you can even add a zipper to the leg bottom which is available as an Add-On on.

You can choose from the various denims listed below.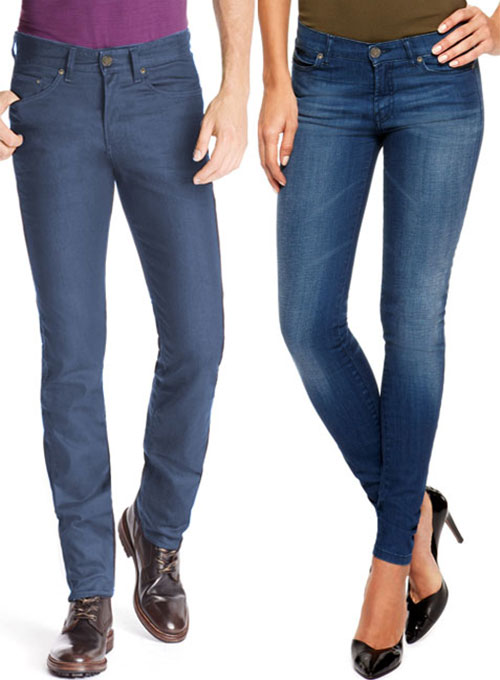 ---
Date Added:
10/04/2023
by
Thomas
- Norway
I used a regular pair of jeans to measure and adjust to my liking before ordering and must say that I'm very pleased with the final result. I will definitely order again in the future!
---
Date Added:
08/08/2023
by
Lorcan Maher
- Ireland
My jeans were cut exactly to my specifications and I am 100% happy with the fit
---
Date Added:
08/07/2022
by
Carla Bowers
- PhOENIX, AZ USA
This is my 4th pair of MYOJ and they?re great, reasonably priced and they fit just how I want them to!
---
Date Added:
05/23/2022
by
Suzanne Ashton
- Guelph
Very good quality. They were a little too big on me. If I order again I will redo my measurements.
---
Date Added:
04/24/2022
by
Thomas Bach
- Jessheim, Norway
I used measurements from another pair of trousers and did a few adjustments. I must say I?m very pleased with the end result. These jeans that I ordered has become my favorite ones. I can definitely recommend this way of buying a new pair of jeans. That?s my honest opinion!
---
Date Added:
03/04/2022
by
Jessica
- USA
Make sure you get right sizes and 0 problems. These jeans I ordered were just exactly the way I wanted them. I'm considering other styles of jeans that offer such as Brazilian style jeans.
---
Date Added:
02/14/2022
by
Lilla
- Kraainem, Belgium
It's a perfect fit, thank you so much! Also, the fabric is excellent, much better than expected: this is the most comfortable pair of jeans that I ever had and at an affordable price.
---
Date Added:
10/07/2021
by
Seb Hook
- Cambridge
I like a very high-rise jean and I am a very weird shape. This is the first time I've had a pair of jeans that fit me like I wanted and I am thirty years old.
---
Date Added:
09/20/2020
by
Sean
- Atl, Georgia, United States
The craftsmanship was spectacular, communication was stellar. It took a few weeks for the product to me handmade they fit perfectly. I ordered another pair in a different material the same day I received my first order.
---
Date Added:
07/24/2020
by
Jarek Tennison
- Salt Lake City, Utah, United States
Pants turned out perfect as always, highly recommend.
---
Date Added:
07/20/2020
by
John Amend
- Garfield, GA USA
Yes, they cost more than jeans from Wally World -- but they fit ever so much better! In fact, the fit is absolutely perfect, and the quality is, too. Not only do they look great, they'll also last a long time.
---
Date Added:
11/04/2019
by
Robert
- Magyarorsz
Perfect skinny jeans I ever wear and it is completely unisex. Feels like a perfect denim.
---
Date Added:
09/20/2019
by
Hillary Stone
- United States
They're the best fitting jeans I've ever had. This is the second pair I've ordered from MYOJ and these are even better than the first. I love that I can customize my rise and waist to hip ratio unlike other jeans.
---
Date Added:
05/30/2019
by
Dave
- morro bay, CA, USA
This is the fourth time I've had jeans built by your service and they are always fantastic. The fit is uniquely my own and are perfect!
---
Date Added:
05/26/2019
by
Aurelius Prochazka
- United States
Perfect fit (of course), great material, nice customization options.
---
Date Added:
04/15/2019
by
Emg
- United States
The customer service is great. The jeans are nice. I would like a stretchier waistband. I will likely order again. Thank you!
---
Date Added:
01/30/2019
by
Hillary Stone
- United States
They are still just a little bit big, but still the best fit I've ever had for my hip to waist ratio, and the length of my legs. I'll be ordering another pair soon!
---
Date Added:
01/14/2019
by
Sylvain MAZMANIAN
- Chartrettes, france
I am very satisfied and I will continue to order in the future
---
Date Added:
11/27/2018
by
Barb
- Spokane, WA
Second pair of stretch denim skinny jeans I've ordered. They fit perfectly, wash and wear well. Thank you! Best online shopping find in 2018.
---
Date Added:
10/15/2018
by
Neil Posner
- Long Island, NY
I LOVE your jeans!! The BEST!!! Keep up the good work!! All the best,Neil
---
Date Added:
09/24/2018
by
Barb
- Spokane, WA, USA
These jeans are the greatest! Perfect fit. I plan to order another pair soon. The shipment took much less time than expected. Quality as good as any pair of jeans you would by at a store. Thank you!!!!
---
Date Added:
08/22/2018
by
Dave Sozhino
- Morro Bay, CA, USA
I have now ordered three pair of jeans and each pair is fantastic! I have an extremely difficult time finding jeans off the rack that fit me. The construction and detail to design are of very high quality. I am completely satisfied with the garments I've purchased here and will be back to order more. Thanks!
---
Date Added:
04/14/2018
by
Lindsey
- Calhoun, GA, USA
I have now ordered 2 paid of jeans, and I am thrilled with the look, fit and quality of the jeans! I highly recommend this company to anyone who has challenges purchasing jeans that really fit.
---
Date Added:
03/29/2018
by
Joanne
- United Kingdom
Really easy ordering process and good communication about progress of my order. The jeans were a little stiff when they first arrived but a run through the washing machine soon softened them up a bit. They fit really well and I am very happy with them. I would definitely order another pair.
---
Date Added:
02/19/2018
by
Dan
- United States
The jeans I bought fit perfectly and look great. I have bought several items from MYOJ including additional jeans and shorts. It is so good to know the product is going to fit perfectly instead of hoping for a good fit from traditional retailers. The material quality and workmanship is excellent. I have recommended to friends and family.
---
Date Added:
12/18/2017
by
Seth Tyrssen
- Garfield, GA USA
Perfect fit, perfect comfort, perfect service! Just as I've come to expect from Make Your Own Jeans.
---
Date Added:
11/07/2017
by
Andy Linton
- Kilkenny, Ireland.
I ordered these for my wife, who's very particular about how jeans fit. She loves these! Great quality and they fit so well. Will be ordering more!
---
Date Added:
10/17/2017
by
Christian
- Quebec, Canada
Fourth time using your services. As usual, exactly what I asked, ordered and needed. Fits perfectly and well done. Thanks.
---
Date Added:
09/30/2017
by
Sue
- Australia
I love my jeans. They fit perfectly and look wonderful. Very happy.
---
Date Added:
08/31/2017
by
Ally
- Maroubra, NSW, Australia
Perfect! I'm really happy with what I ordered! Will be ordering from here again soon.
---