Global Shipping

Quality Assured

Pay Securely
Stretch Jet Black Overdyed Jeans
$69
Jeans made from Stretch Material, 3% Lycra, 97% Cotton
12 Oz Stretch Denim, extra soft feel.
Each piece is individually cut from rolls of denim fabric and stitched accordingly.
Overdyed in Black color
5 Pocket style.
Leather labels, Metal Buttons and Rivets Reinforced.
Made to your measurements
As these Jeans will be overdyed in Black color, it may loose color for first few washes, please wash separately first few times.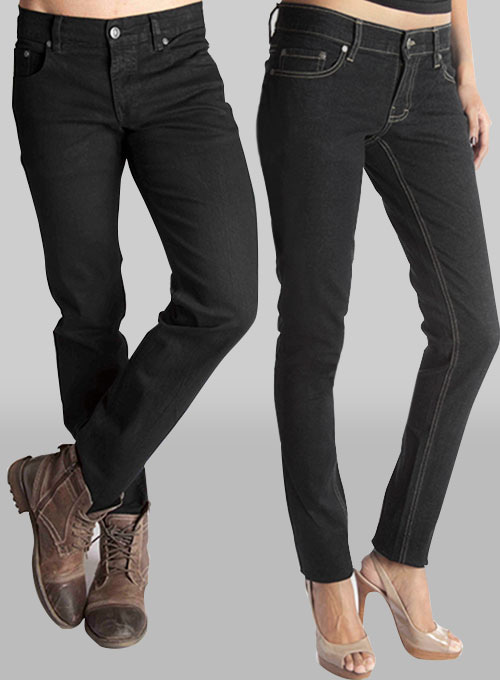 ---
Date Added:
06/06/2021
by
Dan
- Brewster,Ma,USA
Always nice to get perfect fitting product. I have purchased many jeans and shorts from Makeyourownjeans, always what I expect.
---
Date Added:
03/30/2021
by
Dave
- Uk
Really good feel. Exactly what I ordered Don't forget to measure from waist to ankle rather than inside leg.
---
Date Added:
12/11/2020
by
Robert Dilworth
- Arlington VA USA
I found the entire experience to be very satisfying. The initial order was for 2 distinct fabrics. The ordering process was very reassuring. Someone noticed something odd about one of my leg measurements and wrote to ask me to remeasure. I did, and they were correct: something a machine probably would have missed. Part of the order was filled first with the request that I make any modifications to achieve a perfect fit. I made some very minor edits and the entire order was delivered within a few weeks from staring the exercise. I was very pleased with the pair made with the refined measurements. I immediately ordered 2 more pair in this fabric and the finished jeans arrived in about 2.5 weeks. I will order more.
---
Date Added:
12/10/2020
by
Ian Payne
- England
Great quality and an al round top service. I?ll never buy off the peg jeans again!
---
Date Added:
11/29/2020
by
Shar
- New Braunfels
These jeans are the perfect way to get a great fit. My husband looks great in his custom fit jeans because he no longer has "potato butt". It makes me happy!
---
Date Added:
07/20/2020
by
Ron
- Charlotte, nc
Jeans were a perfect fit. Material was just as I imagined. Very happy.
---
Date Added:
07/14/2020
by
Sven
- Denmark
Very good service. It would be great if I could get a time estimate of when I can expect my jeans to be shipped.
---
Date Added:
03/16/2020
by
Thomas Sch?tz
- Schongau
The jeans fit very well, fabric is good quality, everything is fine.
---
Date Added:
02/10/2020
by
Eric
- USA
These are far and away the most comfortable jeans I've ever owned in this price range. they also arrived promptly. The fabric is terrific - soft and very comfortable. Our measurements were followed exactly, so if you'd like a bit more room -- say, in the thigh -- adjust your measurements accordingly. I will definitely order more.
---
Date Added:
01/27/2020
by
Rod
- Australia
Really fast quality service. I have now got several garments made by Make Your Own Jeans in my wardrobe and I am so happy with all of them. Make Your Own Jeans has solved the problem I once had of never being able to buy jeans that fit. Thank you guys!
---
Date Added:
11/14/2019
by
Zoe
- London
These jeans are gorgeous, comfy and soft. Love them to bits. The fabric is very stretchy.
---
Date Added:
10/28/2019
by
Mary Rock
- Coningsby Lincoln Uk
This was my second order for 2 pairs of jeans. The service and quality are as perfect as my first order. Great stretch material, great fit and all my queries were dealt with immediately.Will definable be ordering more every time I want or need new jeans.
---
Date Added:
10/14/2019
by
Gary Strube
- Ripon, WI 54971
I needed the knee area a bit wider because of leg swelling during the day. I ordered the maximum allowed. I could use another inch or two, but over all, I am pleased.
---
Date Added:
07/15/2019
by
Jonas Ranjel
- Melbourne Australia
Perfect fit as always, and great material as well - Thanks!
---
Date Added:
04/01/2019
by
Jason Godley
- United Kingdom
The jeans are really ice, the fabric is super smooth and soft and stretches really well making for a really comfortable fit. The website and ordering process is brilliant. There is nowhere better to buy your jeans.
---
Date Added:
03/24/2019
by
Paul A Looney
- United States
Love my black stretch jeans! As always, the quality and fit are superior. Great company. Great service!
---
Date Added:
03/11/2019
by
Robert de Bok
- Leidschendam, The Netherlands
Perfection is the key word. Custom made jeans fit and look and feel perfect! They asked questions per e-mail to make sure everything would turn out well and it did. A warm thank you to every person in the chain! Robert.
---
Date Added:
02/04/2019
by
Alicia Flaherty
- United States
This was my first time ordering custom/tailored anything. MYOJ made this a really easy experience, and my tailor who contacted me by email was super nice, and helped with the corrections to my measurements. I finally have jeans that don't slowly fall down my bum lol! The jeans are super soft and thick, and seem really well made. I'm really happy with my purchase. I'm definitely ordering a pair for my fiance soon. Thank you!
---
Date Added:
06/03/2018
by
Daniel
- Canada
Very pleased the most comfortable best fitting jeans I have ever owned. Thank you.
---
Date Added:
05/16/2018
by
julie
- United States, Madison WI
Overall the quality and fit are good. I was hoping for a more denim material...this feels more to me like pants than jeans (if that makes sense). I have ordered another pair in bolt heavy black jeans because I think that will be more what I'm looking for. I still like these and will wear them happily. Very soft material and again, fit great.
---
Date Added:
03/23/2018
by
brooke l.
- dundee, angus, United Kingdom
Great fit, very soft and holds shape beautifully!
---
Date Added:
03/19/2018
by
Josephine Hardy
- United States
Best jeans I have ever worn! Well made and soooo comfortable.
---
Date Added:
03/05/2018
by
Barbara A Burnett
- Dallas, Texas USA
How wonderful to have jeans that fit like a glove without my spending two days trying on pair after pair in a store. The quality is excellent, and they wash well. Can't believe they arrived in 10 days! I've recommended your site to my friends.
---
Date Added:
12/12/2017
by
Bob
- United States
Quality was good this is the first time I purchased stretch jeans. The fit was good also...
---
Date Added:
10/13/2017
by
Brian Taylor
- Ontario
Awesome quality, custom fit was perfect, great customer service!!
---
Date Added:
08/22/2017
by
Daphne
- Newark, NJ, United States
These jeans are very comfortable and well made. I will definitely be buying another pair.
---
Date Added:
08/10/2017
by
Dee
- Nj
Great fit! High quality fabric and excellent workmanship. I'm soo glad they followed my sizing request as given. Usually manufacturers outside the U.S. don't believe the sizing of Americans and make the clothes too small. Love these pants
---
Date Added:
04/28/2017
by
Mary Rock
- Coningsby Lincoln and Naples Florida
Excellent fabric,fits exactly as I asked.I have given all my regular Jeans away,I have tried over twenty years to get a comfortable fit,I am long in the body,regular high rise doesn't fit me.will never buy any other make again.Two relatives are really impressed with the quality of the look and have asked me for ordering details.
---
Date Added:
12/20/2016
by
Jovanni
- Montclair, CA, USA
Placed an order before seeing reviews for the website and became immediately concerned. When my order arrived, however, I was pleased to find that my jeans were just what I wanted. I assume people just did not measure correctly. Will order again in the near future guaranteed. I do wish there were more colors to choose from.
---
Date Added:
09/22/2016
by
Mike
- Oceanside, CA
Best jeans on the market. I\'ve searched from LA to SD and no other jeans compare to the quality, fit and price. They are well worth the wait, just make sure you don\'t blow it on your measurements.
---