You can't always wear jeans in your outfits. While jeans are versatile and work well for most casual outfits, they aren't formal. When getting dressed for a formal event or occasion, you'll need to choose a pair of formal trousers. Formal trousers are defined by their high level of formality. They offer a "dressier" appearance than jeans and other casual trousers.
Fortunately, formal trousers are available in many different styles. Some of them are made of different materials, and many of them have different colors or patterns. So, what are some of the best styles of formal trousers exactly?
#1) Cashmere Flannel Trousers
Cashmere flannel trousers are a great choice, especially for the winter season. They are made of cashmere wool that's finer — and therefore softer — than other types of wool. As their name suggests, cashmere flannel trousers are woven to achieve a flannel construction. Flannel isn't a material. Rather, it refers to any soft-woven fabric that's thicker than other types of materials.
You can't go wrong with cashmere flannel trousers. They are soft, warm and look amazing when worn in formal outfits. If you're tired of wearing the same basic trousers day after day, perhaps you should try cashmere flannel trousers. They are perfect for all formal outfits, as they'll lift your appearance while offering a superior level of comfort in the process.
#2) Stretch Wool Trousers
You may come across stretch wool trousers when shopping for a new pair of formal trousers. Like cashmere wool trousers, they are made of wool. Stretch wool trousers, however, are distinguished by their use of an elastic material.
Traditional cashmere trousers, as well as other types of wool trousers, are typically made entirely of wool. Stretch wool trousers, on the other hand, are made of wool with an elastic material. They are still made mostly of wool. Stretch wool trousers simply contain a small amount of an elastic material as well, such as lycra and/or polyester. With their elastic material, stretch wool trousers are able to stretch. Of course, that's why they are called "stretch wool trousers."
#3) Worsted Wool Trousers
Another awesome style of formal trousers is worsted wool. Available for sale here at MakeYourOwnJeans, worsted wool trousers are made of premium worsted wool. The term "worsted" is derived from an English village in the county of Norfolk. Some of the first worsted wool was produced in this village. Worsted wool has since made its way throughout the world, as it's recognized for its soft and supple texture.
Worsted wool trousers are formal, attractive and comfortable. They are made of worsted wool, which comes from merino sheep. Don't let its soft texture fool you into thinking it's structurally weak, though. On the contrary, worsted wool is incredibly strong and durable. Therefore, worsted wool trousers exhibit this same level of strength, making them a great all-around choice of formal trousers.
#4) Terry Rayon Trousers
We can't talk about the top styles of formal trousers without mentioning terry rayon. What are terry rayon trousers exactly? They are traditional-looking formal trousers that are made of a special type of synthetic material. Most terry rayon trousers are made of rayon with a small amount of polyester.
You can wear terry rayon trousers year-round. During the summer, they are light enough to keep you cool without weighing you down. During the winter, on the other hand, terry rayon trousers offer the right amount of warmth to protect you from the cold weather. Aside from their year-round utility, terry rayon trousers offer several other benefits.
Here are some of the top benefits of terry rayon trousers:
Lightweight
Moisture-wicking
Wrinkle-resistant
Soft and comfortable
Durable
Classic style
Formal appearance
Supports a belt
Available in dozens of colors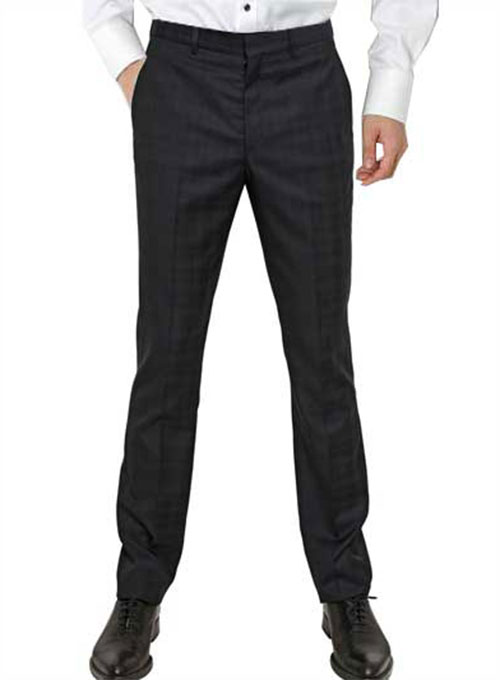 #5) Italian Wool Trousers
As shown in the photo above, Italian wool trousers are a popular choice of men's formalwear trousers. Italy is known for producing some of the world's finest fabrics. Italian wool is one such fabric that originated in Italy. It's made of an ultra-fine wool that comes from sheep or Angora rabbits.
With Italian wool trousers, you'll project a fashionable and formal style while staying comfortable throughout the day. They won't scratch or irritate your skin like some other fabrics. Italian wool is prized for its superior comfort. Therefore, trousers made of this material are naturally comfortable to wear. Whether you wear them for a few hours or the entire day, Italian wool trousers will keep you comfortable.
#6) Herringbone Flannel Wool Trousers
Another popular style of formal trousers is herringbone wool. Also referred to as broken twill weave, herringbone is a weaving pattern that's characterized by a V shape. Herringbone flannel wool trousers are still made of wool. The difference is that they are woven to create a V shape. If you inspect the wool material up close, you'll notice the V shape. This is what defines herringbone flannel wool trousers.
While you can wear them during any time of the year, herringbone flannel wool trousers are particularly great for the winter months. They are soft and warm. Both of these characteristics make them ideal for the winter months. Wool has a high insulation value, meaning it minimizes the loss of body heat. When woven in a herringbone pattern, though, wool becomes softer. Regardless, herringbone flannel wool trousers a great choice for formal outfits during the otherwise cold winter months.
#7) Linen Trousers
Finally, there are linen trousers available. These formal men's trousers are made of linen, which is a soft fibrous material derived from the flax plant.
Linen trousers have a similar level of softness as cotton, but that doesn't mean they are the same. What's the difference between linen and cotton trousers exactly? For starters, linen trousers are usually stronger. Linen is approximately 30% stronger than cotton. Linen trousers are also lighter than their cotton counterparts.
Another difference between linen and cotton trousers lies in their breathability. Linen trousers are usually more breathable than cotton trousers. If it's hot outside, wearing linen trousers will keep you cool thanks to their excellent breathability.