Denim jeans are available in a wide range of styles, some of which include skinny, straight-leg, boot-cut and "boyfriend." There are subtle nuances between these styles in regards to comfort, aesthetics and look. Straight-leg jeans, for instance, typically run straight through the leg without widening or narrowing towards the bottom. In contrast, boot-cut jeans become wider around the ankles and feet so that you can wear them over your boots.
While not as popular as boot-cut or straight-leg, high-waisted is another denim style that shouldn't overlooked. As the name suggests, they sit higher on the waist than standard and low-rise jeans. Depending on the specific brand, they may "rise" up to ten inches. So, why should you choose high-waisted jeans instead of other styles? Here are a few benefits they offer…
#1) They are Coming Back in Style
If you're as old as me, you may recall high-waisted jeans being a popular style in the 1970s (and even some of the 60s). They were worn by men and women alike, many of whom considered high-waisted the "go to" style. Several decades later and the style began to fade in favor of straight-leg. Well, it appears the trend is now going back in the opposite direction, as more and more people are wearing high-waisted jeans. Some fashion experts have even gone so far as to call this a "revival" of the style. The revival first began in 2010, and since then high-waisted jeans have only grown in popularity. If you want to stay fashionable and present yourself as wearing the latest trends, you need to add high-waisted jeans to your everyday wardrobe.
#2) High-Waisted Jeans are Comfortable
Unless you've worn them before, you might be surprised to find out just comfortable high-waisted jeans. Some people assume this isn't the case, simply because they sit higher than standard jeans. However, high-waisted jeans are actually quite comfortable, especially if you choose a reputable brand. Just remember to choose the size, which is something we can help with by offering custom sizing at no additional charge. Assuming you order your high-waisted jeans here at MakeYourOwnJeans, you can specify your own measurements, which we'll use to create the perfect fit.
#3) They are Easier to Keep Up
One of the problems of low-rise and baggy jeans is that they have a tendency to fall down. This is especially true if you don't wear a belt. Styles such as these are naturally loose, making them fall down easily when worn. Because of their unique design, however, high-waisted jeans typically don't suffer from this problem. While sitting high on the waist, they also wrap around your waist for increased security. This doesn't mean that high-waisted jeans will stay up all the time, but they certainly don't fall as easily as their counterpart.
#4) Stretch is Available
You can find high-waisted jeans available in 100% denim, as well as stretch denim. The latter is actually a combination of both regular denim and an elastic material like spandex or polyester. High-waisted jeans made of stretch denim are even more comfortable, as they can stretch without sustaining damage.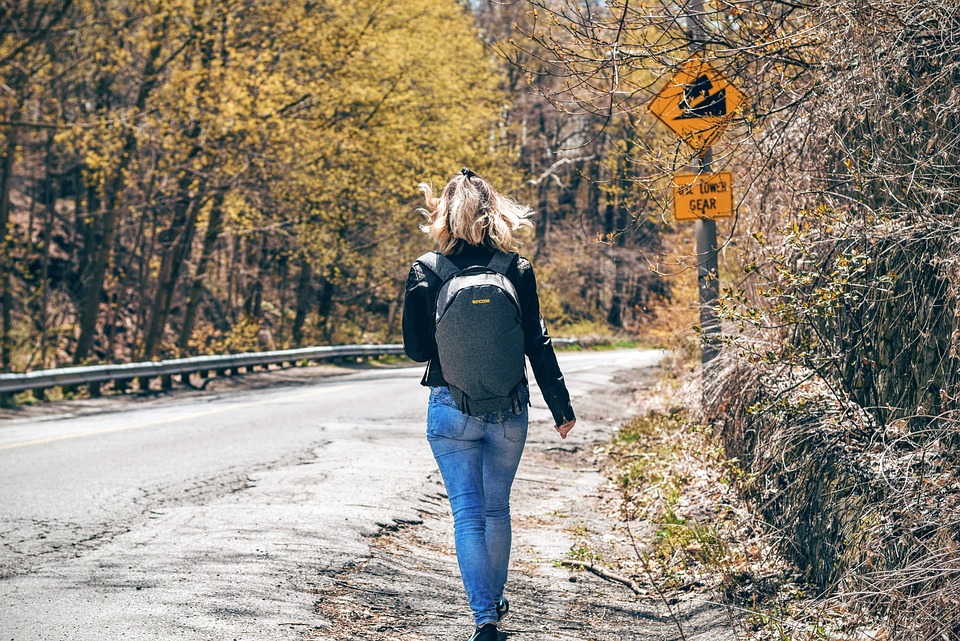 #5) They Compliment Some Body Types
There are jean styles out there for just about everyone. And if you want to achieve the best possible look, you need choose the right style for your body type. Well, high-waisted jeans are typically best suited for women with a pear-shaped body type. It makes the legs appear longer while also slimming down the hips and mid-section. If you have a pear-shaped body type, you should choose high-waisted jeans for this reason. You can even find them with narrow legs, further elongating your figure.
#6) They Don't Drag on the Ground
Assuming you choose the right size, high-waisted jeans won't drag on the ground. Boot-cut and similar styles often have excess fabric that may drag on the ground. When this occurs, the denim fabric will begin to degrade and suffer damage, affecting both the performance and appearance of the jeans. High-waisted jeans, however, don't suffer from this problem. In addition to sitting high on the waist, they have less fabric around the bottom, meaning there's little-to-no chance of them dragging on the ground. You can even wear sandals, flip-flops or other open-toed shoes without worrying about your high-waisted jeans dragging on the ground.
#7) Available in Multiple Colors
Think high-waisted jeans are only available in standard colors like light blue and indigo blue? Think again. While traditional colors such as these are certainly available, you can find high-waisted jeans available in countless other colors as well. Black, for instance, is a popular alternative that many women prefer. You can wear black high-waisted jeans with white shoes for a nice contrasting look. Alternatively, you can go even further by choosing a bright color like red or yellow. Both red and yellow are an excellent choices for high-waisted jeans. They draw attention to your jeans, which should in turn make you appear slimmer and taller. The only problem with bright colors is that it somewhat limits you to what other colors you can wear. When choosing high-waisted jeans, stick with a color that's easy to match with your existing wardrobe.
How to Choose the Right Pair of High-Waisted Jeans
Not that you know a little bit about the benefits of wearing high-waisted jeans, you might be wondering how to choose the right pair. Well, here are some tips on how to choose the best possible pair of high-waisted jeans for your body:
Make sure they are the right size. This is the single most important step when choosing jeans of any style, high-waisted included.
Decide whether you want 100% denim or stretch denim, the latter of which has greater elasticity.
Purchase your high-waisted jeans from a reputable vendor, such as MakeYourOwnJeans.
These are just a few of the benefits associated with high-waisted jeans. You'll probably discover other reasons to love them once you own a pair.