Tired of wearing the same indigo or light blue-colored jeans day after day? There's no denying the fact that traditional blue colors such as these are popular, and rightfully so: blue jeans are easy on the eyes, and equally as easy to match with your outfit. But if you want to change up your appearance, you should consider some alternative colors like black.
Many people are surprised to learn that black jeans even exist. While the color isn't as popular as blue, black jeans are the perfect alternative for individuals looking to distinguish themselves from the crowd. But if you're thinking about investing in a pair of black jeans, there are a few things you should know about wearing them. In order to create a stylish, uniform appearance, it's recommended that you follow the tips listed below. We're going to walk you through the steps of creating an attractive outfit with black jeans.
#1) Go All Black
If you're going to wear black jeans, go all the way by choosing jeans that are 100% black and not just a faded tone of black.  It's easier to match 100% all-black jeans with other clothes and accessories than it is to match a pair of faded black jeans. Alternatively, however, you can dye your jeans black to help restore the color, assuming they are already faded. The bottom line is that you should stick with 100% all-black jeans to create a stylish appearance.
#2) Check the Cut
When choosing black jeans, consider the cut and how it will affect your appearance. Denim jeans — black, blue and other colors — are available in dozens of different cuts. The most common cuts include boot cut, skinny, straight leg, low-rise and high-rise. Each cut has its own unique characteristics. Boot-cut jeans, for instance, typically have a wider opening around the ankles, allowing you to wear them over your boots. Straight-leg jeans, on the other hand, generally run straight through the leg without opening. So, which cut is best for black jeans? It really depends on your personal style, though many men and women prefer the slimming look of straight leg and skinny jeans, either of which is an excellent choice.
#3) Avoid Black Shoes and Belts
What's wrong with wearing black shoes and a black belt with black jeans? Well, the problem with this combination is that it doesn't offer anything in terms of aesthetic value. Rather, it will appear as if your shoes, jeans and belt are a single item — and that's not necessarily a good thing. At the same time, however, you should also avoid wearing brown shoes and a brown belt with black jeans, as black and brown clash with one another and thus should be avoided in the same outfit.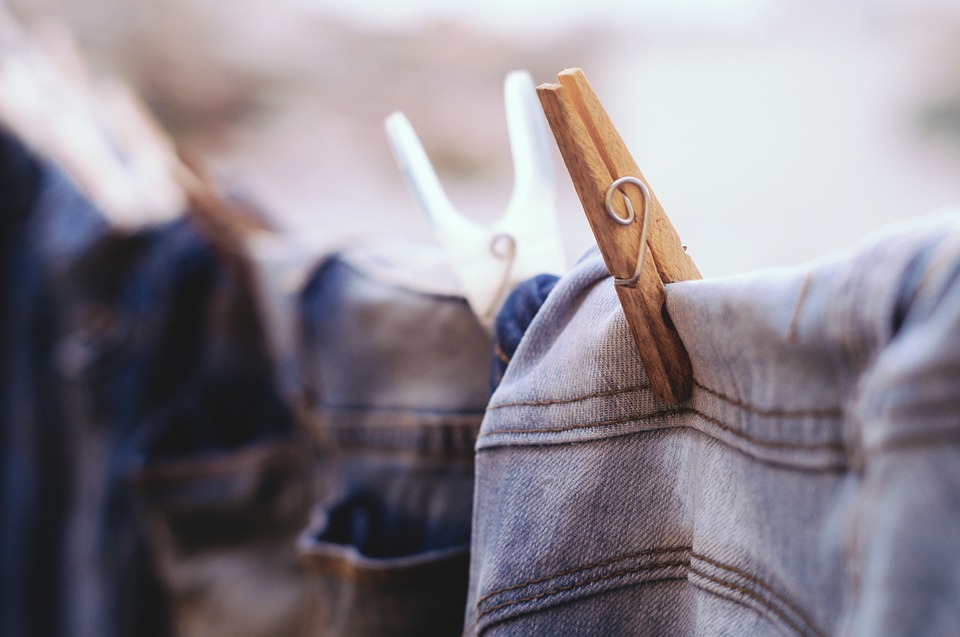 #4) Contrasting Colors
A better option is to choose a belt and shoes in a color that contrasts with your black jeans. Black is obviously dark, so white is an excellent color choice. The combination of white on black "pops," while emphasizing the appearance of your belt and shoes. You don't have to limit yourself to only wearing white shoes and a white belt with black jeans, though this is a safe color combination that's guaranteed to improve your appearance. Red is another color that contrasts with black and works well for this purpose. As a general rule, your belt and shoes should be easily visible when wearing black jeans. If they aren't, you should choose a different color to wear.
#5) Keep it Clean
Some people assume that black jeans hide dirt more than traditional blue colors, but unfortunately this isn't true. Regardless of color, all jeans will show dirt, which is why it's important to keep them clean. If you notice a patch of dirt, debris or a stain on your black jeans, try spot-cleaning it with a warm washcloth and laundry detergent. Depending on what caused it, this may clean the denim fabric without requiring the use of a washing machine. And by spot-cleaning your black jeans, you'll preserve the color for a longer period of time (washing machines degrade the color of jeans and other garments).
#6) Avoid Baggy Jeans
It's important to choose black jeans that fit your body. If they are too big, they'll appear to drape off your body, which isn't particularly flattering. Wearing a pair of fitted black jeans, however, creates the impression of a slimmer, taller figure, which is exactly what you should strive to accomplish in your outfit. While you can always test your luck by visiting local retail and department stores in your area, a better solution is to order your black jeans here at MakeYourOwnJeans. We offer custom sizing on all jeans, including black jeans, at no additional charge. When ordering, you'll have the option to include custom measurements, which we'll use to create the perfect pair of fitted jeans.
#7) Quality Matters
Don't assume that all black jeans are made of the same quality materials and craftsmanship. Some companies attempt to cut corners and save money by selling low-quality jeans, which is apparent from the first time you wear them. If you're going to try black jeans, invest in a pair of high-quality jeans like those offered here at MakeYourOwnJeans.
What About Stretch?
You might be surprised to learn some black jeans are available in "stretch" style. As the name suggests, stretch jeans such as this have greater elasticity than their traditional counterpart. Stretch jeans are typically made with a combination of both regular denim and an elastic material. The addition of an elastic material allows the jeans to bend and stretch without breaking. Many men and women prefer stretch jeans for this very reason. Whether or not it's right for you is a decision that only you can make. However, it's recommended that you try wearing stretch jeans at least once. After all, the only way you'll know if you like them is by wearing them.