Jeans are the world's most popular choice of pants. Worn by both men and women alike, they offer an unmatched level of style, comfort and versatility. Whether you are headed to work, going out to dinner with friends, or simply running errands around town, you can't go wrong with a good pair of 100% denim jeans. With that said, there are ways to enhance the comfort of jeans even further, making them ultra-soft and relaxing. So if you're looking to make your jeans more comfortable, keep reading for some helpful tips and tricks.
Avoid Tight-Fitting Jeans
I know this probably sounds like common sense, but it's still worth mentioning that you should avoid wearing tight-fitting jeans. Skinny and straight-leg jeans have become a popular choice in recent years. Characterized by a slim leg that doesn't taper or "flare" open, they offer a slimmer and more form-fitting appearance. On the downside, however, they can also be constricting, more so than other fits and styles. For this reason, it's best to stick with traditional fits and styles if you're looking for maximum comfort. This doesn't necessarily mean that skinny and straight-leg jeans are uncomfortable. Rather, loose-fitting styles are less constricting, making them a better choice of the two.
Choose High-Quality Jeans
Another important tip is to choose high-quality jeans. Not all jeans are made with high-quality materials. On the contrary, some are made with cheap materials that mimic the look and feel of denim. But unfortunately there's no substitution for the real thing. Faux/fake denim feels artificial and rugged, making them anything but comfortable when worn. Double-check the label to ensure that any jeans you intend to buy are made with 100% denim. If it's not, you should think twice before buying them.
The only exception to this rule is stretch denim jeans, which are made with both denim and as elastic material like Spandex or polyester. Most people will agree that stretch denim jeans are soft and comfortable, more so than traditional jeans. This is because the use of an elastic material gives them a new texture that's softer than pure denim. Don't take my word for it, though. Pick up a pair of stretch denim jeans to see for yourself what all of the fuss is about. Who knows, you may prefer them over traditional 100% denim jeans.
Find the Perfect Fit
In addition to avoiding tight-fitting jeans, you should also choose jeans that fit just right. No two people have the exact same body shape and size — a fact that many denim jean companies overlook. But how are you supposed to find the perfect fit when jeans are sold in the same, or similar, sizes from store to store? The answer: custom order your jeans from the denim experts here at MakeYourOwnJeans. We allow customers to specify their own measurements during checkout. So instead of crossing your fingers and hoping that a pair of jeans fits your body just right, you can rest assured knowing that it will. Just add your measurements during checkout, and your jeans will be customized to fit your body. This takes the guesswork out of the jean-buying process, allowing you to get the perfect pair of comfortable jeans.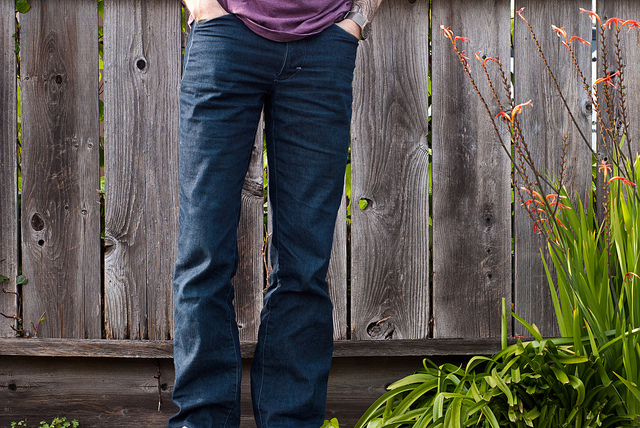 Remove the Tag
Don't you hate it when your jeans' tag rubs against your waistline, causing discomfort throughout the day? Sure you do! Everyone does. The good news is that you can overcome this problem by removing the tag. Look inside the waistband of your jeans and you'll see a tag towards the bag. If this tag is causing discomfort, carefully remove it using a pair of scissors. Don't just toss this tag in the trash can, though. Rather, store it in a safe place so you can reference it later. Known as the "care label," it contains the manufacturer's recommendations on how to clean and care for the jeans.
Wash with a Vinegar
No, that's not a typo. You can make jeans more comfortable by washing them with vinegar. Simply place your jeans in the washing machine and add 1 cup of white vinegar. Now wash them on the regular cycle, and when they are finished, place them in the dryer. Once they are finished drying, you should notice your jeans feel softer. Vinegar is an amazing ingredient with hundreds of different uses, including a fabric softener. Its softening benefits aren't limited to denim, however. It works for a variety of different fabrics and materials. Washing your jeans with one cup of vinegar monthly will keep them nice and soft while also protecting its color from fading.
Put them in the Dryer
Just drying your jeans in a machine clothes dryer can make them softer and more comfortable. This essentially wears down the fabric/material, making it softer. Of course, you should use caution to ensure you don't dry them too frequently, as this may backfire by actually damaging the denim. Rather, dry your jeans no more than once per week to keep them soft. And if you are worried about damaging your jeans, choose the no/low-heat tumble dry option. Doing so will dry your jeans by knocking them around in the tumbler, without applying high heat to them.
 Replace When Needed
Jeans, like all garments, have a finite lifespan. Cheaper jeans may last for just a couple of months before wearing and breaking down, while a good pair of high-quality jeans can last for years. When the time comes to replace your jeans, however, you should go ahead and do so. If your jeans have frayed fabric and areas of severe distress, wearing them may cause discomfort. But trading them in for a pair of new jeans will eliminate this problem, giving you the perfect fit and comfort.
These are just a few tips on how to get the most comfortable pair of jeans. Above all else, though, choose a high-quality pair of denim jeans such as the ones sold here at MakeYourOwnJeans. It's a smart investment that will prove well worth the cost in the long run.