Whether it's a dress shirt, t-shirt, khakis or jeans, all garments sustain regular wear and tear over time. Perhaps that once pristine-looking shirt you owned now has a slight aged/vintage look. This isn't necessarily bad, as many people prefer the look of aged clothes. But what if have a pair of jeans that look "perfect," and you want to preserve their original look? This is a common question asked by many people. While some people have their own preference when it comes to preserving and maintaining the original look of jeans, we've found the following tips to be helpful.
Avoid Bleach
If there's one cleaning agent that you DON'T want to use when washing or otherwise cleaning your jeans, it's bleach. Although effective at cleaning whites, it destroys just about any other color. So, whether your jeans are indigo blue, light blue, brown, black, red or any other non-white color, bleach will severely stain and damage them. Furthermore, there's no easy fix for bleach-stained jeans. You'll typically have to count them as a loss and buy a new pair. To prevent this from happening, avoid using any bleach or product containing bleach on your jeans.
Use Color-Safe Detergent
There are literally dozens of different laundry detergent products available for sale, each of which claims to be the best. Some detergents contain extra additives for more cleaning power, while others contain safe ingredients to prevent bleeding, fading and other forms of damage. If you want to preserve the look of your jeans and keep them looking fresh, it's recommended that you choose a color-safe detergent. These products are designed specifically to protect the color of clothes. Washing your jeans with a color-safe detergent reduces the risk of bleeding, which in turn keeps your jeans looking new. You can find color-safe detergent available for sale at most department and home goods stores, including Wal-Mart.
High-Quality Denim
When choosing denim jeans, it's best to follow the matra "quality over quantity." In other words, rather than buying half a dozen pair of low-quality jeans, you should buy just one or two pair of high-quality jeans. They'll last longer, offer a greater level of style and comfort, and you'll get more bang for your buck. But where do you find high-quality jeans for sale? Well, we've made this process a breeze by offering one of the largest selections of high-quality denim jeans on the market. Simply head over to over homepage, select the type of jeans you wish to buy, and we'll connect you to the perfect pair instantly. There's no need to worry about visiting countless stores, as we eliminate this otherwise time-consuming and tedious burden.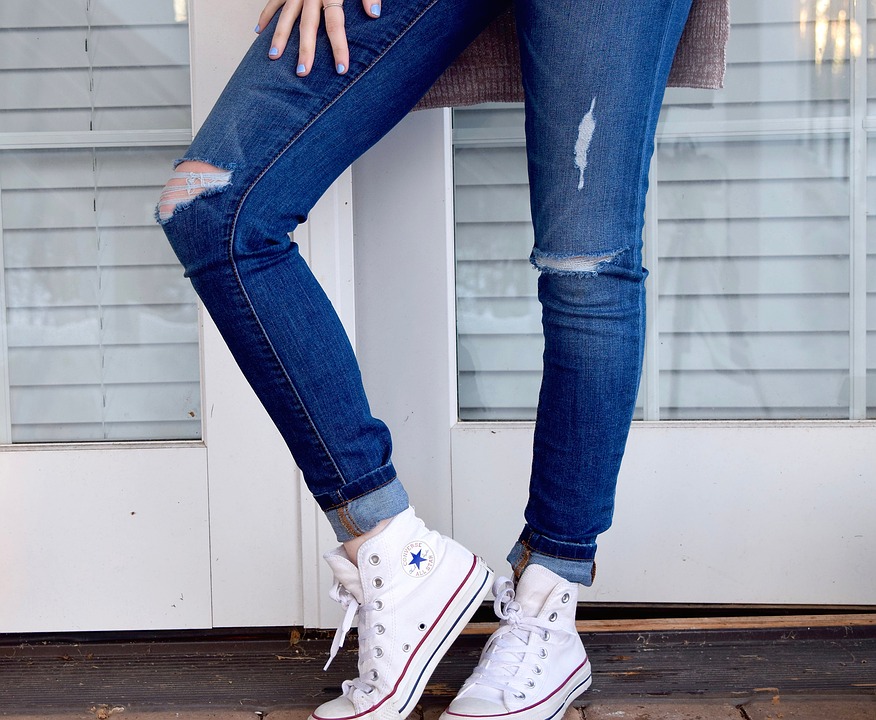 Wash with Similar Colors
I know this sounds like common sense, but it's still worth mentioning that you should only wash denim with similar colors. If you're washing a pair of indigo-colored jeans, only place other indigo-colored garments in the washing machine. When you wash two garments of opposite color, the dye used in their production may bleed from the fabric and onto each other. This is particularly problematic when mixing dark and bright colors together. The dye from the dark clothes will bleed onto the light clothes, changing their appearance. This doesn't affect the quality or function of the clothes, but it will certainly affect how they look. You can avoid such headache by washing your jeans with similar colors only, or you can go one step further by washing them in a load alone, without any other clothes or garments.
Line-Dry Them
Line-drying takes significantly more time than using a traditional clothes dryer. However, it offers the added benefit of protection for your garments. If you want to keep your jeans looking new, try to get into the habit of line-drying them. Even if you don't have a "line," you can always hang them from a shower curtain rod. They should dry within a few hours (give or take), at which point your jeans will look and smell fresh. The only problem with line-drying is that not everyone has access to a line. Again, the shower curtain rod will suffice for this purpose. But if you plan on line-drying your clothes frequently, you may want to invest in an actual line. You can run them between trees in your yard, creating the perfect area in which to dry your jeans and other clothes.
Wash Less Frequently
No, that's not a typo. Washing your jeans less frequently can protect them from common forms of damage while preserving their original look in the process. Several denim experts have recently come out against washing jeans after each use. Rather than washing your jeans each time you wear them, perhaps you can wash them every other time. Or another idea is to wash them only when they are dirty. How does this help? Well, each time you wash jeans, it breaks down the fabric just a little more. The effect is minor, but over time it can add up and affect the look and overall feeling of your jeans. Washing your jeans less frequently, however, slows down this process and protects your jeans from damage caused by the washing machine.
Keep 'Em Clean
Of course, you can also keep your jeans looking new simply by cleaning them. This doesn't necessarily mean washing. Rather, when you notice a stain or patch of dirt on your jeans, take a washcloth and spot-treat it. If you're able to clean your jeans by spot-treating stains such as this, you won't have to wash them as frequently. This works in two ways to keep your jeans looking new: with the stain removed, your jeans will look nice and clean, and furthermore you won't have to wash them.
These are just a few simple steps you can take to keep your jeans looking new. So, head over to our store and begin shopping for the perfect pair of high-quality denim jeans today!