Denim remains one of the world's most versatile textiles, with companies using it to produce a variety of garments like jeans, jackets, skirts and more. With its durable, strong, comfortable and resilient properties, it's the perfect textile for use in clothing and accessories. You can take advantage of denim by diversifying your wardrobe with a variety of denim garments. While there's no substitution for a high-quality pair of denim jeans, you should consider the following denim trends, as they'll allow you to create a stylish, super comfortable look that's guaranteed to turn heads and attract compliments.
#1) Stretch Jeans
One all-too-common denim trend that's gaining mainstream popularity is stretch jeans. We've mentioned them before on our site, but basically stretch jeans live up to their namesake by featuring an elastic material that can stretch without breaking. They are still made with traditional denim, but a small amount of elastic material like spandex or polyester is added as well. Just 5% or 10% of elastic material provides significant stretching capacity. Because of this, stretch jeans are often preferred over 100% denim jeans. Whether you're a man, woman, young or old, you can't go wrong with a pair of high-quality stretch jeans.
#2) Acid-Washed Jeans
If you're really looking to differentiate yourself from the crowd, consider investing in a pair of acid-washed denim jeans. Also known as stone-washed jeans, acid-washed jeans are characterized by a unique production method that involves soaking and treating the denim material with chemicals like acryl resin, potassium permangante, acids, caustic soda and more. The general idea is to mimic the appearance of aged, worn-in jeans through the use of these chemicals. When exposed to these chemicals, the denim fibers break down while changing color in the process. The end result in a unique, stylish pair of jeans that's also soft and comfortable to wear.
#3) Denim Jacket
Not all denim trends involve jeans. In recent years, there's been a growing popularity surrounding denim jackets. These jackets are made using the same high-quality denim materials as jeans. You'll find denim jackets available in countless colors and styles, ranging from traditional single-color blue jackets to multi-colored designs and more. One of the great things about denim jackets is the simple fact that you can wear them year-round. Whether it's winter, summer, spring or fall, a denim jacket offers the perfect level of warmth and protection from the elements. This is just one more reason to consider adding one to your wardrobe.
#4) White Denim Jeans
Who says blue is the only color which jeans are made? Granted, it's the most common color for denim jeans, but that doesn't necessarily mean it's the only color. On the contrary, you'll find denim jeans available in dozens of colors, ranging from traditional light blue and indigo to red, yellow, black and more. One color that's become particularly popular in recent years is white. White denim jeans offer a unique appearance that you won't find elsewhere. It's a slightly more formal look that's easy to match with other garments, especially during the spring and summer months. The only real downside is that white tends to show dirt and stains more easily than darker colors. As long as you use caution not to get your jeans dirty, though, this shouldn't be a problem.
#5) Two-Piece Denim Outfit
Another fashion trend to watch is the use of a two-piece denim outfit. Most people only wear a single denim garment in any given outfit, such as a pair of jeans or denim skirt. However, many fashion-conscious men and women are now wearing two denim garments in their outfit. Known as a two-piece denim outfit or "double denim," it's become a popular trend in recent years. Doubling up on your denim creates a cohesive, stylish appearance that looks great everyone. Furthermore, it makes washing and cleaning your garments relatively easy and painless. At the end of the day, you can simply toss them in the washing machine without worrying about separating or washing them in separate loads. Because they are both made of denim, you can usually wash them together. Of course, you should still check the care label for specific cleaning and washing instructions, but there's usually no need to wash two pieces of denim in separate loads.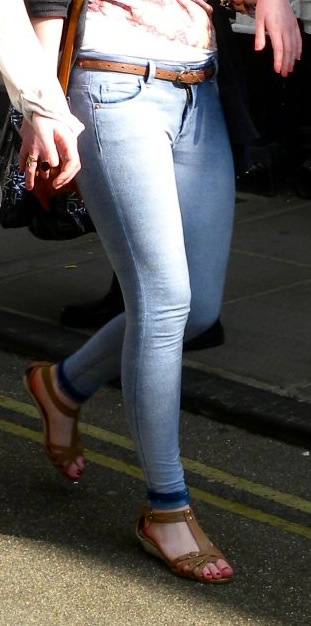 #6) Boyfriend Jeans
What are boyfriend jeans, and why should you wear them? Boyfriend jeans are women's jeans that are designed to look and feel like men's jeans. You might be wondering why women would want to wear men's jeans in the first place. Well, they are called "boyfriend jeans" because some women discovered that their boyfriend's jeans were more comfortable than their own jeans. They are usually softer, sit lower on the waist and have a more worn-in feel than women's jeans. As a result, some denim manufacturers have begun to make women's jeans featuring the same characteristics as men's jeans. Known as boyfriend jeans, they offer a fun, stylish and comfortable alternative to traditional women's jeans.
#7) Distressed Jeans
We can't talk about denim trends without mentioning distressed jeans. Distressed jeans are characterized by patches of fading and fraying, often around knees and thighs. During production, the denim fabric is placed in large drums with pumice stones that knock against the fabric to create a worn-in appearance.
#8) Selvedge
Finally, selvedge jeans are gaining momentum in the world of fashion. Offered here at MakeYourOwnJeans, selvedge denim jeans are characterized by a unique production method in which the cross thread weaving goes back and forth. Selvedge jeans require more denim fabric to make than traditional jeans, which is why they also cost more than their counterparts. However, they are also considered higher quality, making them a smart investment for your wardrobe. Just remember to choose the right size. Like all jeans offered here at MakeYourOwnJeans, we offer custom sizing on selvedge denim jeans at no additional charge. Just specify your measurements when checking out.