Do you own a pair of stretch denim jeans? If not, you should! Characterized by the combination of both tradition denim AND an elastic fabric, they live up to their namesake by featuring a stretchier texture. This offers a wide range of benefits, some of which may surprise you. To learn more about stretch jeans and why you should include them in your wardrobe, keep reading.
#1) They are Cooler and More Comfortable
Because they are made with an elastic fabric, stretch jeans are typically thinner and more lightweight than traditional 100% denim jeans. Why is this important? Well, if you plan on wearing jeans during the upcoming spring and summer months, you'll feel cooler and more comfortable with stretch jeans. Their lightweight and thin characteristics make them ideal for warm weather months such as this. Granted, you can still wear traditional jeans, but you'll find stretch jeans are more comfortable to wear during this time of year.
#2) Custom Sizing
Assuming you buy your stretch jeans here from the denim experts at MakeYourOwnJeans, you can rest assured knowing they will fit just right. This is because we offer custom sizing on all of our products. When ordering, simply include your waist and length measurements, and we'll use those measurements to create the perfect pair of jeans, fitted to your body. This takes the burden of crossing your fingers and "hoping" that you find the right size off your shoulders. Take your measurements, include those measurements in your orders, and you'll receive the perfect pair of jeans in no time at all.
#3) Stretch Jeans are Easy to Maintain
It's also worth noting that stretch jeans require little-to-no maintenance. This holds true for most styles of jeans, but it's particularly true for stretch jeans. The combination of denim with an elastic material is soft yet also durable at the same time. Other than an occasional cleaning, there's really nothing else you have to do to keep your stretch jeans looking new. Furthermore, you can often spot treat stains by blotting with a damp washcloth instead of washing the entire pair of stretch jeans. Using a damp washcloth, blot the stained area until it comes clean. If the stain persists, try adding a small amount of liquid laundry detergent. This should make quick work of even the most stubborn stains.
#4) Multiple Pocket Styles
If you want to stand out from the crowd, there's no better choice than a premium pair of stretch denim jeans. Many stretch jeans offer a variety of different pocket styles, allowing for a deeper level of personalization and customization. Our signature London Blue Stretch Jeans, for instance, is available in five different pocket styles. Regardless of which style you prefer, you can rest assured knowing that stretch jeans offer more customization options than traditional 100% denim jeans, beginning with the pocket styles. You can choose from standard pockets, or you can go for a more bold pocket style that's rarely seen in today's world of fashion. Either way, have some fun with your stretch jeans and choose a pocket style that's best suited for your personality.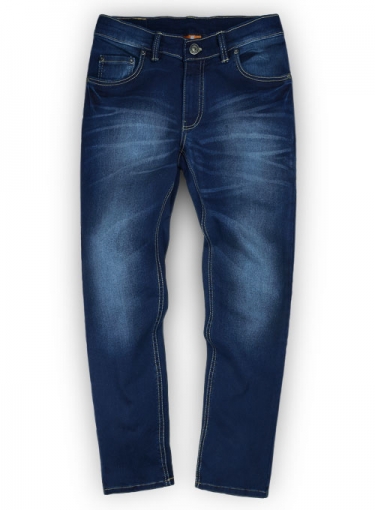 #5) Stretch Jeans are Made of High-Quality Materials
When it comes to jeans, stretch jeans are made with some of the highest quality materials on the market. Expert denim makers seek high-grade denim, polyester and other fabrics to use in their construction. Of course, not all stretch jeans are made with this superior level of quality. On the contrary, some vendors attempt to cut corners and save money by using low-grade materials — something the final product reflects once it is finished. If you buy your stretch jeans from us here at MakeYourOwnJeans, however, you'll get the finest quality materials and expert craftsmanship on the planet. This is just one more reason why so many people are choosing stretch jeans over traditional all-denim jeans.
#6) You Can Move More Easily in Stretch Jeans
If you've never worn a pair of stretch jeans before, you might be surprised to learn just how "stretchy" they really are. Sure, the name indicates they are stretchy, but this is something you really need to feel to believe. Stretch jeans allow you to bend and move your body more easily, without the restraint of traditional denim. As such, they are often worn by people are highly active. If you work in a job that requires you to be on your feet for long periods of time, perhaps you should invest in stretch jeans. The elastic material makes moving just a little more comfortable — and that's something from which we can all benefit, especially if you work in an active on-your-feet job.
#7) It's a Smart Investment
You have to think of stretch jeans as an investment that pays off in the long run. Like any investment, you'll have to spend some money upfront to buy your stretch jeans. The good news is that it's a one-time investment, meaning you won't have to pay for any additional expenses other than the actual jeans. And once you own a pair of stretch jeans, you'll find yourself wearing them day after day.
#8) They are Easy to Match with Other Clothes
When choosing jeans — or any style of pants — it's important to consider how they will match with your other clothes. If you choose a pair of jeans that don't match your existing clothes, you won't be able to easily wear them, not without creating a fashion faux pas at least. Thankfully, stretch jeans are easily to match with other clothes and colors. Assuming you choose a traditional blue-colored pair of stretch jeans, you can mix and match with them with just about anything. From button-up shirts and polo shirts to solid-colored t-shirts, tanks and more, the possibilities are endless. This ease of integration into other clothes makes stretch jeans an excellent choice for fashion-conscious individuals.
What are you waiting for? Check out our selection of stretch jeans today.