A denim jacket is the perfect choice of outerwear for men and women alike. It's light enough so that you can wear it year-round, and it offers the same high level of comfort and style as denim jeans. Regardless of the occasion, you can't go wrong with a denim jacket for these reasons. However, there are a few fashion tips you should follow when wearing one. By following the fashion tips listed here, you'll create a cleaner and more cohesive appearance that takes full advantage of your denim jacket.
#1) Choose Real Denim
When choosing a denim jacket, make sure it's made of real, genuine denim. Some companies use cheap alternative materials to make their jackets, resulting in an inferior appearance. You can expect to pay more for a jacket made of genuine denim, but it's well worth the investment in the long run. Genuine denim jackets are stronger, more durable and look better than their counterparts made of alternative materials.
#2) Contrast With Your Jeans
There's nothing wrong with wearing jeans with a denim jacket, but you should choose colors that contrast with one another. If your denim jacket features a dark indigo color, for instance, your should wear jeans with a light blue color. If your jeans feature the same exact color as your jacket, it will create the appearance of a one-piece suit — and that's never a flattering look. By choosing contrasting colors, however, you'll create a more stylish appearance that compliments your body.
#3) Leave the Front Open
Whether your denim jacket features button or a zipper on the front, it's a good idea to leave it open. Doing so allows you to create a more dynamic appearance with new colors and styles in your outfit. If the front of your denim jacket is open, for instance, your shirt or top will be visible. If it's closed, no one will see what you are wearing underneath your jacket. The only time when you should button or zip up the front of your denim jacket is when it's cold outside and you need the additional warmth. For all other occasions, it's best to leave the front open.
#4) Wear the Right Shirt
Of course, leaving the front of your denim jacket open is only beneficial if you are wearing the right shirt or top. There are countless different shirts that you can wear with a denim jacket. A plain white t-shirt, for example, looks great with most denim jackets. The bright white color contrasts with the dark blue color of a denim jacket, thus creating a visually appealing look. Another idea is to wear a striped shirt under your denim jacket. Striped shirts are classic, timeless and look great on everyone. The key thing to remember is that your shirt or top should flow cohesively with your denim jacket. Don't wear a shirt in the same color as your jacket. Rather, choose a shirt that contrasts — to some degree, at least — with your jacket. Following this otherwise simple tip will go a long way in enhancing your appearance.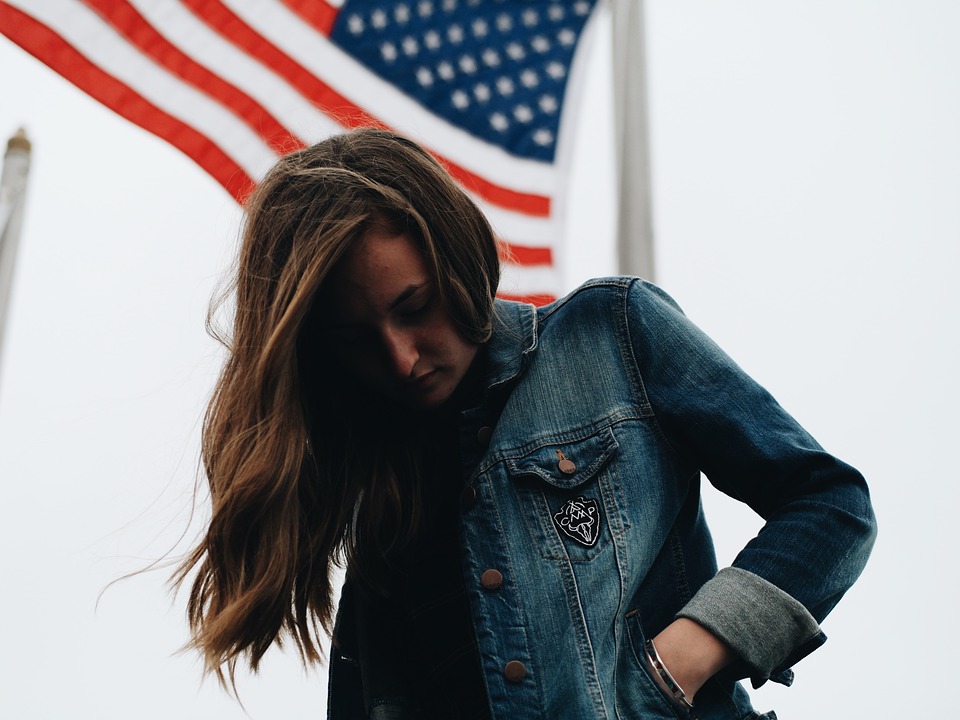 #5) Keep It Clean
I know this probably sounds like common sense, but it's still worth mentioning that you should clean your denim jacket. Even if it's a high-quality, genuine denim jacket, it's going to prove useful in enhancing your appearance if it's dirty. This is particularly true when speaking about light-colored denim jacket. Like other light-colored garments, they'll show stains more easily. If you spill coffee or anything else on your denim jacket, clean it ASAP to minimize the risk of staining. For most superficial stains, you can blot the affected area of your denim jacket with a damp washcloth. And if the stain still doesn't come out, use a fabric stain remover for additional cleaning power.
#6) Fur-Lined for Winter
When the winter weather rolls around, you may want to invest in a fur-lined denim jacket. Denim jackets offer the perfect balance of lightweight comfort with strength and durability. However, they aren't necessarily the best choice for winter weather. Their lightweight properties means they provide minimal protection from the cold winter weather. A fur-lined denim jacket, however, is the perfect alternative for those otherwise bone-billing winter days. It features fur sewn into the interior, creating a softer, warmer jacket that's ideal for winter. You can still wear traditional, non-fur-lined denim jackets. But if you're worried about the cold weather, consider investing in a fur-lined denim jacket.
#7) Choose Pre-Washed
Although there are dozens of different types of denim jackets available for sale, most fall under one of two categories: pre-washed or dry. The former is characterized by the use of denim that's been washed during the production process, whereas the latter features denim that has not been washed during the production process. So, why do some companies wash denim and others don't? Washing denim helps to soften the material while also allowing it to shrink naturally. By choosing a jacket made of washed denim, you don't have to worry about it shrinking in the washing machine. The denim has already been washed, so it generally won't shrink when washed. The Denim Jacket 501, for instance, is made with pre-washed denim. Other denim jackets are made with dry or raw denim, making them susceptible to shrinkage.
#8)  Don't Overfill Your Pockets
There's nothing wrong with using the pockets on your denim jacket to store small items like car keys or cash, but you should't overfill them. If your pockets are filled to the point where they are bulging out, it creates an awkward and unflattering appearance. In fact, it can actually make you appear larger and heavier than what you really are.
#9) Line Dry It
Don't place your denim jacket in the clothes dryer. After washing it, remove it from the washing machine and hang it on a line to dry. Allowing your denim jacket to air dry such as this helps to retain its shape and structural integrity.