When shopping for jeans, you may come across carpenter and cargo styles. They've become two of the most popular styles of jeans in recent years. From afar, however, it's difficult to distinguish between carpenter and cargo jeans. After all, they both have a relatively loose and relaxed fit, and they are both available in universal colors like light blue and indigo. Of course, you won't be able to choose the right style of jeans unless you familiarize yourself with the difference between them.
What Are Carpenter Jeans?
Carpenter jeans are denim-based trousers that are characterized by the presence of extra pockets and loops on the sides. They are known as "carpenter jeans" because they were originally worn by carpenters. In the construction industry, carpenters are responsible for cutting and installing building materials. As a result, they are often required to carry small handheld tools, such as a hammer. Carpenter jeans make their job a little easier by allowing carpenters to carry tools directly on their jeans without the need for a separate tool belt.
If you inspect a pair of carpenter jeans, you'll notice they have a loop on one or both pant leg. The loop is typically placed about 6 or so inches below the main pocket. Many carpenter jeans also have a small vertical pocket directly below the loop. Known as a hammer loop, it's used to store and carry a hammer. Carpenters and other workers can slide a hammer through the top of the hammer loop, at which point the handle will fall into the underlying vertical pocket.
In addition to one or more hammer loops, carpenter jeans are typically designed with extra pockets. Unlike standard jeans, most carpenter jeans don't feature a traditional four-pocket design. Rather, they are designed with extra pockets to accommodate the needs of professional construction workers. There's a vertical pocket directly below the hammer loop, for instance, with some carpenter jeans featuring other pockets on the side as well.
What Are Cargo Jeans?
Cargo jeans, like carpenter jeans, are denim-based trousers that feature extra pockets on the sides. Also referred to as "combat pants," they offer a greater level of utility than traditional jeans. As previously mentioned, most jeans are designed with about four pockets: two on the front and two in the back. Cargo jeans differ in the sense that they have additional pockets.
You'll typically find the extra pockets halfway down the pant legs of cargo jeans. Cargo pockets are larger than traditional pant pockets, and some of them may even feature a top flap for opening and closing. Regardless, all cargo jeans have extra pockets, which are colloquially known as "cargo pockets."
All cargo jeans feature extra pockets on the side, but another feature worth mentioning is their loose fit. You won't find many straight-let or skinny cargo jeans for sale. Rather, loose and relaxed-fit jeans predominantly encompass the cargo jean market.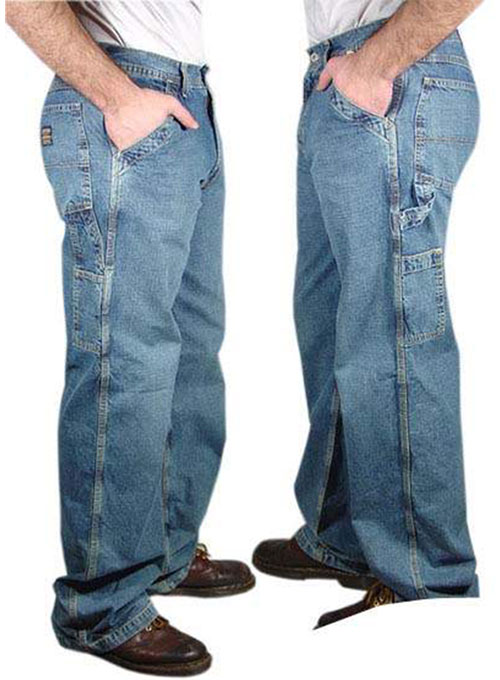 Benefits of Carpenter Jeans
If your job requires you to carry and use small handheld tools on a daily basis, there's no better choice of trousers than carpenter jeans. It's oftentimes difficult to keep track of tools when working. Maybe you're replacing the shingles on a roof, or perhaps you're demolishing a wall. Regardless, you may need to carry and use small tools like a hammer. Wearing carpenter jeans can help by eliminating the need for a separate tool belt.
Rather than wearing a tool belt, you can place a hammer — or a similar handheld tool — through the loop of your carpenter jeans. The hammerhead will essentially stop at the top of the loop, thereby keeping the hammer secured to your carpenter jeans. You can easily retrieve the hammer by pulling it up and out of the loop.
Because they are made for carpenters, you can rest assured knowing that carpenter jeans are durable. All jeans are durable. After all, they are made of denim, which is known for its superior level of durability compared to other fabrics and materials. Carpenter jeans, however, are designed for carpenters, so they are made with an emphasis on durability.
Benefits of Cargo Jeans
There are reasons to consider wearing cargo jeans as well, one of which is comfort. Cargo jeans are still made of denim, but they are designed to fit more loosely than most other styles of jeans. Therefore, they are comfortable to wear for long periods. You can wear cargo jeans indoors or outdoors without fear of them causing discomfort.
You can also wear cargo jeans during any time of the year. Maybe you're searching for a new pair of jeans to wear during the summer, or perhaps you want a new pair of jeans to keep you warm during the winter. Regardless, cargo jeans are bound to a particular season. Whether it's spring, summer, fall or winter, you can comfortably wear them.
Of course, cargo jeans are available in many different colors. When they were first created, manufacturers offered them in a limited number of colors, such as light blue and indigo. You can still find cargo jeans available in these traditional colors, but manufacturers now offer them in a plethora of other colors.
Here are some tips on how to choose the right cargo jeans:
Pay attention to the number of pockets they have as well as the location of their extra pockets.
Choose a color that matches your style.
Look to see what material they are made of. While most cargo jeans are made entirely of denim, some contain an added material like polyester or lycra for increased elasticity.
Make sure they are offered by a reputable denim provider, such as MakeYourOwnJeans.
In Conclusion
Carpenter and cargo are two of the most popular styles of jeans on the market. Carpenter jeans are defined by the presence of one or more loops and extra pockets, whereas cargo pants are defined by the presence of multiple cargo pockets.