Denim is used to make a wide variety of clothes, only one of which is jeans. Another popular garment made of this durable cotton-based textile is denim shorts. Featuring the same high-quality denim as jeans, denim shorts are comfortable, stylish and versatile. And since they don't cover your legs, they'll keep you cooler and more comfortable during the otherwise hot summer months. Not all denim shorts are the same, however, and it's important that you choose the right pair for your needs. Follow these tips to choose the perfect pair of women's denim shorts.
Choose an Appropriate Color
What exactly is an appropriate color for denim shorts? Well, it varies depending on your personal style and the garments with which you'll be wearing them. A good rule of thumb is to choose denim shorts in a color that matches your personal style and flows cohesively with your outfit. You really can't go wrong with indigo or light blue, as these colors are easy to match with other garments. In comparison, bold colors like yellow or red may restrict your outfit choices.
Traditional vs Stretch Denim
Something else to consider when choosing a pair of women's denim shorts is their material of construction. Even if a pair of shorts are labeled "denim," they may contain other fabrics or materials. Stretch denim shorts, for example, feature a small amount of elastic material — polyester or spandex — as well as denim. Stretch denim shorts have become a popular choice among women in recent years due to their softness and flexibility. The downside, however, is that stretch denim is susceptible to damage from the washing machine and dryer.
Go Mid Length
Denim shorts are available in many different lengths, including short, mid and long. To get the most use of your denim shorts, though, it's recommended that you stick with mid length. Mid-length denim shorts stop around your thighs, offering a classy look that's great for all women. You can still experiment with other lengths, but you'll get the most use out of mid-length shorts.
Distressed vs Non-Distressed
Like jeans, denim shorts are available in both distressed and non-distressed styles. Some women may turn their head at the thought of wearing distressed denim shorts. After all, why would anyone want shorts that are made with holes and turn fabric? Well, distressed denim offers a unique look that's not available with new, non-distressed denim. It's a fun way to spice up your outfit while projecting yourself as a fashion-forward woman in the process.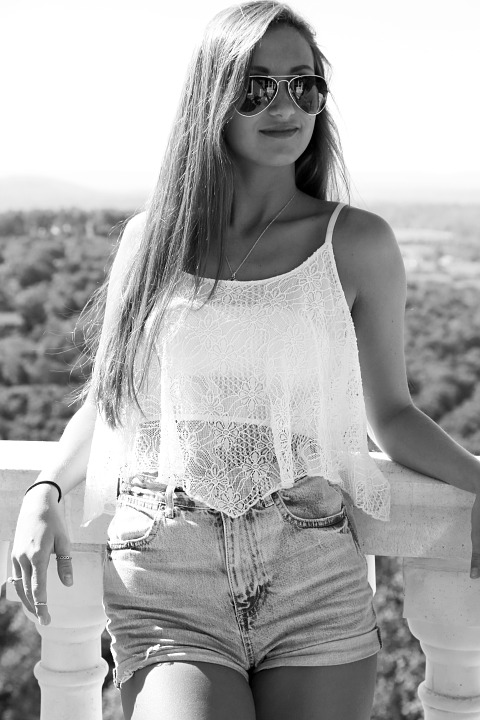 Maintenance and Care
When choosing a pair of women's denim shorts, check the care label for maintenance and caring recommendations. Typically located inside the waistband, the care label contains specific instructions from the manufacturer on how to clean and care for the shorts. Assuming they are made of 100% denim, you should be able to clean them in the washing machine. If a pair of shorts contain denim mixed with other fabrics, however, maintenance recommendations may vary. Therefore, it's a good idea to check the care label before buying a new pair of women's denim shorts. If they are too complicated, difficult or time consuming to maintain, you may want to choose a different pair of denim shorts.
Find Your Size
As most women know, finding a pair of shorts in the right size isn't always easy. Different women have different body shapes and sizes. To further compound the problem, different manufacturers use different measurement specifications for their sizes. So, even if you wear a medium in one brand, you may wear a large in a different brand. But there's an easier to way to find a pair of denim shorts in your size: order them from MakeYourOwnJeans. As our name suggests, we allow customers to make their own jeans by specifying their body measurements (and other features). You tell use your body measurements, and we'll use this information to create a customized pair of denim shorts designed specifically for you.
Zipper vs Button
Most women's denim shorts feature either a zipper or buttons on the fly. While subtle, the use of a zipper or buttons will still affect the shorts' comfort and appearance, which is why it's important to choose the right type. Some women prefer the simplicity of a zipper, whereas others prefer the added style of buttons. This is ultimately a personal decision that only you can make. Whether your denim shorts have a zipper or buttons on the fly, you should choose the style that's best suited for you.
Considered Cuffed
Cuffed denim shorts have become increasingly popular in recent years. As you may already know, cuffed indicates that the bottom fabric been folded up — usually by 1 or 2 inches — and sew into the shorts. Cuffed denim shorts such as these are attractive, stylish and look great on all women. Furthermore, many women say they are more comfortable than traditional non-cuffed shorts. If you don't already own a pair, consider buying a pair of cuffed denim shorts to see if they are right for you.
Narrow Leg Opening
It's also a good idea to choose a pair of denim shorts with a narrow leg opening. Shorts with a narrow leg opening have a body-hugging fit that contours to the shape of your legs. As a result, they are generally more flattering than denim shorts with a wide leg opening. Of course, you need to make sure the size is right. Otherwise, the leg opening may be too narrow for you to comfortably wear the shorts.
Quality Counts
Finally, consider the overall quality of the denim shorts. Some manufacturers use inferior materials and craftsmanship to make their denim shorts. While these shorts typically cost less than premium denim shorts, this is a case in which the saying "You get what you pay for" rings true. Cheap denim shorts are more likely to degrade than premium shorts. So, even if they cost less, you could end up paying more in the long run when you're forced to replace them.