It's not uncommon for men and women to tuck the bottom of their denim jeans into their boots. This has become a popular fashion trend in recent years, as it offers a unique appearance that's not found elsewhere. And while tucking jeans into your boots sounds simple enough, it's important that you follow some basic precautions to prevent them from coming untucked. Otherwise, the top of your jeans will work its way out of your boots, creating a messy and unflattering appearance. So, what's the best way to keep your jeans tucked into your boots?
Choose Narrow Jeans
First, choose jeans that are narrow through the legs and ankles. There are more than a dozen different types of jeans, some of which include boot cut, straight leg, skinny, low rise, high rise and distressed. If you plan on tucking them into your boots, however, it's recommended that you stick with a narrow cut like skinny or straight leg. These cuts run more narrow through the legs and ankles, allowing you to secure your boots underneath. This doesn't necessarily mean that your jeans should should be skin tight. Rather, they should offer just enough space around the ankles so that you can tuck your boots into them.
Choose the Right Boots
In addition to choosing narrow jeans, you must also choose the right boots. Not all boots can be worn over jeans, so it's important that you choose the right type. For women, consider ankle-high leather boots to make a fashion statement. For men, consider lower rise leather boots with an emphasis on comfort instead of aesthetics. The key thing to remember is that your boots should have enough space so that you can wear them over your jeans. If they are too small, you won't be able to tuck your jeans into them. Therefore, you must choose a pair of boots with a little extra room in them.
Consider Stretch
While you can always wear traditional denim jeans, another option is to wear stretch jeans. Stretch jeans are characterized by the use of denim as well as an elastic material like spandex or polyester. Adding just a small amount of elastic material allows the denim fabric to stretch and bend without breaking. Statistics show, for example, that adding just 3% of spandex increases the stretching capacity of jeans by nearly 15%. When your jeans are able to stretch, you can place them around the outside of your boots without damaging them — and this is exactly what you want to do. Furthermore, most people will agree that stretch jeans offer an unparalleled level of comfort compared to traditional denim jeans. For these reasons and others, consider wearing stretch jeans if you to tuck them into your boots.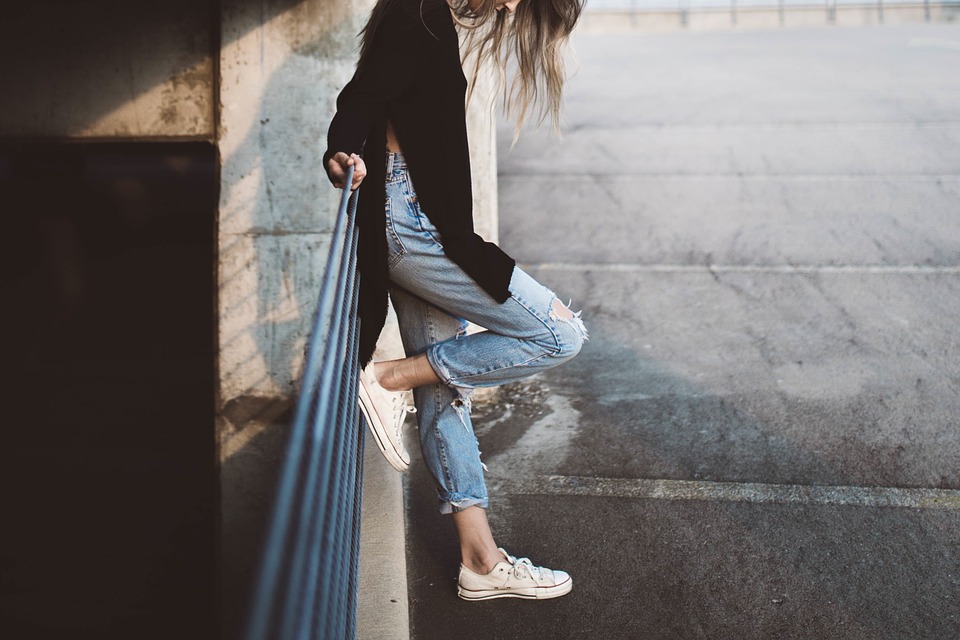 Fold Cuffs
Fold the bottom part of your jeans about 2 inches once on each side to create cuffs. There's no need to fold your jeans more than once; on the contrary, the more you fold them, the thicker they become, which can make it difficult for you to squeeze them underneath your boots. So, fold the bottom of your jeans once on each side to create cuffs. The purpose of this is to make the denim around your ankles tighter than the rest of your jeans, allowing them to stay in place more securely. Of course, some jeans already feature cuffed bottoms. Assuming your jeans have cuffed bottoms, you don't have to worry about this step. But if they don't, it's recommended that you fold the bottom of each leg to create your own cuffs.
Pull Socks Over Cuffs
After folding the bottom of your jeans to create cuffs, pull your socks over the cuffs. After all, you don't want your socks to bunch up the bottom of your jeans. By pulling them over your cuffs, you'll hold them in place. However, this means that your socks need to long enough so that you can pull them over the cuffed bottoms of your jeans. Wearing ankle-high socks isn't going to work. Rather, you need higher socks that rise above your ankles. Also, it's recommended that you stick with medium-thickness, 100% cotton socks for this purpose. If your socks made of thin, lightweight material, they may slide down while you are wearing them.
Complete the Look
By following these steps, you should be able to tuck the bottom of your jeans into your boots. However, you aren't out of the woods just yet. To create an attractive, cohesive appearance, you should complete your outfit by pairing it with the right garments and accessories. Since your boots will be a main focal point of your outfit, you should choose other garments and accessories to match them. A pair of navy boots with light blue denim jeans, for example, is a simple and attractive combination that looks great on all people. But you also need to wear the right shirt or top with this outfit. One idea is to wear a shirt or top in the same color as your boots, which in this case would be navy.
Take Your Outfit for a Test Walk
If this is your first time wearing your jeans tucked into your boots, it's recommended that you take your outfit for a test walk. Once you've got your jeans tucked into your boots, walk around the house for five to 10 minutes to see how it feels. If you feel your heels rubbing against your boots or your jeans rising up, you should adjust your boots, socks and jeans accordingly. It may take some trail and error, but you'll eventually get the hang of it.
Wearing jeans tucked into boots isn't for everyone. But if you're looking to differentiate yourself from the crowd by creating a unique, stylish appearance, you should consider this strategy. As revealed here, it's relatively easy to accomplish and requires nothing more than the right jeans, socks and boots.