We've all experienced it: you're wearing your favorite pair of denim jeans, only for them to begin falling off your waist. Whether you're at work, eating out at a restaurant or just running errands around town, you probably want to avoid this scenario. When your denim jeans begin falling down, it creates an unflattering appearance. But how exactly do you prevent this from happening? The good news is that there are several steps you can take to keep your denim jeans from sagging and falling off, some of which we're going to discuss in this blog post.
Choose the Right Cut
First, it's important that you choose denim jeans in the right cut. Denim jeans are available in more than a dozen different "cuts," some of which include boot cut, skinny, straight leg, relaxed, loose fit, low rise and high rise. Each cut has its own unique characteristics. Straight-leg jeans, for example, run straight through the thighs and legs, whereas low-rise jeans live up to their namesake by sitting low on the waist. If you're worried about your jeans sagging and falling off, stick with a cut that rests securely on your waistline, such as skinny or straight leg.
Choose the Right Size
Perhaps even more important than choosing the right cut is choosing the right size. No two people have the exact same body shape or size. Therefore, you won't always find a pair of jeans that fits your body when shopping at retail clothing or department stores. A simple solution, however, is to order your denim jeans from MakeYourOwnJeans. We offer custom sizing on all jeans at no additional charge. You provide us your body measurements, and we'll create a custom pair of fitted jeans designed with those measurements. There's no easier or better way to get your hands on the perfect pair of fitted denim jeans.
Consider Stretch Jeans
Another idea to prevent your jeans from sagging and falling off is to choose stretch jeans. Stretch jeans are made of more than just denim. While denim is typically the main fabric used in their construction, they also contain an elastic fabric like polyester or spandex. According to some reports, just a small amount of elastic fabric can increase the jeans' stretching capacity by up to 15%. How does this prevent them from sagging and falling off? Well, stretch jeans usually rest closer on the waistline and body. Unlike traditional denim jeans, stretch jeans "hug" the body to create a stronger and more secure fit. Therefore, they are less likely to sag when worn. This is just one reason to consider stretch jeans, however. If you've never owned or worn or a pair, you might be surprised to learn just how comfortable they are. The stretch denim material is soft, supple and easy on the skin, making them a popular choice among men and women alike.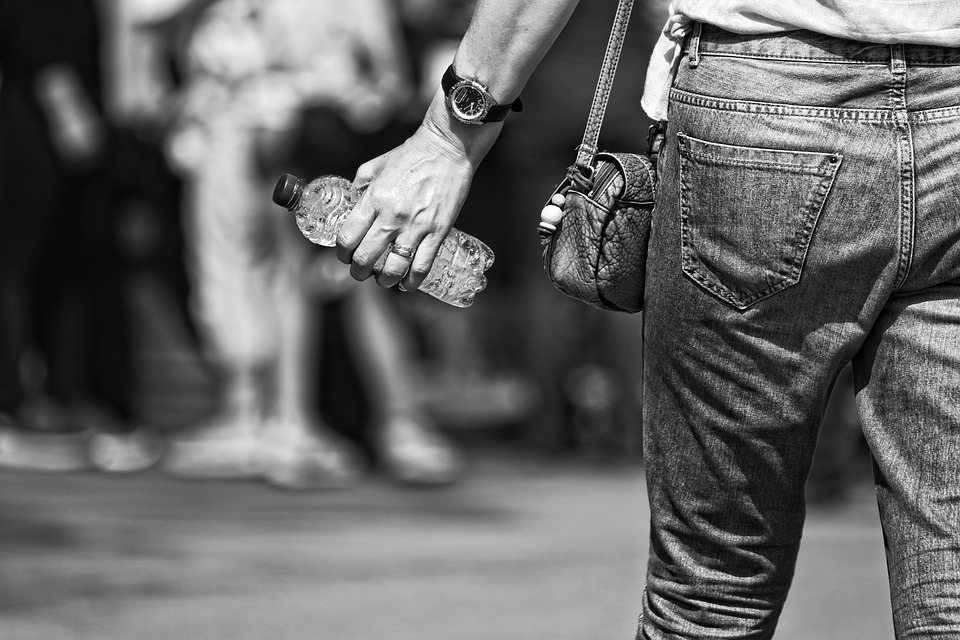 Tuck in Your Shirt
If you still struggle to keep your denim jeans from sagging and falling off, consider tucking in your shirt. Not only does this create a slightly more formal appearance, but it also helps to secure your jeans in place. By tucking in your shirt, extra fabric will be placed between your waist and the jeans. It's usually not a lot of fabric. Nonetheless, it can still help to secure your jeans in place. Of course, this is only an option if you're wearing the right shirt. If your shirt is short, you may not be able to tuck it in. But as long as longer than your waist, you should be able to tuck it in, thus preventing your jeans from sagging and falling off.
Wear a Belt
I know this probably sounds like common sense, but it's still worth mentioning that you can keep your denim jeans from sagging and falling off by wearing a belt. Nearly all denim jeans are designed with belt loops around the waistline specifically for this accessory. By wearing a belt, you'll create a more secure fit, preventing your jeans from falling off. Furthermore, a belt adds a new element of visual style to your jeans. You can find belts in countless different colors, materials and styles. When choosing a belt, make sure the design fits your personal preference and flows cohesively with the denim jeans with which you intend to wear it.
Wear Suspenders
If you don't own a belt or don't enjoy wearing them, an alternative solution to keep your jeans from sagging and falling off is suspenders. Also known as bracers, suspenders consist of two straps that connect to each side of your jeans. The straps are worn over the shoulders so that your shoulders support your jeans.
Wash and Dry Them
Finally, try washing and drying your denim jeans more frequently. If your jeans sag or otherwise fall off, there's a good chance that they are too big, in which case washing and drying them should shrink them. With that said, you don't want to wash and dry them too much. You only want to shrink them enough so that they fit tighter around your waistline. So, after washing and drying them, try them on to see if they fit. If they are still big, give them another round in the washing machine and dryer.
These are just a few tips to keep your denim jeans from sagging and falling off. Perhaps the most important tip, however, is to get the right size. If your jeans are too big, conventional wisdom should lead you to believe that they'll fall off when worn. This is an all-too-common problem experienced by millions of people. However, it's also something that can be prevented. The bottom line is that you need to make sure your jeans fit before buying or wearing them. Spending just a few extra minutes to choose the right size will make a world of difference in how they fit and feel when worn.