You shouldn't limit yourself to only wearing traditional, standard-fit jeans. While there's nothing wrong with standard fit, other fits may offer a better appearance and comfort. Skinny jeans, for example, have become increasingly popular in recent years due to their "slimming" appearance. Also known as slim-fit jeans, they are characterized by a unique design in which the leg opening is narrow and either runs straight or becomes more narrow towards the bottom. This is in stark contrast to standard-fit jeans, which have a larger leg opening that, in some cases, becomes wider towards the bottom. But if you're thinking about investing in a pair of women's skinny jeans, you should follow some tips to create the best look.
Go Light
Light colors, such as light blue or even white, typically offer the best look for skinny jeans. You can still explore other colors, but you really can't go wrong with light blue or white. Light colors such as these compliment the natural slim-fit style of skinny jeans. In comparison, dark colors minimize the body-contouring effects of skinny jeans, making them a poor choice. For these reasons, it's recommended that you go with a light color when choosing a pair of skinny jeans.
Selvedge Denim
All jeans made of selvedge denim are stylish, but skinny jeans are particularly stylish. This is because selvedge denim features a woven band of fabric at the bottom of each leg. The purpose of this band is to protect the bottom of the jeans from fraying or curling. A side benefit of selvedge denim, however, is its unique appearance. The bottom of the jeans are turned inside out and sewn into the leg, thereby exposing the denim's lighter color at the bottom. For skinny jeans, this means selvedge denim will enhance your appearance by creating a unique look that's not achieved elsewhere. Keep in mind that selvedge jeans — whether skinny leg, boot-cut or any other fit — typically cost more than traditional jeans.
Wear With Boots
Boots are the perfect choice of footwear to wear with skinny jeans. As you may already know, skinny jeans have a slimming effect that makes you appear thinner. These effects can be amplified, however, by wearing skinny jeans with a pair of boots. Unlike athletic shoes, sandals and other "flat" footwear, boots are relatively tall. In turn, wearing them will make you look taller and, subsequently, slimmer. Just remember to choose boots in a color that flows cohesively with the rest of your outfit. If the color of your boots clash with your jeans, shirt or any other garment, they won't have a positive effect on your appearance.
Consider Stretch Denim
You can find skinny jeans available in both traditional denim as well as stretch denim. Denim is a cotton textile with a warp-faced threading pattern, whereas stretch denim features this same design but with the addition of an elastic fabric like polyester or spandex. A typical pair of stretch denim jeans may feature just 5% elastic material, with the other 95% consisting of genuine denim. While that may sound like an insignificant amount of elastic material, it's more than enough to give the jeans a "stretchy" texture. You can pull and tug on them, for example, without breaking them. As a result, skinny jeans made of stretch denim are incredibly soft and comfortable to wear. The downside to stretch denim, however, is that they are more susceptible to shrinking. If you're worried about your skinny jeans shrinking because they are made of stretch denim, try washing them less frequently. And when you do wash them, choose the cold water setting and hang them on a line to dry afterwards.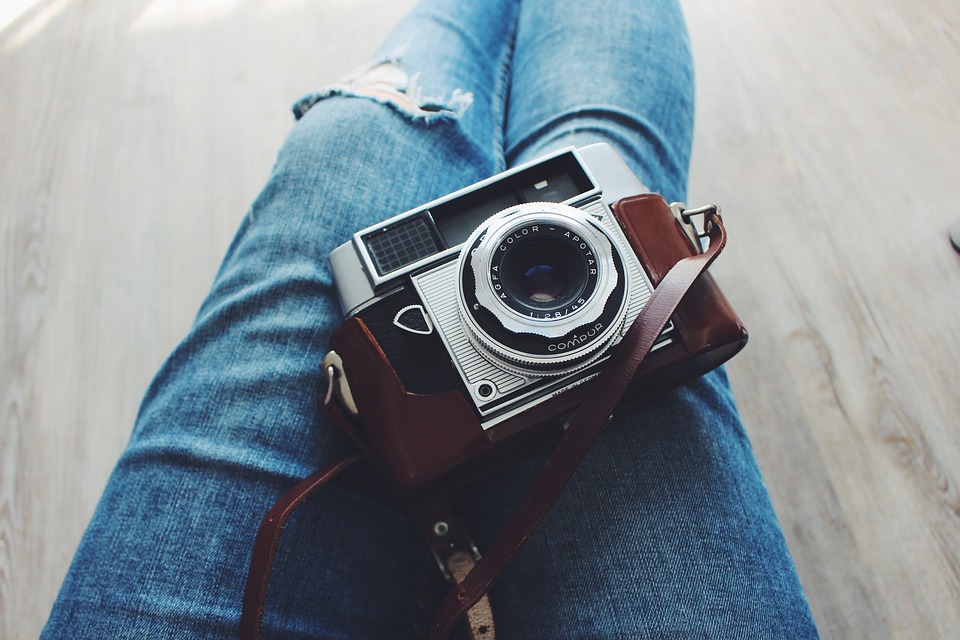 Back to the Basics
You don't have to wear a formal button-up shirt or blouse with skinny jeans. While this is always an option, sometimes it's best to go back to the basics. A basic t-shirt, for example, can do wonders when worn with a pair of skinny jeans. T-shirts, like skinny jeans, tend to have a slimming effect that makes you appear thinner. Therefore, they naturally compliment the appearance of skinny jeans.
Distressed
Distressed skinny jeans have become a popular choice in recent years. Just like other distressed denim styles, they feature areas in which the denim fabric has been intentionally worn. In the knees and thighs, you may discover the denim is frayed. This is because distressed denim jeans are manufacturing using a unique process that involves beating the area with stones. The end result is a pair of jeans that look older, worn in. Skinny jeans are particularly stylish when they feature areas of distressed fabric, making them an excellent choice for fashion-forward women.
Choose the Right Color
Perhaps the most important tip to follow when wearing skinny jeans is to choose the right color. As previously stated, light colors tend to work best. But the specific type of color varies depending on the other clothes and accessories that you are wearing. Consider your overall outfit and choose a pair of skinny jeans in a color that compliments them. A simple solution is to wear a color that contrasts with the color of your other garments and accessories. Alternatively, you can wear skinny jeans in a color that's similar, although still different, that the color of your other garments and accessories. Either way, you need to create a balanced outfit in which the colors of your garments and accessories match.
Give Your Skinny Jeans Some TLC
All jeans need a little tender loving care, and skinny jeans are no exception. To make your skinny jeans last, you should clean and maintain them according to the manufacturer's instructions. You can find specific instructions for your skinny jeans by checking the care label. Here, the manufacturer will include information on how to wash, dry and care for the jeans. Because different manufacturers use different processes to make their skinny jeans, you should refer to the care label on your skinny jeans.